StarTech Front Bay Bracket Adapter; (BRACKETFDBK)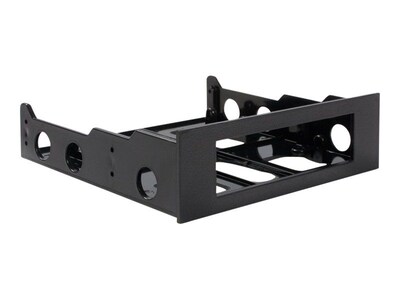 Description
StarTech.com Bracket Adapter - Utilize Your Available Front Bay Space
If your 3 1/2-inch floppy bay isn't in your desired location, you can easily convert a 5 1/4-inch front bay to a 3 1/2-inch space with the StarTech.com bracket adapter. The converted space works well for your 3 1/2-inch floppy drive or a front bay connector panel.
Hard drive accessory type: Front bay bracket adapter

Color: Black

Bay provided: 1 x 3 1/2" x 1/3 (H) internal

Bay required: 1 x 5 1/4" x 1/2 (H) front accessible

Mount almost any 3 1/2" device into a standard 5 1/4" front bay

Device supported: Hard disk drive

Compatibility: 3 1/2" floppy drives

3 1/2" front bay cut out

Green compliance certificate/authority: RoHS

Includes mounting screws

Material: Plastic

Package contents: Front bay adapter bracket, mounting screws

2 years warranty
Floppy Drive
If your business still needs the functionality of a 3.5-inch floppy drive, you can easily install it with the StarTech.com bracket adapter. Because the adapter fits into the 5.25-inch front bay of your computer case, you'll be able to access the slot with no problem. The adapter fits snugly into the bay, so it provides stability for your floppy drive.
Versatility
While the most common usage of this bracket adapter is for installing a floppy drive, you can use it for other purposes if your business doesn't need a floppy drive. It's perfect for mounting a front bay connector panel, so you can add easily accessible USB, FireWire, eSATA, and audio input ports.
Easy Installation
The StarTech.com bracket adapter slides easily into the appropriate slot on your computer case. All the necessary mounting screws are included, so installation is a breeze.
Specifications
Brand

: StarTech

Weight

: 1.00 lbs. per Each