Texas Instruments TI-Nspire CX CAS TI-NSPIRECX CAS Graphing Calculator, Black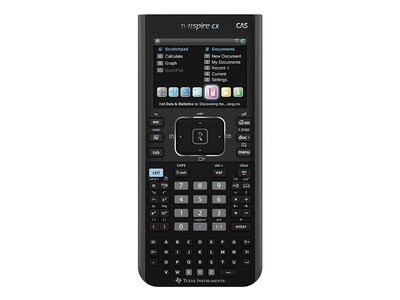 Description
Solve various types of complex equations using this Texas Instruments TI-Nspire handheld graphing calculator.
Find exact mathematical solutions quickly with this advanced graphing calculator. Dynamic linking connects multiple documents so it's easy to observe how changing a variable in one document affects other mathematical forms. Import photos digitally to overlay them with graphs and easily calculate the math of actual objects such as churches, bridges, and other large structures, which makes this calculating device ideal for architects and engineers. The drop-down menus are simple to navigate while working on complex projects, and it's easy to edit and save all data for reference in future calculations. This Texas Instruments handheld calculator displays graphs and is an excellent tool for exploring and designing geometric figures.
Graphing calculator offers 3.2" LCD display for showing graphs and charts

Explore math expressions in symbolic form, see patterns, and understand the math behind the formulas

Dimensions: 0.79"H x 3.54"W x 7.48"D

Battery-operated for portability

102400KB ROM memory and 65536KB RAM memory capacity to tackle complex computing

Streamline financial calculations with amortization, cash flow, time value of money (TVM), net future value (NFV), and modified internal rate of return (MIRR) functions

Graphing functions including 3D graphing, polar, sequence, zoom, trace, parametric plot, bar plots, and much more

Hexadecimal, octal, binary, random number, trigonometry, permutation, combination, scroll, and other functions help you solve a variety of mathematical problems

Package contents: hard case, USB cable, unit-to-unit USB cable

Preloaded apps include Notes, Calculator, Geometry, Lists & Spreadsheet, Data & Statistics, and Vernier DataQuest

Computer algebra system (CAS) enables a deeper understanding of abstract concepts in math and science

Built-in USB port makes data transfer to your computer easy for deeper data analysis

Comes in black color

1-year manufacturer limited warranty


Computerized Algebra System Focuses on the Theory Behind the Equation
The TI NSPIRE-CX CAS offers a Computerized Algebra System (CAS) that enables a deeper understanding of abstract concepts in math and science, making this calculator ideal for professionals or academics who deal in abstract physics or other sciences.

Large Color Screen Offers a Rich Data Presentation
The Texas Instruments TI-Nspire CX CAS Graphing Calculator delivers output on a large display. Graphics are delivered in color to give your data a richer presentation that's easier to read and understand.

Multiple Visual Representations of Data Offer Options for Display
The TI NSPIRE-CX CAS offers six different graph styles and 15 colors, allowing users to customize visual displays of data, differentiate between lines, axis, and other objects.

Easy to Carry in Backpack, Purse, or Pocket
The Texas Instruments TI-Nspire CX CAS Graphing Calculator is extremely slim and light, meaning that you can easily leave it between the pages of a math book or carry it in your pocket. You can even save what you're doing on the calculator and upload your work to a Mac or PC so that it can be included in other projects.

Package Contents
Texas Instruments TI NSPIRE-CX CAS Graphing Calculator, rechargeable battery, USB cable, and user's manual.

Specifications
Power Source

: Rechargeable Battery

Color Family

: Black

Warranty Information

: 1 Year

True Color

: Black

Graphing Calculator Types

: Non-CAS

Type of Display

: LCD

Connectivity

: USB Connectivity

Features

: Eleven interactive zoom features

Number of Graphing Styles

: 6.00

Softwares and Applications

: Calculate, graph, write notes, build spreadsheets and create self-check questions, all with TI-Nspire and TI-Nspire CAS Teacher Software

Tests

: Standardized tests

Calculator Model

: TI-NSPIRE

Number of Digits Displayed

: 10

Number of Lines

: 1

RAM Memory (KB)

: 0.00

Brand

: Texas Instruments

Customizable

: No

Weight

: 1.00 lbs. per Each