Tripp Lite® Transition Cable; 18"(L) (P952-18I)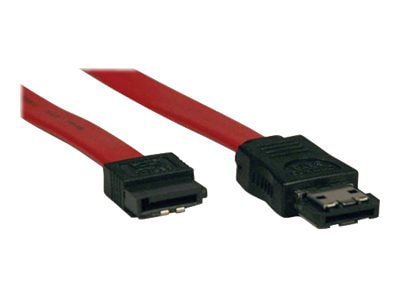 Description
Tripp Lite Transition Cable - Connect External SATA Devices
The Tripp Lite transition cable lets you easily connect external devices that use the eSATA format to SATA connectors on your motherboard or peripheral cards.
Hard drive accessory type: SATA/eSATA

Cable length: 18"

Color: Red

Connector on first end: 1 x 7 pin SATA straight male

Connector on second end: 1 x 7 pin eSATA male

Supports data transfer rates of up to 3.0 Gb/s

Cable is shielded to protect against EMI/RFI line noise

Number of connectors: 2

Device supported: Hard drive

Compatibility: PC

18" SATA internal "L" to external eSATA "I" data cable

Green compliance certificate/authority: RoHS

Connector style: Latching

Style: SATA

Conductor: Copper

Package contents: 18"SATA to eSATA transition cable

Lifetime limited warranty

Interface speed: SATA 150/300
EMI and RFI Shielding
Each Tripp Lite transition cable features integrated shielding against electromagnetic and radio-frequency interference. This reduces line noise and helps to protect against data corruption or potentially hazardous power spikes in the connection. A latching design ensures the cable remains in place during normal operation.
Fast Data Transfer
The cable supports data transfer speeds up to 3 Gbps. Faster transfer speeds result in faster file saving, backups, and image or video transfers using the cable. The unit is compatible with most modern PC motherboards and peripheral cards.
Superb Length
Each Tripp Lite transition cable is a full 18 inches long. This exceptional length allows it to easily reach many onboard cards or integrated SATA slots on motherboards as well as eSATA equipment located outside of the machine. Copper conductors help keep data loss to a minimum, even over long cable lengths.
Specifications
Brand

: Tripp Lite

Weight

: 1.00 lbs. per Each