EzMigration (Download Version)
Brand:
Data Protection Solutions by Arco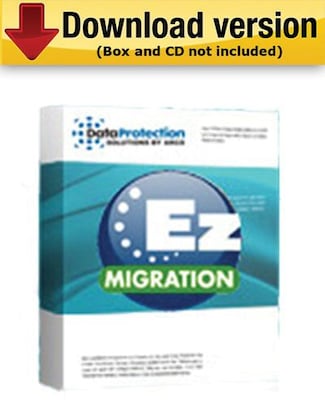 Description
Make an exact bit by bit copy of your drive; expand the partition if necessary
Download Size (in MB)
9.77

Download Time
Cable Modem: 0 mins, 19 seconds :: DSL: 0 mins, 48 seconds


You will receive two emails: one confirming your entire order, and one with a "Download Software" button. You can download immediately or return to your email to download later.

Questions about downloading software? Click here for answers to common questions.




Downloadable software is not returnable or refundable.

Let EzMigration drive copier software eliminate the hassle of transferring data to a new hard drive. EzMigration drive migration software makes copying your drive a simple drag and drop operation. Whether you're an expert computer user or a complete novice, with EzMigration you can have an exact copy of your drive with few mouse clicks.
Transfer Your Data to a New Drive- EzMigration creates a perfect 1:1 copy of a selected hard drive to another hard drive, which is also known as a disk image or drive image. By creating a clone of your drive, you are able to migrate your data files

These include all installed applications, preferences, and even the boot partition from your old drive. EzMigration drive migration eliminates the many hours of work that is normally required to re-install and set up your system and applications.

Saves as well as the time required to locate and re install all software, applications and hardware updates that may already be on the original drive.

Expand the Partition and Gain Full Access of Your New Drive- EzMigration comes with an easy to use partition expander tool that allows you to quickly and easily expand the partitions on your new drive to gain full access of its storage capability.

Expanding your partition is important because, if the new drive is as big as your old drive, the new drive will occupy the same space as the new one...

but if you are migrating to a much larger drive, then you must expand the partition in order to have access to the unused space from the new drive.

Features:- Easily transfer an exact image copy of your drive to a new or larger drive- Duplicate a laptop or desktop drive- Migrate your boot drive in one quick and simple operation

Eliminate all the time and trouble associated with rebuilding a drive manually- Expand or move a partition, if necessary, with a few mouse clicks- Support for Windows XP/ 2000 /2003 /2008 /Vista/ Vista 64/ Win7 (32-bit and 64-bit systems)

Support for FAT/NTFS File Systems- Support for Basic (GPT) Disk Type- Currently No Support for Dynamic Disk Type

Memory: 1 GB of RAM, Hard Disk: 512 MB of free hard drive space, Display: 800 x 600 minimum screen resolution

Windows 7- All Versions, Windows Vista Home Basic x64, Windows Vista Home Premium x64, Windows Vista Business x64, Windows Vista Enterprise x64, Windows Vista Ultimate x64, Windows Media Center Edition, Windows Server 2003, Windows XP Home, Windows XP Professional, Windows 2000, Windows XP, Windows Vista Starter, Windows Vista Home Basic, Windows Vista Home Premium, Windows Vista Business, Windows Vista Enterprise, Windows Vista Ultimate

Orders placed over a weekend may be delayed until Monday
Specifications
Brand

: Data Protection Solutions by Arco

Weight

: 1.00 lbs. per Each
Download Details
Download Size: 10190 KB
Minimum Memory Required: 1 GB of RAM
Minimum Hard Drive Space Required: 512 MB of free hard drive space
Display (Screen Resolution): 800 x 600 minimum screen resolution
To retrieve keys & links after your order has been processed M-F 6am-10pm CST (NOTE: Only available business days): (1) Click on ~My Accout~ on Quill.com & login (2) Click ~View Software Downloads~ on the left on the ~Manage My Account~ page