W-2 Forms; IRS Approved, Single-Width and Continuous-Feed; 4 Parts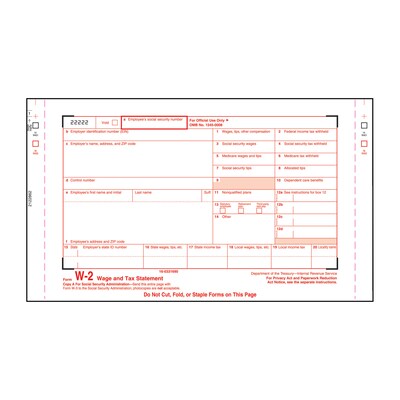 Description
Save time and money with forms formatted for your application.
Meets the rigid specifications of the Social Security Administration

For use with impact printers or typewriters, black-image carbonless forms provide clear copies. Even on the very last one!

Overall width:9-1/2x5-1/2". Without carrier strips:8-1/2x5-1/2"

Shipped by UPS from CA or PA factory within 24-48 hours. Allow normal transit from factory to final destination.
Specifications
Brand

: TOPS

Weight

: 1.60 lbs. per Hundreds
Customers also viewed
Single-Width and Continuous W-2 Forms

When you buy

5

+

Cardinal 5200 Laser W-3 Forms, 25/Pk

W-2 Individual Forms, Federal IRS Copy A Only, 2 Forms Per Sheet

When you buy

5

+

1099-Misc Carbonless Continuous Forms, 4 Parts

When you buy

5

+

W-3 Forms f/Strike Printers/Typewriters

When you buy

10

+

W-2 Window Gummed Tax Form Envelopes

When you buy

5

+

Tax Forms, W-2 Laser Combination Pack

When you buy

5

+

IRS Approved 6-Part Carbonless W-2 Forms

When you buy

5

+

1099R Window Gummed Tax Form Envelopes

When you buy

5

+

1099 Misc. 3-Part Continuous Carbonless (No State Copy)

When you buy

5

+

1099 Miscellaneous Forms for Laser Printers, Federal Copy A

When you buy

5

+

Perforated Blank W-2 Forms, 4-Up

When you buy

5

+

6-Part W-2 Forms f/Laser Printers

When you buy

6

+

1096 Summary Forms for 1099

When you buy

10

+

1099 Miscellaneous Pre-Packaged Laser Sets, 4 Parts, 50 Pack

When you buy

6

+

Employee Copy B, 2, 2 and C W-2 Form

When you buy

5

+

4-Part W-2 Continuous Forms/Envelopes
Customer Ultimately Bought