Wilson® Low Profile "Hershey Bar" Omnidirectional Antenna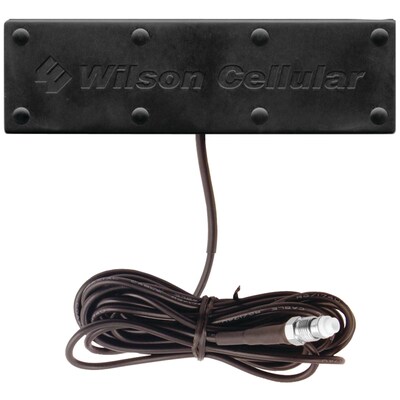 Description
Wilson® "Hershey Bar" Antenna features multi-band versatility that is most durable and is designed to work with car as well as vehicle amplifiers.
Wilson® "Hershey Bar" Omni-directional antenna with SMA connector has removable Velcro backing and low profile for discreet installation. Antenna is vertical mountable and offers up to 4.3 dB of gain.
SMA-male

Designed to work with car and vehicle amplifiers

10'

Impedance: 50 ohms

Signal pattern: Omni when mounted vertically

Polarization: Vertical

Dimensions: 5"L x 1 1/2"W

Building mount: Minimum 6 inches away from metal

Gain: 700 - 800 MHz (3.4 dBi), 824 - 894 MHz (2.2 dBi), 880 - 960 MHz (1.2 dBi), 1710 - 1880 MHz (1.4 dBi), 1850 - 1990 MHz (3.2 dBi), 2110 - 2170 MHz (4.3 dBi)

Multi-band versatility, mountable to any non metal surface, low profile for discreet installation, omni-directional when mounted vertically, removable velcro backing

Includes Wilson 301152 low profile antenna with 10ft RG174 cable, SMA connector, 3M adhesive

Weight: 0.2 lbs.
Specifications
Brand

: Wilson

Weight

: 1.00 lbs. per Each