Wiss® Quick-Clip® Lightweight Speed Cutters, 3/4".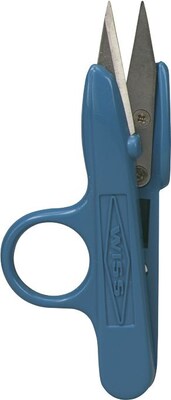 Description
Cooper Hand Tools Wiss® Scissor with positive spring-action that reopens blades for fast cutting, sharp tip and shears.
Quick Clip 4 3/4" Sharp point scissors with straight PVC plastic handle have massive contour design. Scissors features steel sharp point blades that are replaceable and have a spring-action for faster cutting up to 1" length.
Size: 1-inch Length of cut

Length: 4 3/4-inch

Tip Type: Sharp

Handle Type: PVC Plastic Straight

Material: Stainless Steel

Stainless steel replaceable blades

Positive spring-action reopens blades for fast cutting

Heavy duty contour design

1570B comes with sharp points 1571B with blunt points

Industrial PVC plastic handle

Used on fabric

Latex-Free

Provides strong support in minutes to encourage early patient mobility

Water-repellent padding promotes ease-of-use and faster application

Splint can be customized and cut to the exact length needed for less waste and cost-effective product use

Packaged in a unique, self-sealing system that minimizes waste, enhances productivity and gives the clinician the ability to cut the splint to the length needed

Faster application increases patient turnaround

Exposure of the splints to moisture or water initiates a chemical reaction that causes the splints to become rigid

Covered on one side by an air and moisture permeable non-woven fabric and on the other side by polypropylene felt, which serve as padding

Ideal for high volume users such as emergency departments
Specifications
Size

: 1 in Length Of Cut

Length

: 4 3/4 in

Handle Type

: Sharp

Brand

: Wiss

Weight

: 0.05 lbs. per Each