Zebra Technologies® AT18737-1 Charger Wall LI72 Single AC Adapter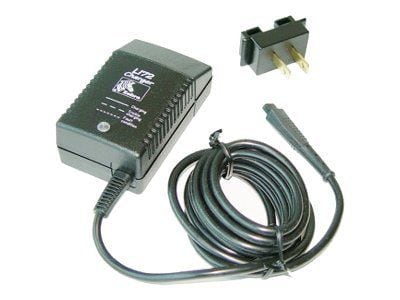 Description
Zebra Technologies AC Adapter - Rapid Charging
Power your mobile printers efficiently by hooking them up to this Zebra Technologies AC adapter. It converts standard AC wall current to a more suitable 8.4-volts direct current that will meet your electronic devices' needs without overloading or damaging sensitive circuits. It has external LED indicators to display status so that you know when your charge is complete, and it's designed to work with the lithium-ion batteries used in RW-series mobile printers.
Compatibility: Zebra RW series mobile printers

Device supported: Printer

Output voltage: 8.4 VDC

Input voltage: 100 - 240 VAC

Frequency: 50/60 Hz

Maximum output current: 800 mA

Form factor:External

Features: LED indicators

Multiple A.C. plug configurations comply with most international standards

Charger is in-tended for use with the RW series printers which are equipped with Lithium Ion (Li-ion) batteries
Safe Power Conversion
This Zebra Technologies AC adapter is a safe and effective tool for charging your mobile printer. It accepts a wall current of up to 240-volts AC and damps it to 8.4-volts DC, which is suitable for the sensitive electronics of your equipment.
RW-Series Printer Compatible
This adapter is designed to work specifically with the RW series of mobile printers, so there aren't any compatibility issues that can impair the connection. It's safe to use with the printers' lithium-ion batteries.
External LED Indicator Lights
This Zebra Technologies AC adapter has external LED indicators to display the status of your charge. At a glance, it's possible to tell when your printer is charging and when it's done and ready for use.
Specifications
Brand

: Zebra

Weight

: 1.00 lbs. per Each