A Dude's Guide to Babies: The New Dad's Playbook
Brand:
Assorted Publishers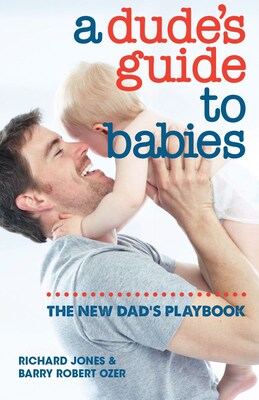 Description
Packed with enjoyable top 10 lists and pop quizzes for new pops, A Dude's Guide to Babies shows dudes how to see the funny side of fatherhood and to strengthen their Dad fu (think kung fu, only with more diapers and fewer mystical quests).
Welcome to A Dude's Guide, The New Dad's Playbook. A fun and practical user's manual for every dude who's sweating all the small and big stuff about bringing up his little dude or dudette. Authors Richard Jones and Barry Robert Ozer say, A Dude's Guide to Babies is the book we wish we had we'd had when we first became dads. In this guide, they share straight talk, helpful advice, and personal experiences to ease a new dad's stress over cleaning, feeding, and playing with his newborn, as well as keepi ng his baby safe, happy, and not in need of too much therapy down the road. With this playbook, dudes will have all the x's and o's they need to go from rookie dad to all-star!
Author: Richard Jones & Barry Robert Ozer

Publisher: Sellers Publishing

Publishing Date: March 22, 2013

Paperback

208 pages

Learn how to baby-proof your home without going over-the-top

Get the inside scoop on poop

Questions to ask the doctor on a well-child visit
"Help!" croaked Barry Robert Ozer to his friend Richard Jones. Barry, who had recently gone from DINK (double income, no kids) to stay-at-home adoptive Dad of four in the span of six-months, was feeling overwhelmed when his friend arrived to visit that day. Richard, who is the father of three boys, drew on his deep well of practical experience and promised Barry things would be all right, encouraged him to take a much-needed shower, and reassured him he'd be a great dad. That first talk became the inspiration for A Dude's Guide to Babies, their "user's manual" designed to show fathers how to thrive (not just survive) as a new dad. Packed with enjoyable top 10 lists and pop quizzes for new dads, this relatable guide features practical and valuable advice about the pregnancy and delivery; questions to ask the doctor; circumcision; safeguarding the house; changing diapers; spending time and communicating with your newborn; bathing and feeding the "little dude or dudette". "There was so much I didn't know, and the books I'd read made me feel like if I didn't already know how to do everything I'd be a terrible dad," said Barry. "Talking to Richard helped me set more realistic expectations and accomplish what needed to be accomplished. Together we built our confidence and realized the most important steps to being a great dad were not panicking and just focusing on the basics. Once we got that down, our sense of confidence helped us leave the panic behind."
Specifications
Brand

: Assorted Publishers

Customizable

: No

Weight

: 1.50 lbs. per Each