Apollo® Horizon 2 Overhead Projector, 2000 Lumen Output, 10" x 10", Open Head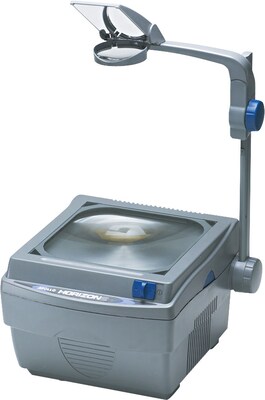 Description
For powerful presentation capabilities, this overhead projector can brighten up any small room. With a 2000 lumen light output, this projector is perfect for classrooms and small-capacity meeting spaces. The open head lens keeps the projected image sharp, even at the corners. The built-in grips help makes set-up easier, and the lens head folds down for more compact storage.
Present your co-workers and clients with a clear view of all your documents, charts and graphics with this easy-to-operate overhead projector. The lightweight unit is designed for portability, so you can easily move it from a storage corner into the board room. The projector operates at up to 2,000 Lumens to deliver bright, crystal-clear projections onto the screen. The projector's 10-by-10-inch staging area provides ample space to situate a sheet, and the unit's cooling system ensures it can last through long presentations.
2,000+ lumens - ideal for most daily applications

14 lbs

Double-fresnel, anti-glare lens provides precise edge-to-edge focusing

Internal storage compartment for power cord, head and post

Quiet, high-efficiency cooling system for maximum performance

Simple-to-operate, user-friendly controls

Security lock slot

Projector features 2000 lumen light output

Ideal for classrooms and small venues with up to 20 people

Open head with double fresnel lens assures edge-to-edge sharpness and brightness

10" x 10" stage glass surface area

Open head folds down or can be stored in built-in storage compartment and 2 carry grip handles provide easy transport

Weighs just 12 lbs. for easy portability and relaible tabletop use

Includes lamp changer so users can quickly change lamp with the flip of a switch

High/low lamp control extends lamp life. High-efficiency cooling system is built-in.

Includes locking Kensington Security Slot for theft prevention and thermal shutoff switch for safety

2-year limited warranty
Use this Apollo Quantum 1600 overhead projector during classroom lectures, boardroom meetings or any space where you need to present material to a small- to mid-sized crowd. This portable overhead projector is lightweight, so you can easily transport it from one room to another. Display bright, easy-to-read presentations each time you place transparency films on this durable overhead projector.

Crisp, Clear Projections
This 2000 lumens overhead projector features sufficient light output to ensure each transparency displays sharply and brightly on your projection screen. The double-fresnel lens provides edge-to-edge focusing on the staging area, guaranteeing dependable performance each time you present information.

Simple and Efficient
Enjoy the simple design and features of this Apollo overhead projector. User-friendly controls make this projector easy to operate, and a built-in internal storage compartment provides ample space for the power cord, projector head and post when the projector is not in use. A 10-inch by 10-inch staging area lets you maximize the size of certain areas on your transparency without distorting the image.

Cooling System
The overhead projector's integrated cooling system prevents the unit from getting too hot during use. The fan runs quietly while the projector is on, thus minimizing disturbances during your presentations.


Specifications
Projector Type

: Overhead

Manufacturer

: Apollo

Stage Aperture

: 10" x 10"

Warranty

: Lifetime Limited

Brand

: Apollo

Weight

: 14.60 lbs. per Each