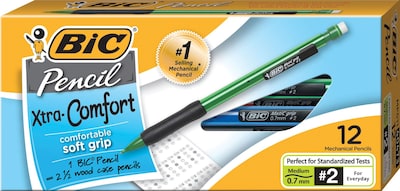 BIC Matic Grip Mechanical Pencil, 0.7mm, #2 Hard Lead, Dozen (40473/MPG11)
BIC Matic Grip Mechanical Pencil, 0.7mm, #2 Hard Lead, Dozen (40473/MPG11)
Item #: 901-MPG11
Model #: MPG11
Brand: BIC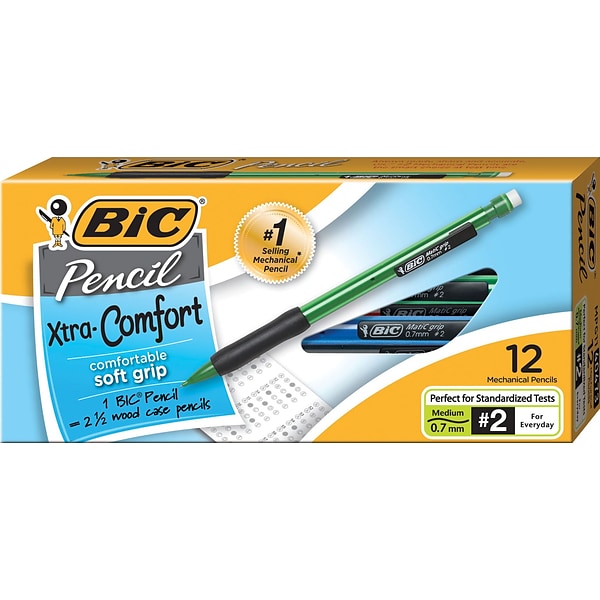 BIC Xtra-Comfort Grip 0.7-millimeter mechanical pencils cushion your hand as you write for optimal comfort.
Stave off writer's cramp with the ergonomic design of these BIC Matic Grip mechanical pencils. Each pencil includes a cushioned, comfortable rubber grip that helps to minimize fatigue during extended periods of writing, increasing workplace productivity. The 0.7-millimeter lead flows smoothly for accurate writing and is suitable for all applications requiring a number-two pencil. An eraser at the top makes it easy to eliminate any mistakes, and a convenient pocket clip ensures easy access whenever you need to jot down a quick note.
Pre-sharpened mechanical pencils are ready to use right away
Uses 0.7mm, No.2 hard lead
Assorted-color barrels
Contains 12 mechanical pencils per pack
Contoured rubber grips make writing more pleasurable
Contains 2.5 times the lead of traditional wooden pencils so you can write for longer between refills
Each pencil comes with three #2 leads certified by Scantron for standardized tests
Equipped with pocket clips for convenience
Self-feeding leads maximize ease of use
Also available in a 0.5-millimeter format
Eraser included to cleanly erase any errors
Never Requires Sharpening
Dispense with the need to sharpen pencils by using BIC Matic Grip mechanical pencils. Using consistently sized leads, these mechanical pencils never require sharpening, eliminating a mundane and repetitive task while simultaneously reducing workplace noise caused by electric pencil sharpeners.

Refillable Lead
Cut down on overhead expenses due to wastage by refilling BIC Matic Grip mechanical pencils whenever they run out lead. These mechanical pencils don't leave pencil stubs to dispose of, lowering your impact on the environment and helping to advance your corporate social responsibility goals. Additionally, writers who enjoy the ergonomic design of these pencils and the increased productivity it provides won't have to give up the comfortable grips they've grown accustomed to.

Durable Lead
Minimize writing interruptions with the sturdy #2 leads of these BIC Matic Grip mechanical pencils. The 0.7-millimeter lead offers superior durability, allowing it to resist breaking over the course of everyday use.
Plastic
BIC
Makes writing comfortable with soft grips, Vibrant barrel colors, Lead advances quickly and easily
Grip
Black
Hard
No. 2
0.7mm
Dozen
Mechanical
Unsharpened
Yes
Refillable
Yes
Bic Xtra Comfort