Open-concept workspaces have been gaining ground over the last few years, but there are plenty of drawbacks to go along with their benefits. Nevertheless, one thing every office needs is a dedicated space for collaboration. For team members to work together effectively, a collaborative workspace should provide enough space to brainstorm, do presentations, and look over project materials.
Conference tables are traditionally used in large meeting rooms and areas designated for important presentations, but their size and features make them perfect for collaborative workspaces too. Combine that with the latest in office technology and you can design a meeting room that supports and inspires teamwork. Here's what to keep in mind when you're choosing conference room tables for your meeting rooms.
The right size and shape
Deciding on the best size and shape for your conference table depends on a few things: the layout of the space, how many people will need to use it, and the types of projects it will be used for. It's important to make sure the furniture in collaborative spaces is versatile to accommodate different types of meetings.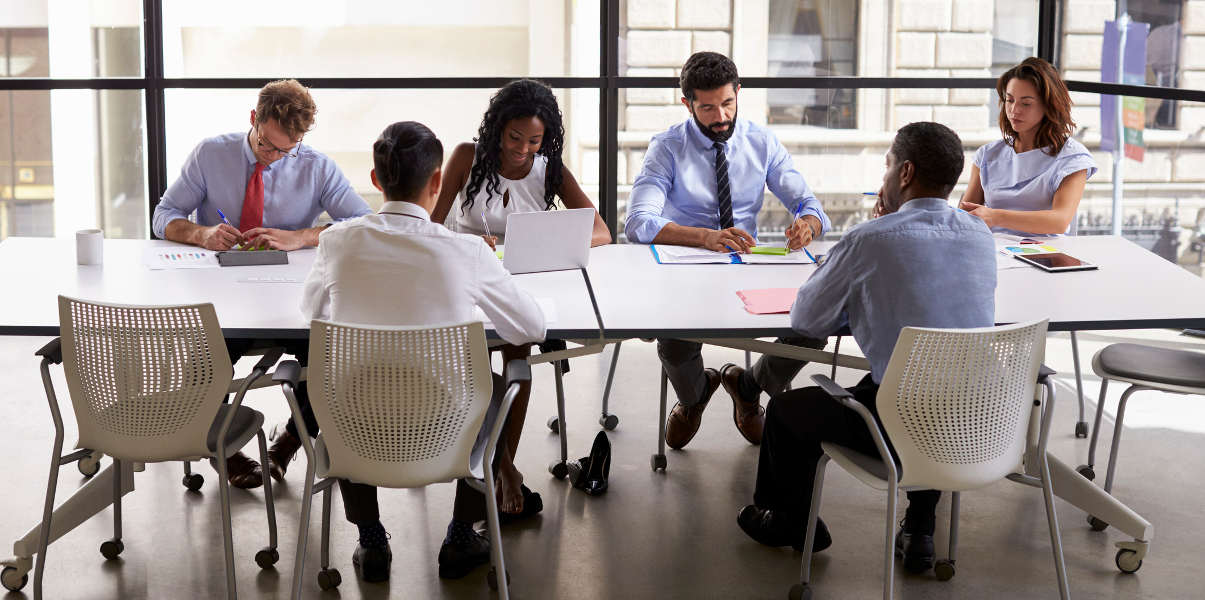 For example, a boat shape like this Bestar® Conference Table in Cappuccino Cherry can accommodate more people than a round table and can also be pushed against a wall in a meeting that requires more floor space. Smaller, square tables are a smart choice because they can always be combined to create a larger surface area for those in-depth meetings that involve multiple teams.
Keep your industry in mind
The types of projects you're working will vary depending on the field you're in. Collaboration and teamwork has a place in every industry, but creative fields like design or advertising tend to require more brainstorming sessions than technical fields like banking or medicine. If employees are going to be spending more time in the space, the furniture can make a big impact on productivity.
If you're in a creative industry, utility tables like the basyx by HON® Multi-Purpose are a good alternative to traditional conference tables. They make sharing projects easy and give employees the ability to move around between different work areas and focus on hands-on tasks.
Consider multiple tables—and don't forget the chairs
Using a single large conference room table is one option, but if your office is made up of multiple smaller teams, it might be more efficient to have a few different workspaces dedicated to collaborative meetings. You don't need a huge space to fit a table and chairs set like this OFM™ 42" Round Multi-Purpose Mahogany Table with 4 Chairs which comes in a range of different colors.
One study found that collaboration promotes higher engagement and overall employee performance, so creating a space that employees enjoy using to work with their colleagues is key in encouraging teamwork. And while a good table is important, so are comfortable chairs. Task chairs are adjustable, ergonomically friendly, and can be easily moved around for maximum versatility.
Make sure to accommodate tech
No brainstorming meeting is really complete without a way to Google ideas and do a little quick research on the fly. Battery life on laptops and tablets only goes so far, so having a conference table with with electrical outlets is never a bad idea.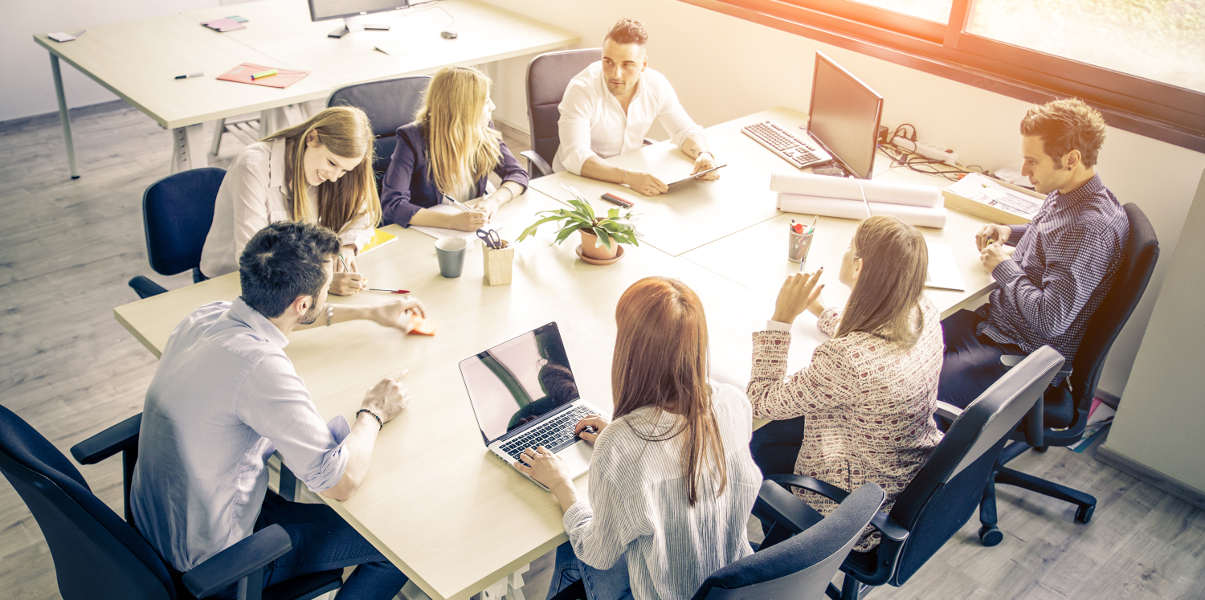 Office technology like large TV screens and phones for conference calling are also essential in meeting rooms so that remote employees can work with colleagues in different offices. Having conference tables that can be positioned conveniently for video calls will ensure employees are able to work with the right colleagues and complete projects in a timely fashion.
At the end of the day, conference tables are an important addition to any office whether you use them for team meetings, brainstorming sessions, or a little bit of everything. Get creative with it and inspire your employees to think outside the box.