Are deskless classrooms for you?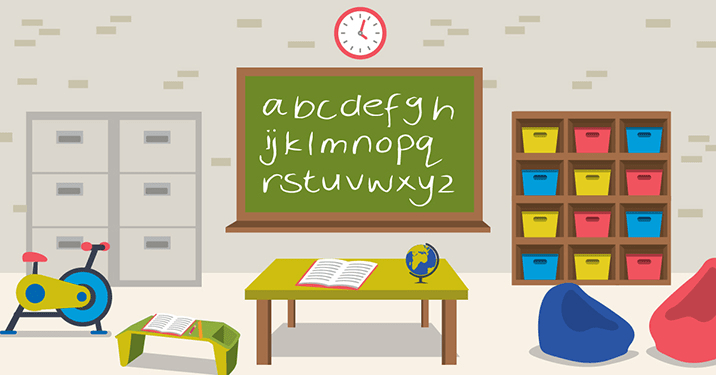 Are deskless classrooms for you?
Worldwide, children sit for an average of 8.5 hours a day. However, a large body of research suggests sitting for prolonged periods is detrimental to health and contributes to heart disease, cancers, Type 2 diabetes, and other conditions in adults. At least one study suggests extended sitting is detrimental to kids' health, too. Girls between the ages of 9 and 12 who sat for three uninterrupted hours had "a profound reduction in vascular function," meaning their arteries were not working as well as they did at the start of the experiment.
Moreover, sedentary behavior may have a negative effect on brain development and learning. John Ratey, M.D., Harvard Medical School professor and author of A User's Guide to the Brain, calls physical activity "Miracle-Gro for the brain." Research suggests kids benefit academically when they're active outside of school and in the classroom. In one study, 13.5 percent more students reached their goal on a state standardized test when teachers incorporated physical activity into regular lessons.
It's time to stop asking children to sit still. However, it can be challenging to encourage healthy movement in a classroom designed for sitting. For that reason and others, some teachers are ditching desks and redesigning their classrooms with flexible seating. Read on to learn why you may want to transition to a deskless classroom.
Why Flexible Seating?
The goal of removing desks from classrooms is to create more flexible, student-centered, active environments where kids have the option to move and change positions as needed to optimize learning.
Classrooms filled with rows of desks are so commonplace they seem natural, but it's important to question whether they're optimal. Think about where you prefer to read, listen, and work. Do you sit at your desk to read a novel? Do you listen to audiobooks or podcasts while sitting still in a hard chair? Would you work at a coffee shop that offered only student desks as workspaces? Probably not. Many of us choose different workstations for different tasks and are more comfortable and productive that way.
Moreover, because of public health campaigns, you may be increasing physical activity during your workday. Many office workers are transitioning to standing, dynamic, and treadmill workstations; holding walking meetings; and taking movement breaks. It's well understood that working in any one position for too long, whether sitting or standing, is not ideal for adult health or productivity. Students similarly benefit from increased activity at school. Intermittent movement is essential for human health: It reduces stress and fatigue and increases concentration.
Designing a Deskless Classroom
You don't need to get rid of all the student desks in the classroom. You may want to leave a few for students who prefer working at them for certain tasks. However, having fewer desks provides space for an array of other seating options.

Acquiring flexible workspaces for a deskless classroom doesn't need to be expensive. Some people don't like the idea of kids sitting on the floor, but the floor is arguably the most natural and healthy place for humans to sit. Sitting on the floor builds strong core and back muscles, increases hip flexibility, and encourages people to change positions often. Some health experts believe encouraging kids to sit on the floor instead of on chairs can improve health. "Removing chairs from classrooms would be the simplest step we could take as parents and educators to produce the largest change in trajectory of health in our culture," writes Katy Bowman, biomechanist and author of Don't Just Sit There.
An assortment of rugs, mats, and pillows make the floor a more appealing and comfortable option. Consider these budget-friendly ways to acquire them and other flexible seating options for your deskless classroom:
Ask for donations from students' families and teachers
Check yard sales, thrift stores, and overstock supply companies
If you live in a town with a university, watch Craigslist when students are moving out
Crowdsource using a website such as Donor's Choose
Investigate grants
Start with the flexible seating options that fit your budget. Later, you can consider more expensive options, such as kinesthetic workstations or stationary bikes.
The Teacher Desk: To Keep or Not to Keep
If you use your desk and it's important for your planning, organization, and workflow, keep it. However, many teachers rarely use their desks and decide to remove them to create more space for lessons and learning. If you think you can do without your desk, consider an alternative workspace, which you may already have in your classroom.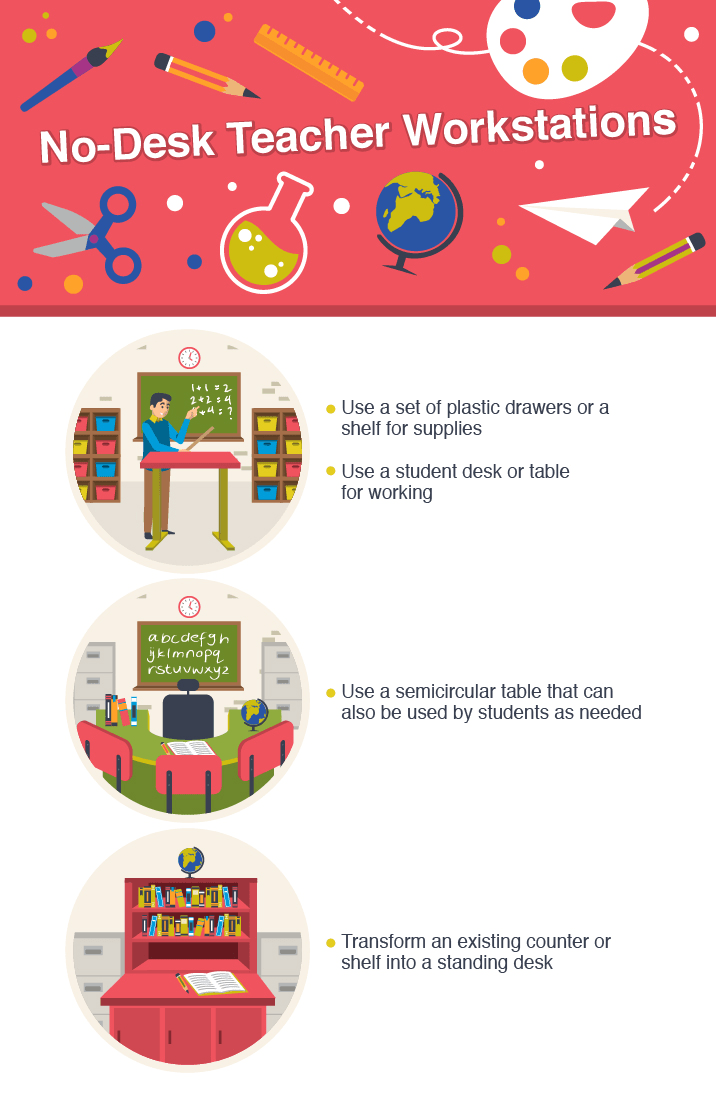 The Benefits of Deskless Classrooms
"Teachers who insist that students remain seated during the entire class period are not promoting optimal conditions for learning," writes Eric Jensen, author of Learning with the Body in Mind. He continues, "When we keep students active, we keep their energy levels up and provide their brains with the oxygen-rich blood needed for highest performance." Sure enough, teachers who have transitioned to deskless classrooms report a number of benefits, including:
Coffee shop owners understand people like to work in comfort, and educators are catching on. Research suggests when students feel valued and are relaxed and at ease, they learn better.
Classrooms with flexible seating options are student-centered and encourage more participation than typical classrooms designed for teacher-led lectures (sometimes called "sit and get"). Many education experts argue student-centered learning better prepares students for the rapidly changing 21st–century economy, where self-directed, lifelong learning is essential.
In a deskless classroom, kids have the option to sit in different positions for different activities and move around as needed. Teachers can also move furniture more easily to use the space for different activities.
The introduction of tablets and other technology into classrooms can isolate kids from each other. Some teachers report more in-room connection and collaboration when students have access to flexible seating options.
Teachers often report better student behavior when kids can choose comfortable seating and move when desired. Furthermore, research shows kids with ADHD are more alert and focused when allowed to fidget.
Active learning opportunities
Students benefit when movement is integrated into lessons, a method called kinesthetic teaching. "Standing up, literally, can be a first step toward restoring vitality to classrooms," writes Susan Griss, author of Minds in Motion: A Kinesthetic Approach to Teaching Elementary Curriculum. She explains that active lessons can restore play to learning, help shy kids participate and express themselves, and encourage individualized teaching.

Conclusion
Rethinking traditional classroom design may feel scary, but many teachers are reporting successful outcomes. Remember, deskless classrooms are student-centered, so don't be afraid to let your students help design the classroom layout. Aim to provide a variety of workstations, some intended for collaboration and others for quiet study. Be prepared to demonstrate the way you would like students to work at different areas, since many are not familiar with deskless workstations. Finally, take advantage of the high degree of flexibility in the deskless classroom by continually rethinking the space to suit your needs.

Share this Image On Your Site
Abby Quillen is the author of the novel The Garden of Dead Dreams and the editor of two anthologies. Her articles and essays have appeared in YES! Magazine and The Christian Science Monitor and on Common Dreams, Nation of Change, Reader Supported News, The Daily Good, Truthout, and Shareable. She lives in Eugene, Oregon, with her family. When she's not writing, she grows vegetables and weeds, bikes and walks as much as she can, and jots down cute things her kids say.

Loading...