7 Tips for Positively Managing Student Behavior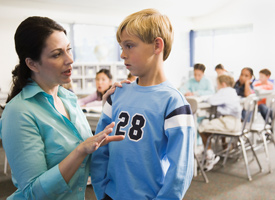 Getting 20-plus students to sit still, pay attention, feel comfortable, follow directions, retain information and smile for 180 days a year is no easy feat, but it's what teachers do day in and day out.
There are ways to help manage student behavior and maintain an effective and efficient classroom. It takes patience, a glass-half-full attitude and a toolbox of strategies to engage misbehaving kids and turn them back into cherubs. Here are seven of the most effective approaches:
1. Model and Reinforce Good Behavior
When the class gets rowdy, talk, don't yell. Thank those doing work instead of calling out those who aren't. "I love watching misbehaving students quickly open their notebooks after I've ignored them and complimented their neighbor's diligence and fine work," says 8th grade math teacher Ben Coleman of Talbot Innovation Middle School in Fall River, MA. Positive reinforcement breeds positive choices.
2. Establish Routines
Daily routines provide structure and predictability "Even the most hardened kid doesn't want the extra hassle of being in trouble, but they'll push back against a disproportionate response," says Victor Neves, band and orchestra teacher at West Hills Middle School in West Jordan, UT. Establish a pattern for the day and stick with it. Students like to know what's coming, even if it's a consequence, and a set routine often equals stability.
Display the rules, email them to parents, notify other students and model these expectations for your students, too. They need to see that the policies and procedures result in everyone being respected and treated fairly.
3. Communicate Clearly
"Research consistently shows that the best strategy for dealing with challenging kids is to have clear, well-communicated classroom policies," says Amy Moynihan, content manager for education research firm Hanover Research in Charlottesville, VA, and a higher education PhD candidate at the University of Virginia. Give feedback as quickly as possible and encourage family and community members to support the policies at home, too. Sometimes, it really does take a village.
4. Pick up the Pace
Time is of the essence when the class bell rings. Students often have a hard time concentrating for more than 10 minutes, so plan mini lessons and teach in 10-minute chunks. Don't allow time for students to get restless and start causing problems. Instead, use timed activities as a tool to keep them engaged.
5. Create a Peace Plan
Some days, it's impossible to prevent a child from bullying or creating an unsafe or volatile situation. When it happens, put on your diplomat hat. Remain calm, listen, act fairly and look for a resolution. Jennifer Day, a librarian at Paxton Elementary School in Platte City, MO, calls her conflict resolution strategy a peace plan. She develops a relationship with each student to encourage empathy and sharing. "When relationships are built, it becomes much harder for students to mistreat one another," she says.
6. Remain Teachable
Professional development is crucial to learning new tricks to your trade. Seminars, training sessions, books and blogs offer up-to-the minute resources for teachers, administration and staff. Being on the other side of the desk allows you to see fresh classroom management techniques in action.
7. Be Positive
"Even emotionally unhealthy people who seek out unhappiness find that they prefer joy, so I spread it around," says Neves. Confidence and optimism are traits students should have to be successful in and out of school. Make sure students feel recognized, appreciated and respected. You might be surprised how they reflect those positive qualities right back.
Claire Parker has a solid understanding of education through covering the classroom beat as a reporter for award-winning national and local publications and as the child of a teacher. She lives in Wilmington, NC, and relishes Southern novels, gardens and anything to do with saltwater and sand. Follow her on Google+.