Just as the Internet has revolutionized patient records and privacy laws, it has redefined the relationship between healthcare providers and their patients. While this relationship was once relegated to the exam room or private dinner table conversations between family and friends, patients now have the ability to take their musings about appointments and care— the good, the bad, and the ugly—to the world of online reviews.
While the prospect of having your practice reviewed in a public forum can certainly feel nerve wracking, the reality is that online reviews are utilized by patients with increasing frequency. Today, online reviews often return the top results when searching for a given doctor's name—not surprising when you consider that up to 80 percent of physicians are reviewed on at least one ratings site. More and more, patients turn to the Internet to investigate potential healthcare providers and keep tabs on current ones.
One survey of a nationally representative sample of the U.S. population published in February 2014, found that 65 percent of participants are aware of online physician ratings and approximately 25 percent of respondents utilize these sites. (Another 2014 study puts the number of patients utilizing online reviews at 42 percent.) Forty percent deemed physician rating sites "very important" for choosing a doctor. Of those who utilized online ratings, 35 percent reported choosing a physician because of positive reviews, while 37 percent reported avoiding a physician with negative ratings. In another study, 44 percent of respondents reported that they would consider seeing an out-of-network doctor if he or she were reviewed more positively than in-network doctors.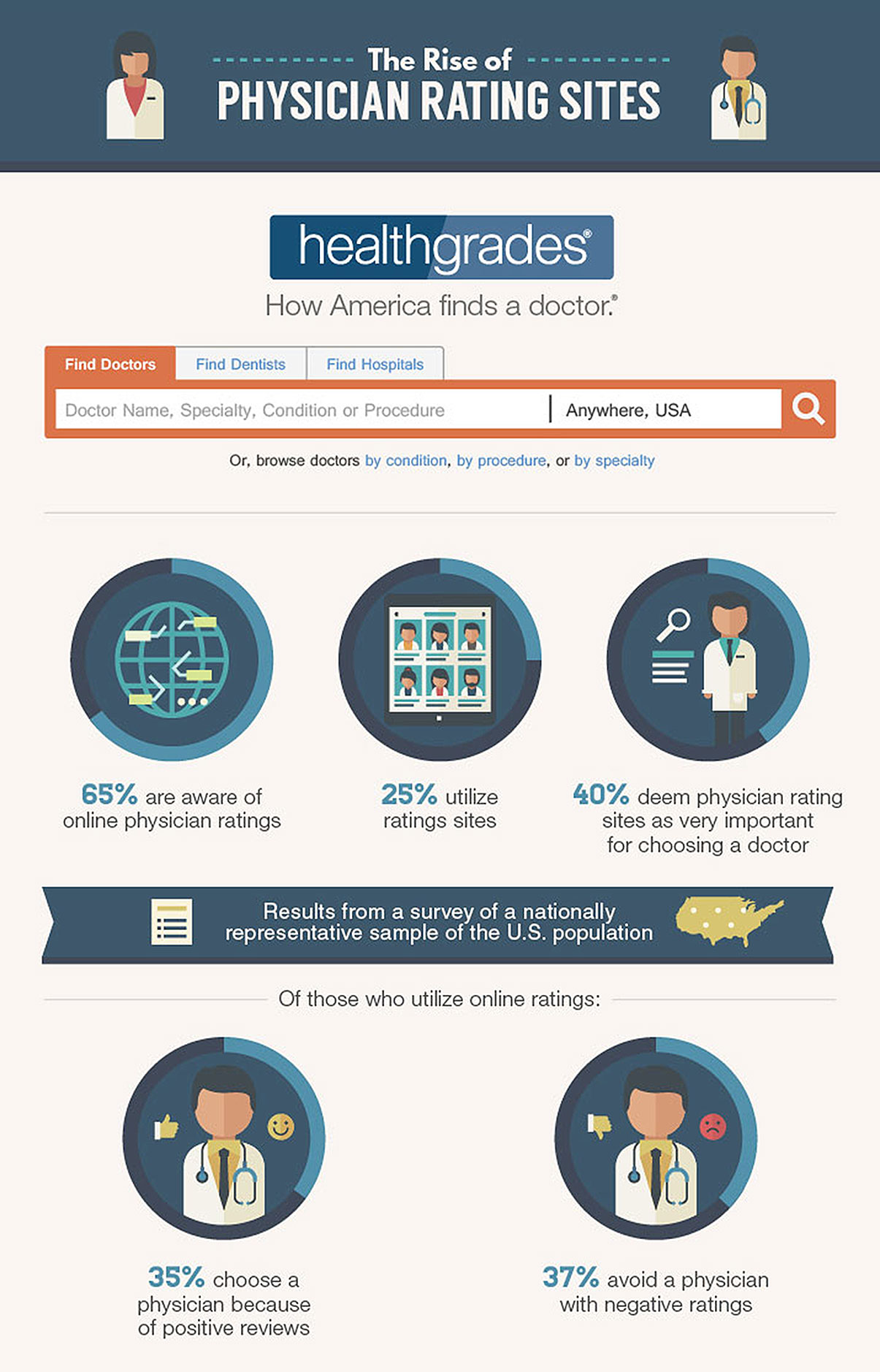 The Rise of Physician Rating Sites
The trend toward patient use of online reviews is driven by a number of factors, including:
Increasing digital connectivity; heightened demand from consumers, many of whom are shouldering higher and higher portions of their healthcare spending and seek out the best care at the most affordable price
Government programs that emphasize patient feedback when awarding payments and bonuses to healthcare providers
Increased emphasis on online reviews from healthcare practitioners themselves. Some health centers provide incentives for online patient ratings, and doctors are increasingly likely to read their own ratings.
The U.S. currently has around 60 websites devoted to online doctor reviews. While physician and practice information varies by rating site, most sites include basic information about a given physician or practice, including specialty or specialties, education, board certification(s), and years in practice. Many sites offer
more in-depth information via paid subscription.
Ratings are typically presented as numerical ratings assigned to a variety of factors influencing patient care. Some sites also include longer written reviews. The specific factors included in the ratings vary by site, but according to a study published on JMIR, the most common categories include:
Overall rating
Physician's communication skills and bedside manner
Availability of appointments (e.g. ease of scheduling and wait times)
Facilities (e.g. office cleanliness and waiting room accommodations)
Staff's courtesy and professionalism
The good news is that these are factors healthcare providers should already emphasize as they work to provide the highest level of care possible to their patients. Online reviews aren't necessarily to be dreaded or feared. Instead, they're great tools that help small healthcare providers keep tabs on the quality of care provided to patients. Read on for tips for online review management and how to make them best work for your practice.
How to Navigate Your Practice's Online Reputation
To a small healthcare practitioner, the world of online patient reviews can be daunting. It's not hard to imagine how online reviews could signal hard times for a small practice. There are a number of potential downsides: What if patients abandon your practice because of a bad review or two? (One Harvard Business School study found that a one-star drop in a physician's rating can reduce a practice's revenue by nearly 10 percent.) What if potential clients fail to understand the limitations of online reviews? What if other practices publish fake positive reviews of their own healthcare providers, potentially "stealing" prospective patients?
According to the American Council of Surgeons, other downsides of online reviews include the fact that online anonymity prevents the verification of reviewers, information online can be outdated or inaccurate (for example, a physician may be incorrectly classified or have moved to a new practice), patients may complain of factors beyond the physician's control, and physicians may try to avoid caring for patients who are likely to leave bad reviews online. Finally, it's difficult to determine whether patient experiences actually reflect a given physician's skill level.
Despite these concerns, online reviews are a reality for an increasingly large number of small healthcare practices. And the results aren't all bad. In fact, online reviews can help build a practice's reputation and ensure that healthcare practices both small and large continue to provide competitive, high-quality care to each and every patient.
To make the role of online reviews a positive one and help manage your reputation, keep the following tips and strategies in mind. Accept that online reviews are a reality. Like it or not, online reviews are utilized by patients (and consumers of all types) with increasing frequency. Your practice will have a better chance of faring well online if you monitor online reviews and do what you can to ensure sites portray accurate information.
Know what's being ranked. By understanding what patients are most likely to prioritize when reading reviews, you can work to ensure that all elements of your practice are up to snuff. One study found that patients value quality of care above all else, followed by patient rating scores and the overall patient experience. Accurate diagnoses, reasonable wait times, the doctor's listening skills, staff friendliness, and ease of scheduling are all sought-after information. Participants in the study considered practice demographics and office appearance to be less important overall.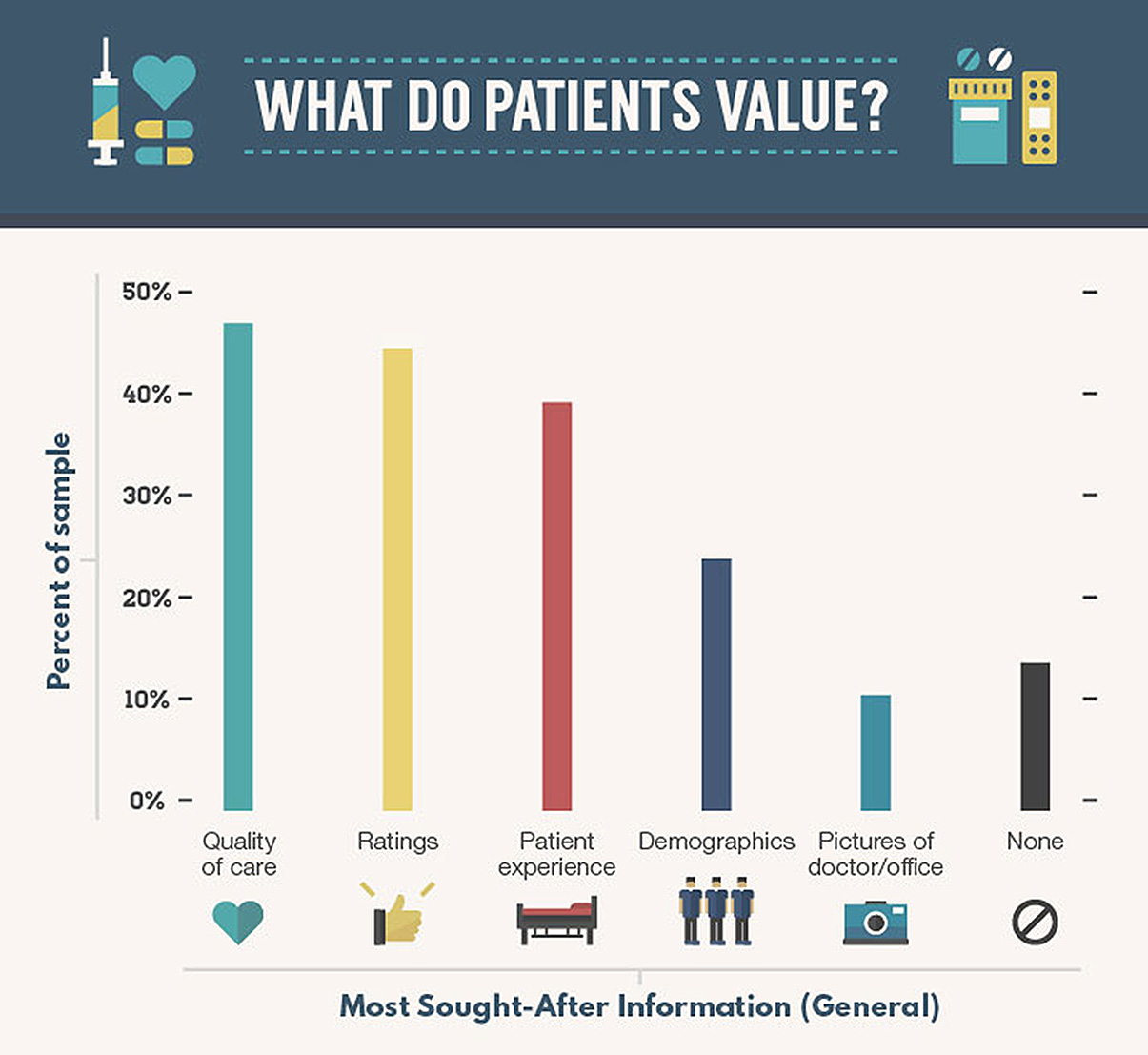 Don't ignore current patients. Current as well as prospective patients utilize online reviews. This means that reviews are an important factor not just in attracting new patients, but also in retaining the ones you already have. Consider encouraging current patients to leave reviews online. Additionally, monitor reviews so you can address any issues before they scare off current clients.
Know where patients go. One study found that Yelp is the most commonly used site to look for or make online reviews, followed by Healthgrades and RateMDs. Monitoring your practice's presence on these sites and diversifying your practice's online presence may improve your ability to attract new patients.
Encourage more, not fewer, reviews. The patients most motivated to leave an online review tend to be those with both the best and the worst stories to tell. In fact, despite the increasing number of people utilizing physician ratings, very few people actually write online reviews of their physicians. Try to balance more polarizing reviews by encouraging all patients to leave reviews online. Because scores are usually derived from averages, odds are good that more data will provide a more accurate picture of your practice. One study also found that the more reviews a practice has, the more likely those reviews are to be perceived as trustworthy.
Prioritize privacy. As always, be sure to follow privacy regulations, including HIPAA, if interacting with patients online.
Handle negative comments positively. Instead of responding combatively, be polite, constructive, and specific. The best option is to invite the patient to have an offline conversation about the best way to improve his or her experience going forward. While it can be tempting to respond more forcefully (some physicians have even gone so far as to file lawsuits to defend their reputations against online criticisms), the saying you'll "catch more flies with honey" remains true. In fact, an angry response can just lead to more negative reviews.
It's also helpful to view negative comments as an opportunity to learn about areas in which your practice could improve. If patients consistently complain about your staff's bedside manner, for example, consider hosting a staff retreat to review positive office etiquette.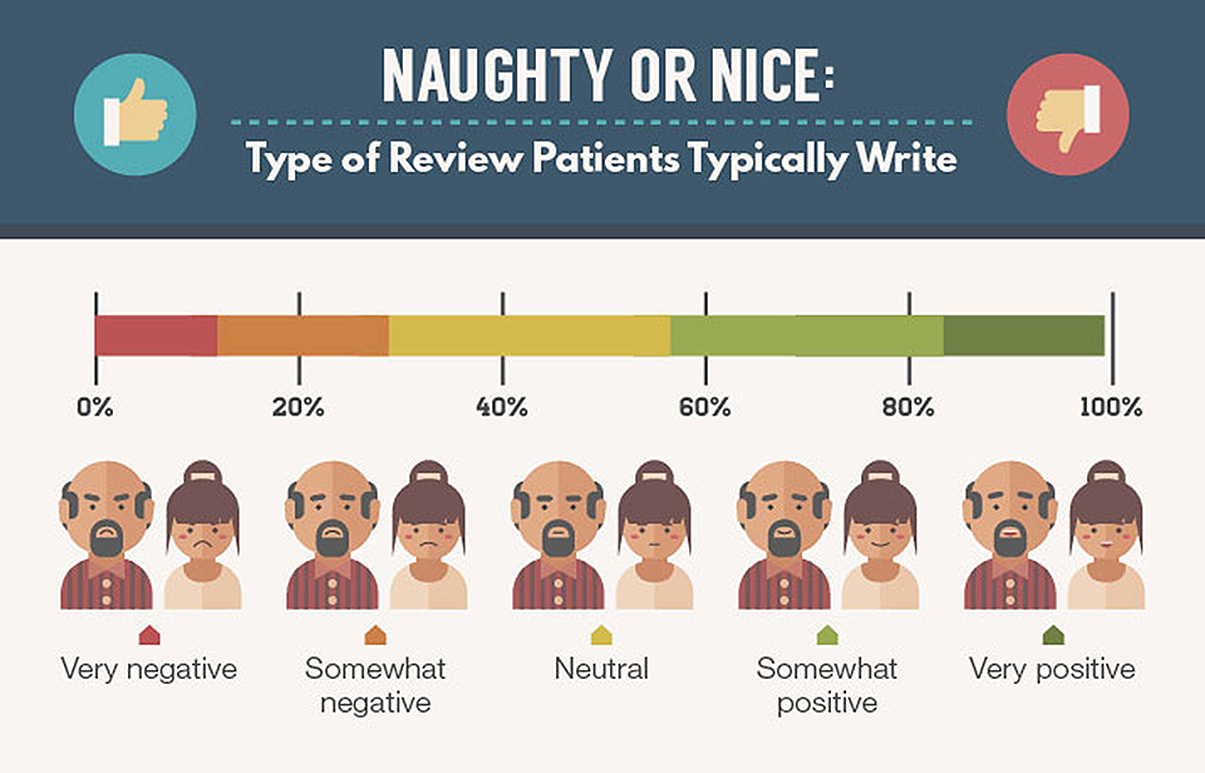 Hire outside help. If your practice is struggling under the weight of negative reviews (whether real or the result of name confusion), seek the help of a reputation management firm. These businesses can help build your practice's online brand, repair a bad online reputation, and improve a practice's rankings across ratings sites.
Embrace the upside. Patient reviews signal greater transparency in health care and provide a strong incentive for physicians to prioritize patient care at each and every appointment. Better health care for everyone? That's something we all can get behind.
Don't worry too much. Despite the anxiety among medical professionals that online reviews could tarnish their reputations, a frequently-cited study found that online reviews are, for the most part, overwhelmingly positive. It's also comforting to note that word-of-mouth recommendations from friends and family still out-rank online reviews.
Love them or hate them, patients' online reviews are a burgeoning reality for healthcare practices large and small. With a little bit of web savvy, a willingness to develop constructive responses to patient feedback, and a commitment to treating every patient with the topmost care, you and your practice can navigate—and even enhance—your reputation both online and in the exam room.
Share this infographic on your site