In today's digital-centric office environment, technology has helped us better organize documents and cut down on paper use. We can now easily store and retrieve electronic copies of documents over our many devices. However, there is nothing as timeless, functional and reliable as the filing cabinet.
Filing cabinets are useful for protecting your business and personal information and helping prevent stolen documents. Electronic copies are easy to access, but can sometimes fall into the wrong hands or accidentally get deleted. With a locked file cabinet, you can help keep your physical documents secure and protected.
Which holds more—vertical or lateral file cabinets?
Lateral (not vertical) file cabinets hold more. While vertical file cabinets are often chosen because they take up less wall space, it's the lateral file cabinets that store the most paperwork.
Whether you're having trouble keeping track of your bills or you're trying to develop a useful filing system for your client's personal information, investing in storage cabinets can help you better organize physical documents. Here are a few tips to help you get started:
Measure for the perfect fit
First, you need to think about the amount of storage space you want your file cabinets to have. If you have a lot of oversized documents and supplies to store, be sure to measure the height and width of the file drawers to ensure your largest documents can fit. Consider trying a 4-drawer filing cabinet with deep enough cabinets that can help you store all your documents.
If you only have a small amount of papers to store, consider getting a compact 2-drawer filing cabinet that can fit under your desk. Measure the height and available width underneath the desk before deciding on the small filing cabinet you want.
Strong, sturdy and functional
Next, think about the material of your filing cabinet. If you need to store heavier material, metal filing cabinets are the way to go. With their sturdy metal shelving, they are a durable addition for busy offices, especially if you need to access files often. If you're more interested in a traditional look, try a laminate cabinet in a cherry or mahogany finish.
Of course, you don't want to forget about the safety of your filing cabinet, especially with larger, multi-drawer models. Be sure to look for a filing cabinet with an interlocking drawer system to ensure only one drawer can be opened at a time.
An array of designs to choose from
Choose from a variety of filing cabinet designs including lateral, vertical, open shelf and mobile cabinets. If you have a smaller office, vertical cabinets can free up more floor space. Lateral file cabinets are good for frequent access in high-volume offices.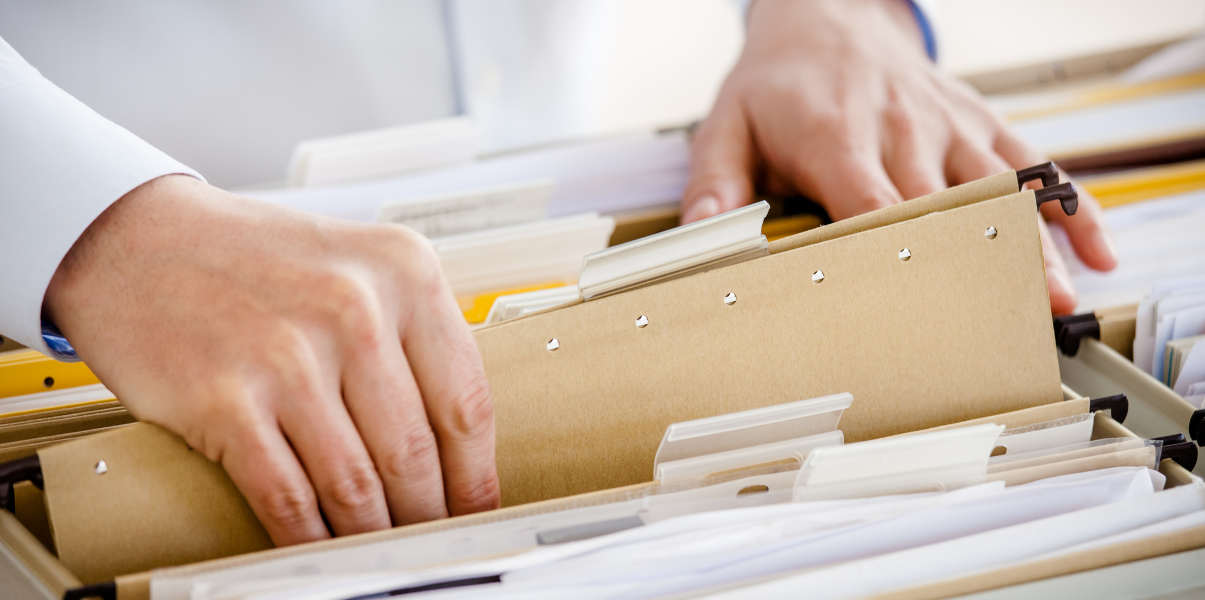 If you are constantly accumulating and reviewing documents such as client information or financial papers, try an open shelf design so you can retrieve and store documents with ease.
If you need quick access to your own files, try a mobile file cabinet under your desk so you can keep your personal and professional possessions close. These cabinets often have casters for easy transport.
Love the look of your file cabinets
Also think about the color of your filing cabinet. This can depend on the look you are trying to achieve. For subtle elegance you can try a mobile desk cabinet in a cherry finish like this Easy2Go 2-Drawer File Cabinet. Or try a filing cabinet in a white finish for modern appeal. Filing cabinets are not only functional, but they can enhance the style of your office as well.
Get the right filing cabinet for your needs
You don't need to settle for an outdated and cumbersome filing cabinet; instead, you can choose from unique and modern designs that not only look good, but can also fit in a variety of room sizes and offer maximum storage to assist you with organizing your documents. Browse Quill's selection of filing cabinets today.