Office holiday parties can go one of two ways: they either consist of people awkwardly discussing work projects for 30 minutes before heading back to their cubicles, or they can build camaraderie among coworkers and reenergize the team.
The good news is that no matter its size or budget, any company can throw an office party around the holidays that falls into the latter category. Below we've outlined office party themes guaranteed to provide an opportunity to unwind, bond and have fun. The best part? All these tips and themes are designed to not break the bank, and most of the treats can already be found in the office break room.
Tips to Throw a Great Office Party
No matter the party's theme, keep these tips in mind when planning office festivities.
Host the party during work hours
Office parties are meant to boost morale, so employees shouldn't have to miss out on their dinner plans in order to attend. Give people an actual break by holding the party during work hours and assure everyone they won't be expected to stay late to make up any work that doesn't get completed during that time.
Clarify expectations
Eliminate stress by making sure employees know the answer to some common party FAQs prior to the event. Specifically, let people know how long the party will last, whether there will be alcohol, if spouses or dates are invited and tips for proper attire.
Incorporate games
Games are a great way to break the ice and give people something to do besides making small talk. Check out these office-appropriate games and keep a few ideas on hand for whenever a party needs a boost of energy.
7 Budget-Friendly Office Party Themes
Put the above tips to good use with any of the following office party themes.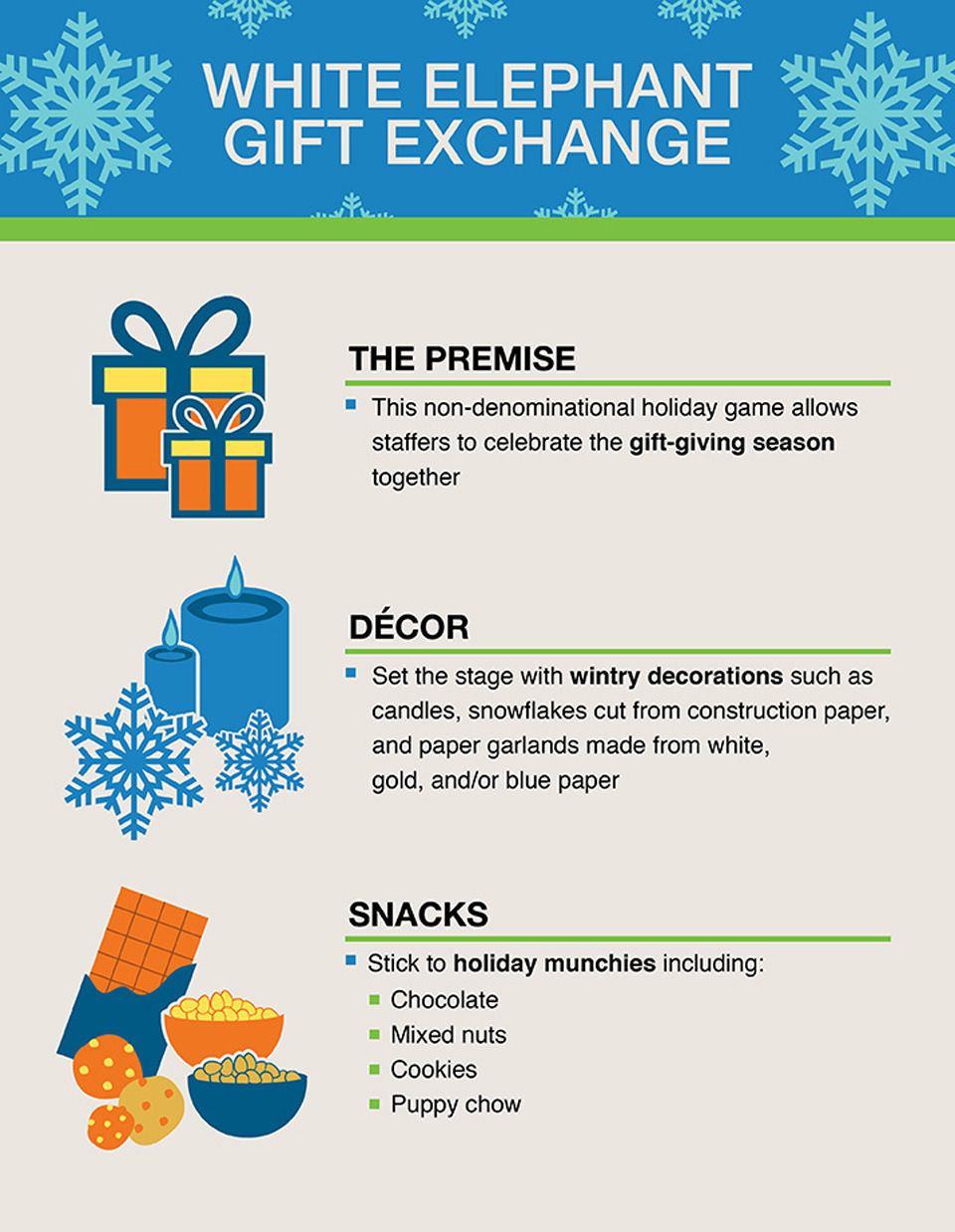 White Elephant Gift Exchange
This non-denominational holiday game is favored by HR departments across the country. Prior to the party, let everyone know the official rules (you can print them out to have on hand during the party). Set the stage with wintry decorations such as candles, snowflakes cut from construction paper and paper garlands made from white, gold and/or blue paper. Also be sure to have a few extra small gifts on hand in case someone forgets theirs at home.
Stick to holiday munchies including chocolate, mixed nuts, cookies, and puppy chow, which can be made from breakroom staples including Chex cereal, peanut butter and chocolate.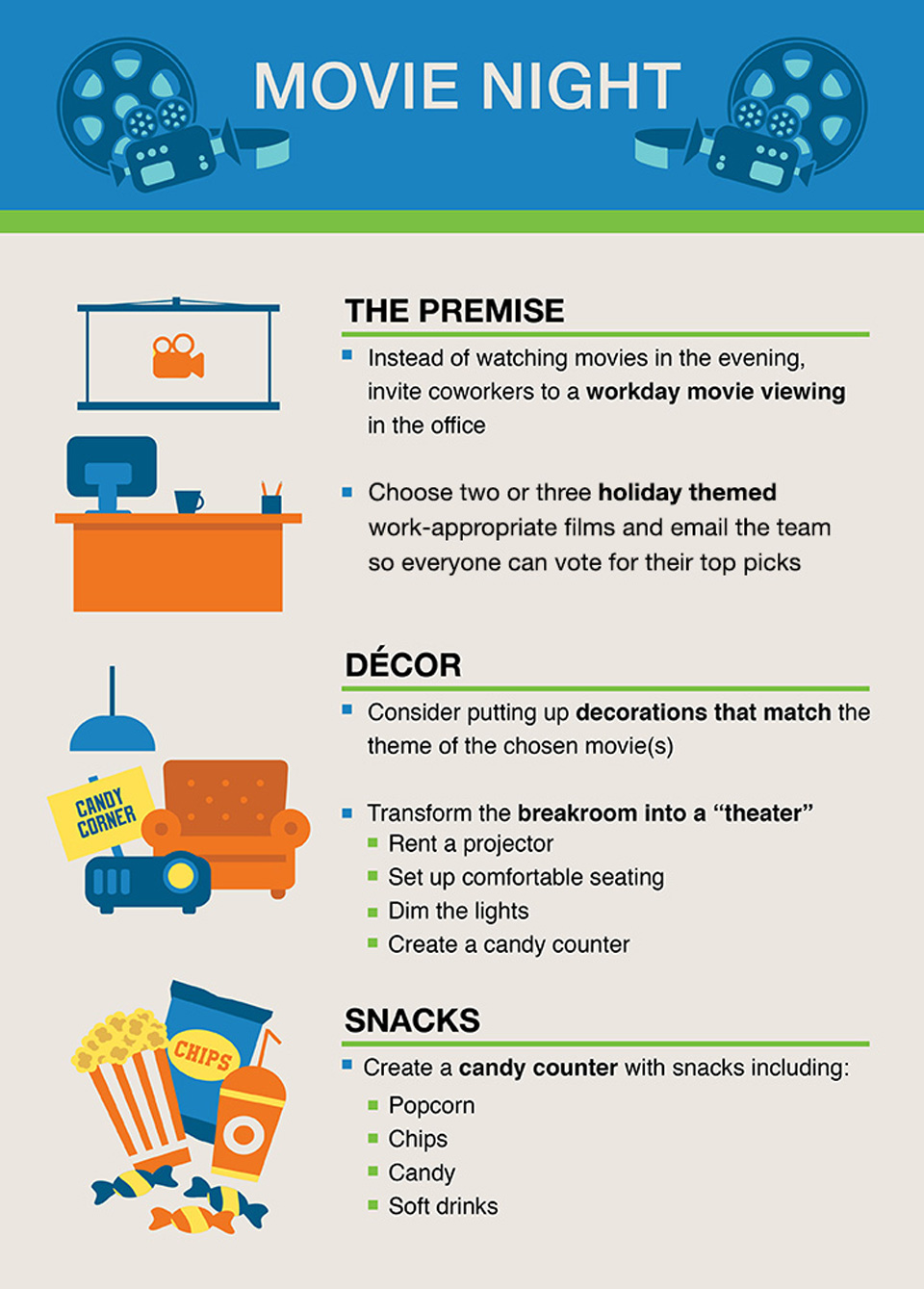 Movie "Night"
Instead of watching movies in the evening, invite coworkers to a workday holiday-themed movie viewing in the office. At its most basic, a movie party requires nothing more than a projector, screen and laptop. (Rent a projector if the office doesn't have one on hand.) Or if your office has a good size TV, there's no need for a projector. Narrow down the list of movies to three or four holiday favorites, such as "Home Alone," "A Christmas Story" and "It's a Wonderful Life." Then email the list to the team so everyone can vote for their top picks.
When it comes to decor, consider putting up decorations that match the chosen movie(s). Or transform the break room into a "theater" by setting up comfortable seating, dimming the lights and creating a candy counter where coworkers can pick up snacks during the screening.
Speaking of snacks: popcorn, chips, candy and soft drinks should do it. If you're lucky, the office breakroom will already be stocked with many of these items.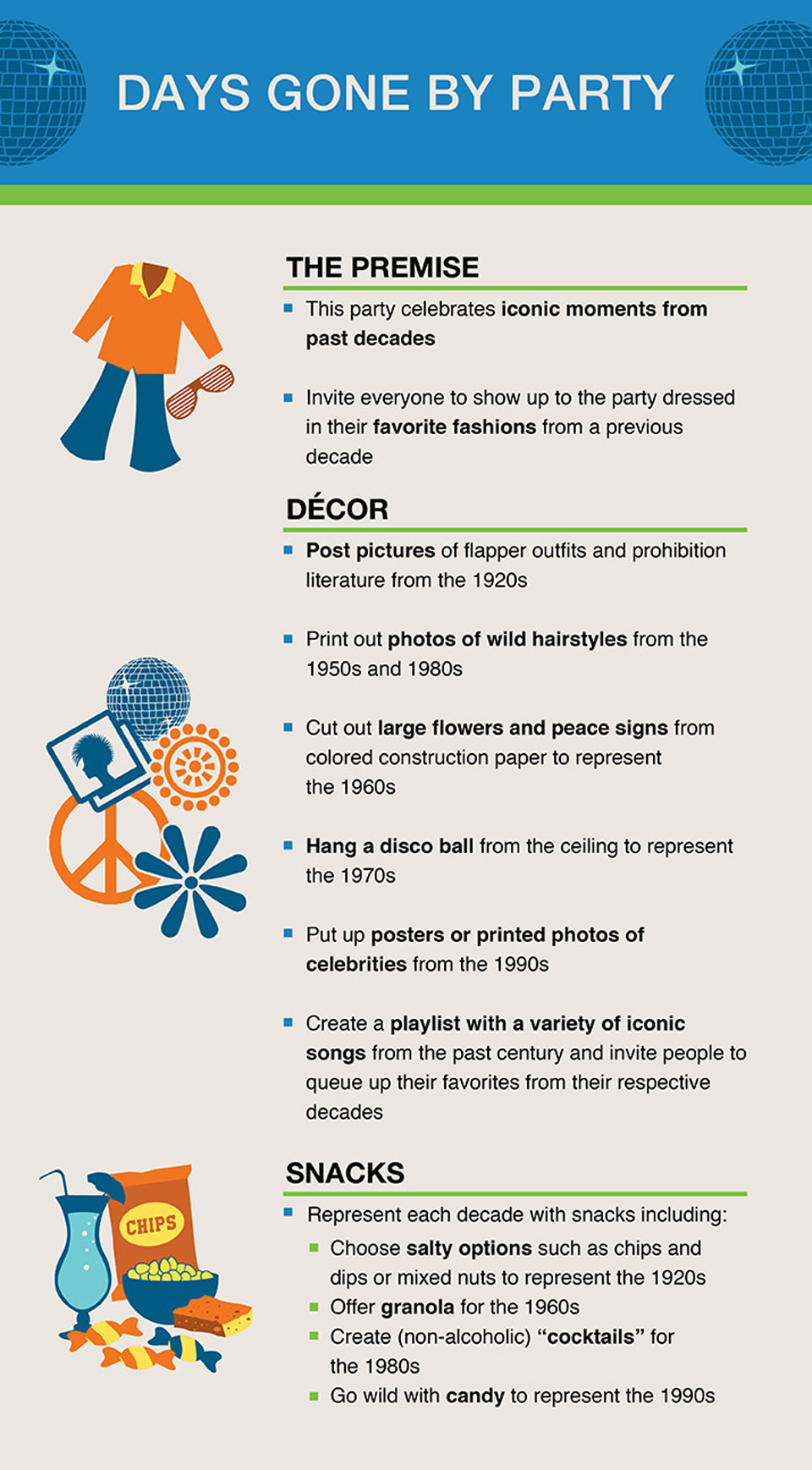 Days Gone By Party
This is a great way to encourage coworkers to learn more about each other: invite everyone to show up to the party dressed in their favorite fashions from a previous decade.
A hodgepodge of decorations and music helps set the theme.
Post pictures of flapper outfits and prohibition literature from the 1920s.
Cut out large flowers and peace signs from colored construction paper to represent the 1960s.
Hang a disco ball from the ceiling to represent the 1970s.
Print out photos of wild hairstyles from the 1980s.
Put up posters or printed photos of celebrities from the 1990s (boy bands, anyone?).
Then create a playlist with a variety of iconic songs from the past century and invite people to queue up their favorites from their respective decades.
Keep snacks similarly varied. For example, choose salty options such as chips and dips or mixed nuts to represent all the bar snacks that weren't being served in the 1920s; offer vegetarian options for the 1960s (e.g. granola bars, which are reminiscent of the stereotypical 1960s "granola" vibe as well as the decade's environmental movement). Create (non-alcoholic) "cocktails" for the 1980s (complete with little umbrellas!) and go wild with candy to represent the 1990s.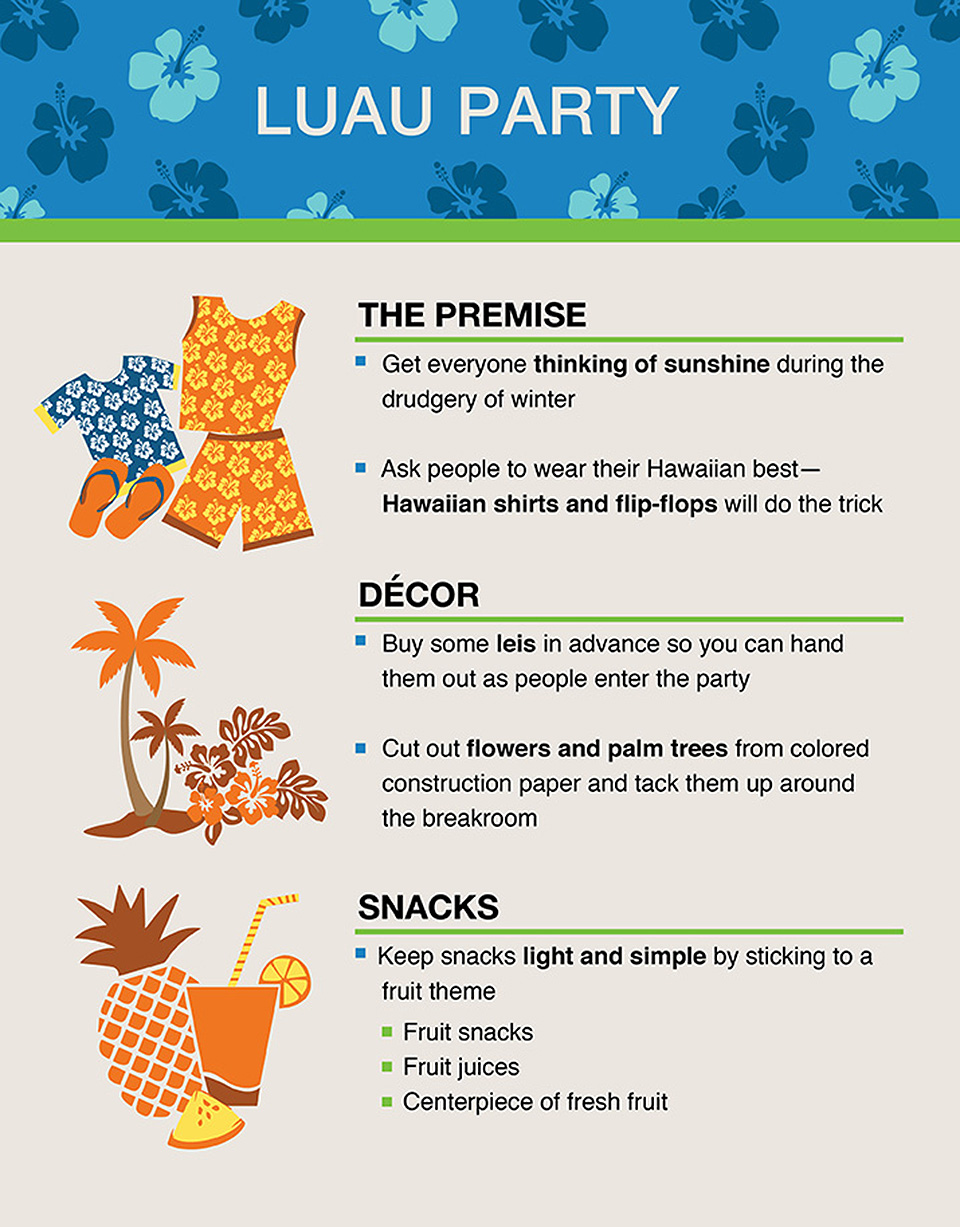 Luau Party
This is a great way to boost morale and get everyone thinking of sunshine during the drudgery of winter. Ask people to wear their Hawaiian best—Hawaiian shirts and flip-flops will do the trick. Buy some leis in advance so you can hand them out as people enter the party and you'll have partygoers saying "Mele Kalikimaka" in no time.
To decorate, cut out flowers and palm trees from colored construction paper and tack them up around the breakroom. Keep snacks light and simple by sticking to a fruit theme: fruit snacks, fruit juices and a centerpiece of fresh fruit.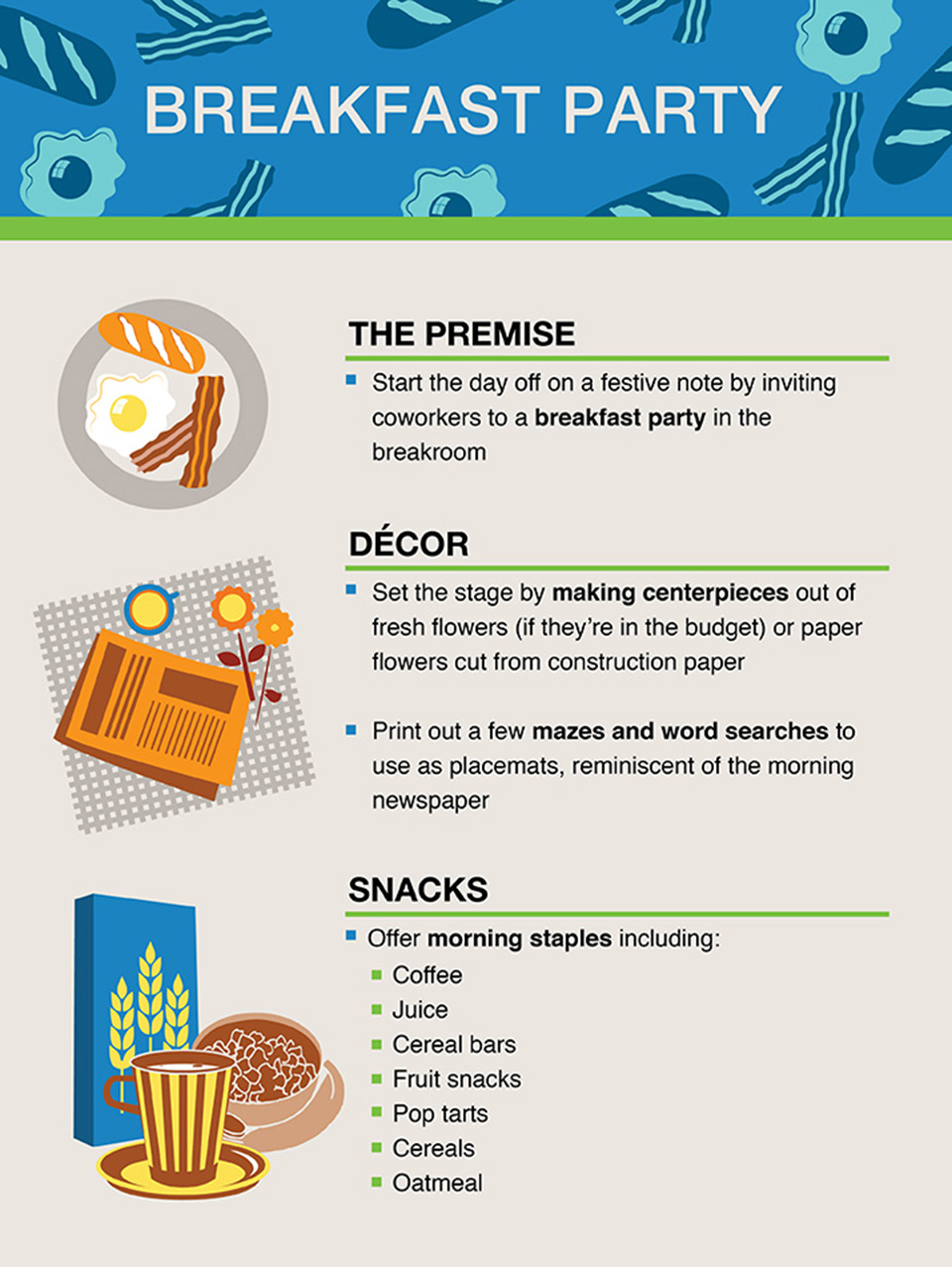 Breakfast Party
Start the day off on a festive note by inviting coworkers to a breakfast party in the break room. Set the stage by making centerpieces out of fresh flowers (if they're in the budget) or paper flowers cut from construction paper. Print out a few mazes and word searches to use as placemats—they'll remind everyone of reading the morning paper and provide a low-key, budget-friendly activity.
Coffee and creamers are a must. Juice, cereal bars, fruit snacks, pop tarts, cereals and oatmeal all make for tasty (and budget-friendly) food options.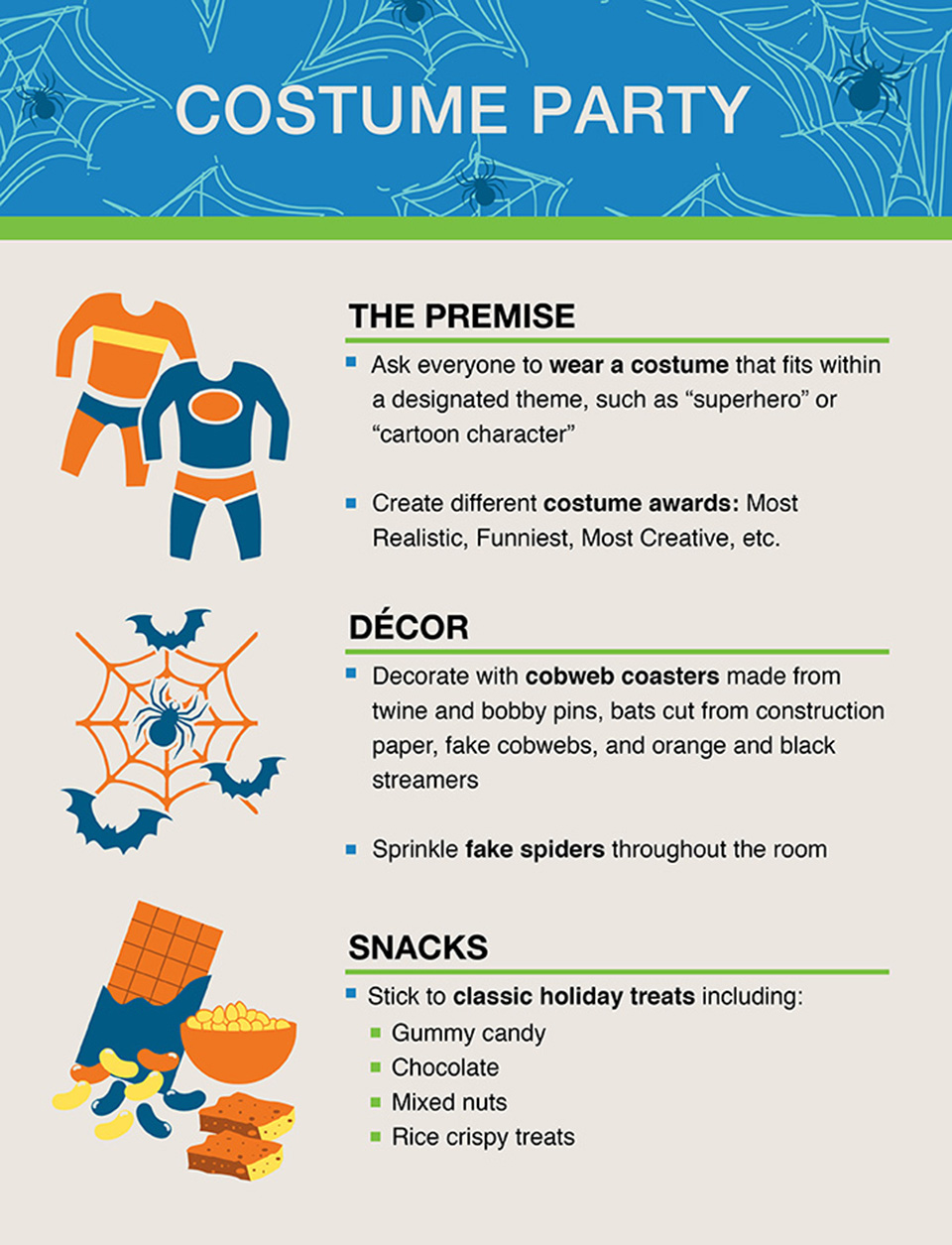 Costume Party
This Halloween classic is fun for all ages—even after the spooky holiday has come and passed. With winter holiday decor taking over shelf space, take advantage of marked down Halloween decorations and costumes. Add some excitement by creating different costume awards: Most Realistic, Funniest, Most Creative, etc. Or ask everyone to wear a costume that fits within a designated theme, such as "superhero" or "cartoon character."
Decorate with cobweb coasters made from twine and bobby pins, bats cut from construction paper, fake cobwebs, and orange and black streamers, and then sprinkle fake spiders throughout the room. When it comes to snacks, you'll never go wrong with candy. Offer a variety of treats including gummy candy, chocolate, mixed nuts and rice crispy treats.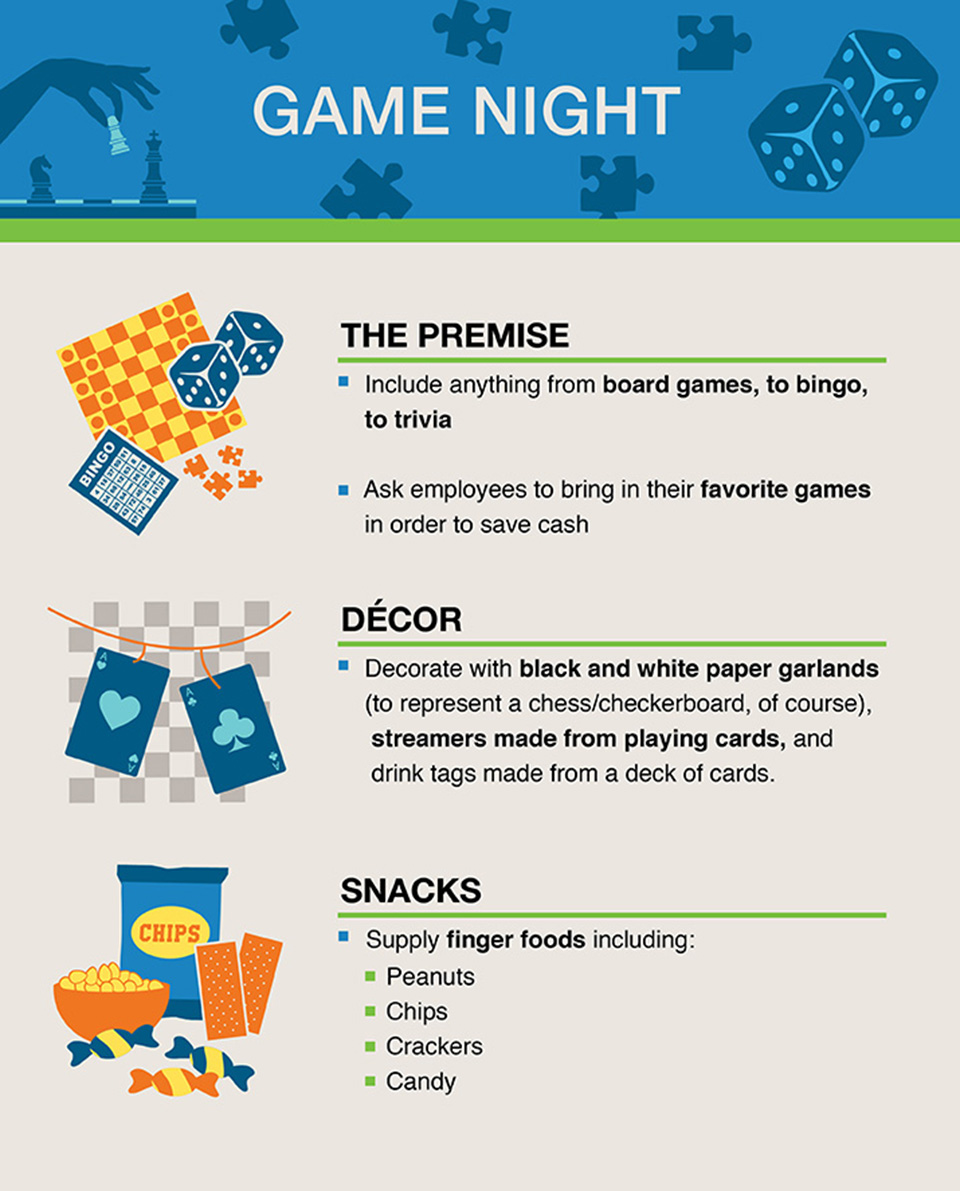 Game "Night"
This office-friendly twist on poker night can include anything from board games to bingo and trivia (or all of the above). If you do include trivia, make the questions about employees by soliciting "fun facts" from everyone in advance of the party. If going the board games route, ask employees to bring in their favorite games in order to save cash. If the budget allows, raffle off gift cards or small prizes.
Decorate with black and white paper garlands (to represent a chess/checkerboard, of course), streamers made from playing cards and drink tags made from a deck of cards. For snacks, finger foods are the way to go. Peanuts, chips, crackers and candy will keep everyone's stomachs happy while they focus on the games.
From luaus to costume parties and movie nights, there are so many ways to bring coworkers together, inspire them to enjoy each other's company and recharge from the daily grind. Small businesses can get in on the action by throwing low-key parties with budget-friendly decorations and snacks straight from the office break room. Cultivating a sense of relaxation, togetherness and fun matters much more than any financial investment.
Share this infographic on your site
Laura Newcomer
Contributing Writer
Laura Newcomer is a writer, editor, and educator with multiple years of experience working in the environmental and personal wellness space. Formerly Senior Editor at the health site Greatist, Laura now lives and works in Pennsylvania. Her writing has been published on Washington Post, TIME Healthland, Greatist, DailyBurn, Lifehacker, and Business Insider, among others. She has taught environmental education to students of all ages in both Pennsylvania and Maine, and prioritizes living an environmentally sustainable lifestyle. She's a big proponent of creating self-sustaining communities and accessible healthy food systems that care for both people and the earth. An avid outdoorswoman, she can often be found hiking, kayaking, backpacking, and tending to her garden.