When building a business, the right equipment makes all the difference. As a small business owner, you have distinct printing needs that set you apart from home users and large companies. Whether looking for a model that meets basic printing needs or a multifunction device that does it all, compare the best the best HP® small office printer models to find a solution that fits.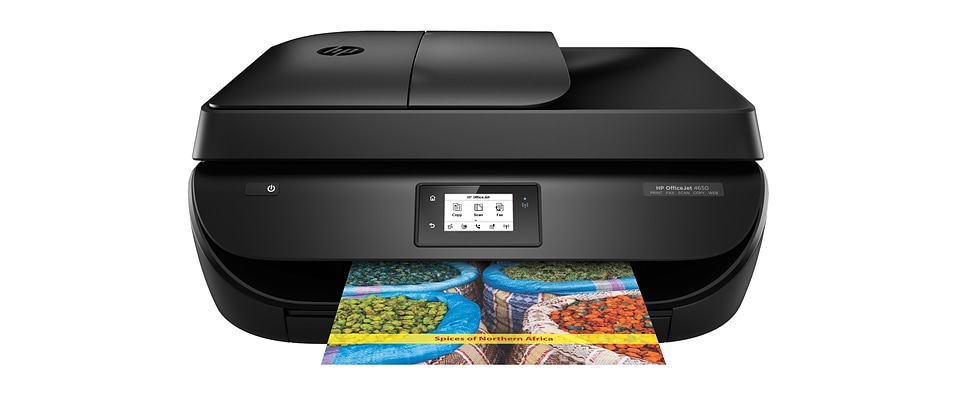 What to consider when shopping for an HP small office printer
There are a lot of buying factors to consider when choosing an HP small business printer. While exploring top-rated small business devices, think about your printing habits and which features matter most. Large companies need machines that can handle massive and frequent print jobs, while smaller organizations tend to prioritize low operating costs and efficiency.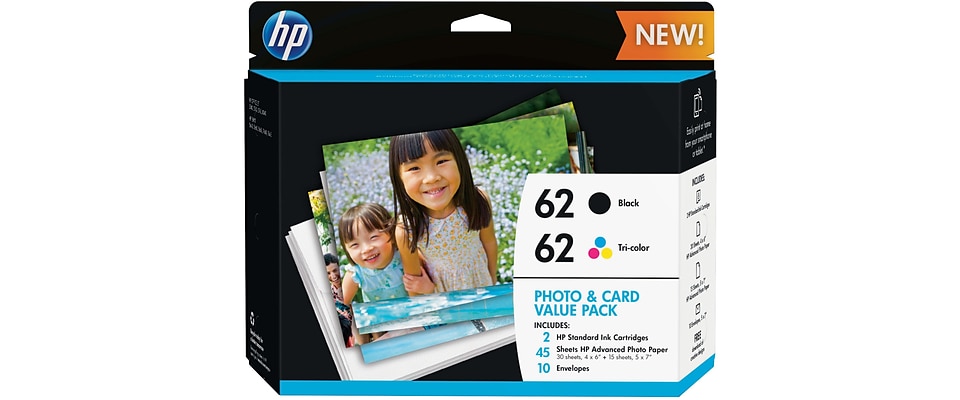 Printer operating costs
The costs of a printer go beyond its price tag. Look into the ink or toner cartridges needed for each model, how long they last, and how many pages they output. Maintenance is a necessary part of ownership. By remaining within the monthly print load limits of the machine, you can minimize wear and tear while extending the life of the device. HP OfficeJet Pro printers are ideal for lower monthly page volumes, while the HP LaserJet line offers higher volume limits for growing businesses.
In addition to choosing a machine that can handle the office workload without missing a beat, look into features that lower operating costs. HP Instant Ink is an automatic ink ordering service that delivers new cartridges directly when current ones run low. This feature is available with many of the OfficeJet Pro models and based on how many pages you print each month.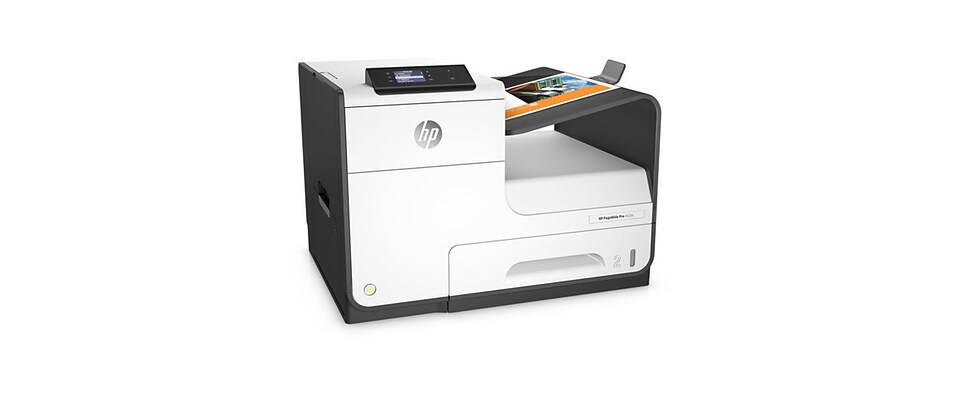 Comparing inkjet and laser printers
One of the most important decisions to make is whether inkjet or laser is a better option for the office printer. Each type of technology has its benefits. Laser machines use toner cartridges which handle massive amounts of printing and maintain their quality for years at a time. Inkjet models offer cost-efficient ink cartridges and lower startup costs. Inkjets tend to have a quick and easy HP printer setup process, allowing professionals to get up and running in a matter of minutes.
As a small business owner, consider the benefits of the HP PageWide business line. These devices use proprietary HP ink, leading to low ownership costs and crisp, long-lasting colors. The printers accommodate higher monthly print loads, making them a convenient choice for both single-user offices and growing organizations.
Laser models are the go-to choice for most large businesses since they generally have higher monthly output limits. HP inkjet printers feature monthly duty cycles of 25,000 to 30,000 pages, while laser machines have monthly cycles ranging from 50,000 to 90,000 pages. Inkjet models are often more affordable options for small businesses. Smaller offices typically have much lower print loads than large organizations, making inkjets an efficient and budget-friendly option.
Print speed
Look into the print speeds for each model on your list. Most devices have different speeds for monochrome and color documents. This is one of the top considerations for large corporations but isn't quite as essential for small business customers. Large companies need devices that can handle print jobs from dozens or hundreds of employees, and for them, lower speeds can cause delays. In small offices, however, it's very unlikely that a few employees will overwhelm machines with high volumes of printing tasks. Higher output speeds can save some time in small workplaces, but they're not crucial for day-to-day operations. Devices like the HP OfficeJet Pro printers balance print speed and value.
To assess a machine's speed, look at the average "first page out" time. This indicates how long it takes to finish the first page of a project, setting the rest of the project in motion. HP laser models range from 5.4 to 10.3 seconds, while inkjets range from 9 to 10 seconds.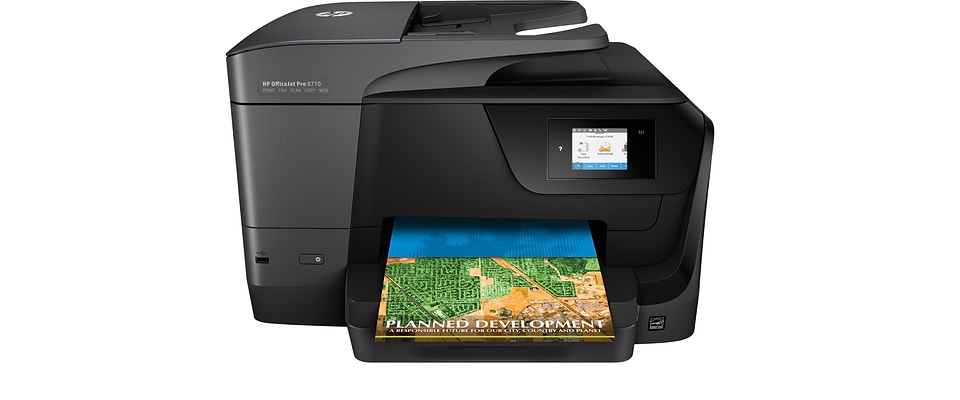 Choosing a multifunction or single-function printer
For many, the great printer debate starts here. Does an organization need a solid single-function machine that finishes tasks as quickly as possible or a multifunction model that handles everything from printing and copying to scanning and faxing? In each of HP's business printer lines, there are both single-function and multifunction options, accommodating the needs of small business owners in all industries.
Choosing an HP printer for business use comes down to what each company needs. If a small business has copying and scanning needs, even just occasionally, a multifunction unit saves space and reduces costs by keeping common office tasks in-house. A single-function machine offers higher print speeds and fewer upkeep needs than a multifunction model. A smaller organization that doesn't have any copying or scanning needs can save money by sticking to a single-function unit.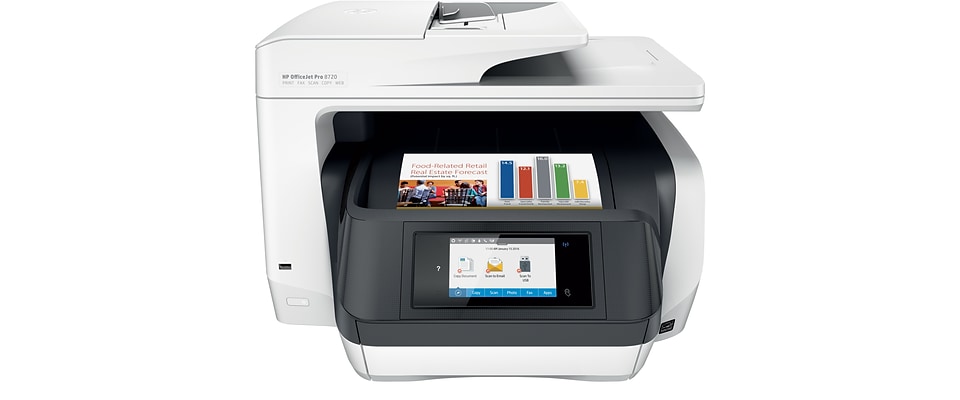 High-quality printing with small business printers
Print quality is a top priority for offices of all sizes. Resolution is measured in dpi, or dots per inch, and the dimensions list how many dots are in each vertical and horizontal inch of printed material. The higher the resolution, the better the output quality is and the more ink the device uses. Not only is this important when choosing a quality machine, it's also essential when considering ink and toner prices. The standard print resolution on many HP small business models is 600 x 600 dpi. Some laser units have resolutions as high as 38400 x 600 for extremely detailed and crisp materials. On multifunction printers, look at the scan resolution to gauge the quality of imported documents.
It comes down to which types of prints your office produces. For in-house documents, notes, and drafts, high-resolution prints aren't always necessary. Businesses do hold client materials to elevated standards and require higher quality output.
Media printing options
Many HP printers offer cutting-edge features, from special paper finishes to wide-format printers. These features, while important to large organizations, are more of a bonus for small businesses. Small companies in graphic design or other art-based fields need advanced media printing features. For others, a standard set of features is sufficient.
Some models offer high-volume paper trays that hold thousands of pages, minimizing the need for frequent refills. This saves a bit of time in small workplaces but isn't a high priority in most with standard print volumes. Devices with these extra features often come with higher prices, so going for a more basic model is an easy way for small businesses to save some money.
The HP PageWide product line is ideal for those looking for a media printing solution. Designed to accommodate everything from maps and technical drawings to photos, these machines are an excellent fit for small businesses.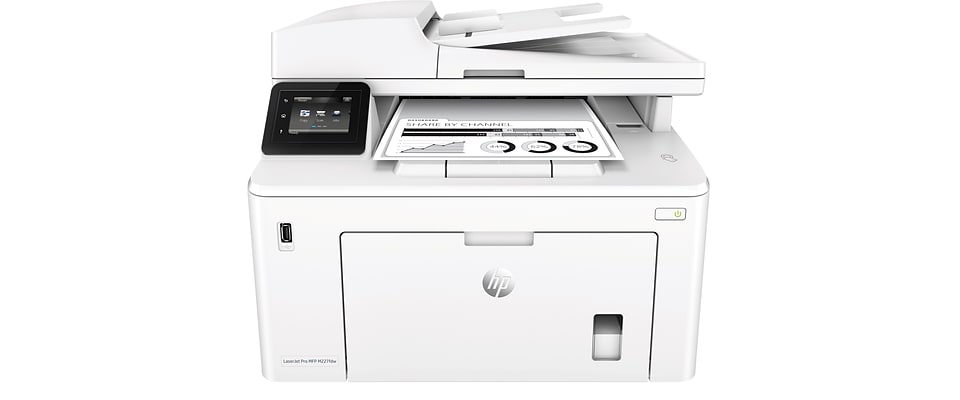 Security features
Many machines designed for businesses have extra security options. HP JetAdvantage Private Print lets users set certain tasks as private, while HP Web Jetadmin allows administrators to manage print tasks and user profiles. Large companies that handle sensitive client information rely on high-end security features. In small offices, very few people have access to printers; and as a result, standard security features are often sufficient for smaller businesses. Organizations that need high-end security features often prefer HP LaserJet devices, which offer a variety of embedded security options.
Best HP small office printer comparison
| Printer Model | Inkjet or Laser | Print Speed | Print Quality | Monthly Duty Cycle | Special Features |
| --- | --- | --- | --- | --- | --- |
| HP LaserJet Pro M402N | Laser | 31 to 40 ppm | HP FastRes 1,200 dpi | Up to 80,000 pages | ENERGY STAR® certified |
| HP LaserJet Pro M477NFW | Laser | 21 to 30 ppm | Up to 38,400 x 600 dpi | Up to 50,000 pages | Prints, copies, scans, and faxes |
| HP LaserJet Pro M426FDN | Laser | 31 to 40 ppm | Up to 4,800 x 600 dpi | Up to 80,000 pages | First page out in as little as 5.4 seconds |
| HP LaserJet Pro M426DN | Laser | 21 to 30 ppm | Up to 38,400 x 600 dpi | Up to 50,000 pages | Automatic duplex printing |
| HP LaserJet Pro M281FDW | Laser | Up to 22 ppm | 600 x 600 dpi | Up to 40,000 pages | Supports paper up to 8.5 x 14 |
| HP OfficeJet Pro 7740 | Inkjet | 21 to 30 ppm | Up to 4,800 x 1,200 dpi | Up to 30,000 pages | Automatic document feeder |
| HP OfficeJet Pro 8710 | Inkjet | 31 to 40 ppm | Up to 4,800 x 1,200 dpi | Up to 25,000 pages | Photo capable |
| HP OfficeJet Pro 8720 | Inkjet | 31 to 40 ppm | Up to 4,800 x 1,200 dpi | Up to 30,000 pages | Smart software |
| HP OfficeJet Pro 8740 | Inkjet | 31 to 40 ppm | Up to 2,400 x 1,200 dpi | Up to 30,000 pages | Prints, scans, copies, and faxes wirelessly |
| HP OfficeJet 200 | Inkjet | Up to 10 ppm | Up to 4,800 x 1,200 dpi | Up to 500 pages | Accommodates wireless mobile printing |
There are many HP printers that are ideal for business use. With the above chart, compare HP printers to find an option that fits your needs.
Which HP small business printer fits your needs?
HP stays away from one-size-fits-all solutions, choosing instead to create devices that meet the specific needs of users. No matter what your industry, printing needs, and budget limits are, there's an HP small business machine for every type of business.
You're a small business owner looking for an all-in-one device, but you only print a few times per month. Options for you include the HP OfficeJet Pro 7720 and the HP OfficeJet Pro 7740.
Your construction company has no need for scanning, copying, or faxing options. With layouts and mockups, you print over 4,000 pages per month. The HP Color LaserJet Pro M452NW, M452DN, or M452DW offer the high-quality prints your business needs to impress clients and customers.
Your publishing business prints close to 4,000 pages per month and deals strictly with black-and-white prints. Several devices from the LaserJet Pro line, including the M130FN, M130FW, and M227FDN meet your requirements without the need for color toners or cartridges.
Your small consulting firm has moderate printing needs and must be able to create copies of black-and-white and color documents. Consider the HP OfficeJet Pro 6968, 8720, and 8740 all-in-one solutions.
With the wide variety of small business printers available from HP, it's easy to find the ideal model for any small office. At Quill, explore the OfficeJet Pro, LaserJet Pro, and PageWide business models to discover a printer that fits all of your needs.