Appointment Cards
Read more +
Keep the practice schedule running smoothly with the use of appointment cards. It is more efficient to arrange the next appointment before clients leave the office. Hand them the card to make it easy to record the appointment electronically, on a desk calendar, or in their planner. Print the reminder information on the back of a business card to increase its effectiveness.
Appointment cards come in a wide variety of designs
Quill offers a selection of pre-created designs and stock logos by companies like Medical Arts Press® for the front, back, or both sides of the card as templates. In addition, there are up to eight different design layouts for the appointment fields. This makes it easy for a business to simply choose a design and add the company name, address, and business details. Or, customize the entire card to reflect the style of a personally designed logo. The company logo is reproduced from a digital design file, original template, or drawing provided by the customer.
Choose from a large variety of stock for appointment cards
Cards are printed in a variety of card stock colors and textures, and in one-color, two-color, or multi-colored layouts. A helpful option is the full-color card with a peel-off sticker. The cards are printed with the name and phone number in two places so the appointment information is still on the card after the sticker is removed. The sticker will fit on a calendar or even the vanity mirror as a reminder.
Use the appointment cards as a template
Order all printed front office supplies and signage in the same format as the cards to give the business a thoroughly professional look, including:
Patient charts
Letterhead
Use appointment reminder cards for many businesses
While these cards are most commonly used in medical, dental, eye care, chiropractic, and veterinary offices, they are adaptable for any business with a busy schedule. Cards kept next to your own calendar or at the reception desk give you a chance to record an appointment and quickly pass the written reminder to clients on their way out. When on a sales call, leave a reminder card to let the customer know you provide good service with a firm commitment for a return visit.
Choose from our large selection of print options and designs.
Read more +
Help clients remember their next appointment! Combination appointment cards have a business card on the front, appointment card on the back. Full-color appointment cards are available in 2 different styles: peel-off sticker cards have a name and phone number printed in two places; on "write once, remind twice" cards the appointment information appears on the card after the sticker is removed, creating a record for your client.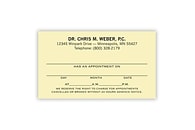 Basic Appointment Cards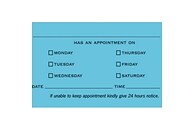 Dual-Purpose Combination Cards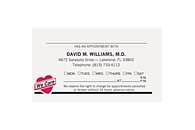 2-Color Appointment Cards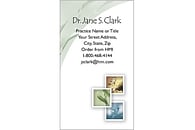 Full-Color Appointment Cards
Peel-Off Sticker Appointment Cards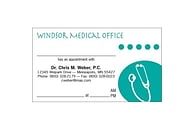 Color Choice Appointment Cards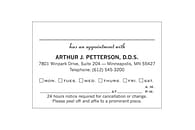 Appointment Labels
---
---