Whether half the office calls in sick during the height of flu season or the entire team seems fit as a fiddle, it's important to prioritize keeping your staff healthy all year round. That means disinfecting office spaces on a regular basis, teaching your team to keep their hands clean in order to reduce the transmission of disease, and enabling frequent hand washing by supplying the proper tools.
But what are the proper tools, you might ask? Should you load up on hand soap for the kitchen and bathroom sinks, or is your team better off if you install hand sanitizer dispensers throughout the office? Let's dive into the complex debate of hand sanitizer versus soap.
A Quick Primer on Hand Soap Vs. Hand Sanitizer
This is the bottom line on the hand sanitizer versus soap debate: According to the Centers for Disease Control and Prevention (CDC), washing one's hands with soap and water is preferable in nearly every situation.
Here's why: While alcohol-based sanitizers may be effective at deactivating some (but not all) germs, they don't remove potentially harmful or unhygienic substances from our hands. (Non-alcohol-based hand sanitizers stack up even worse; these products may not deactivate as many germs and may enable germs to develop resistance to the sanitizing agent.) In contrast, washing with soap and water not only deactivates most germs, but the friction involved in lathering and scrubbing the hands also removes germs and other impurities such as dirt, grease, and grime.
That being said, there is some nuance in the debate over using hand sanitizer versus soap and water. For example, the CDC says hand sanitizers may be uniquely effective in clinical settings such as hospitals because people's hands are likely to be in contact with germs but probably won't get soiled with dirt or grease. Read on to learn more of the finer distinctions between hand soap versus hand sanitizer.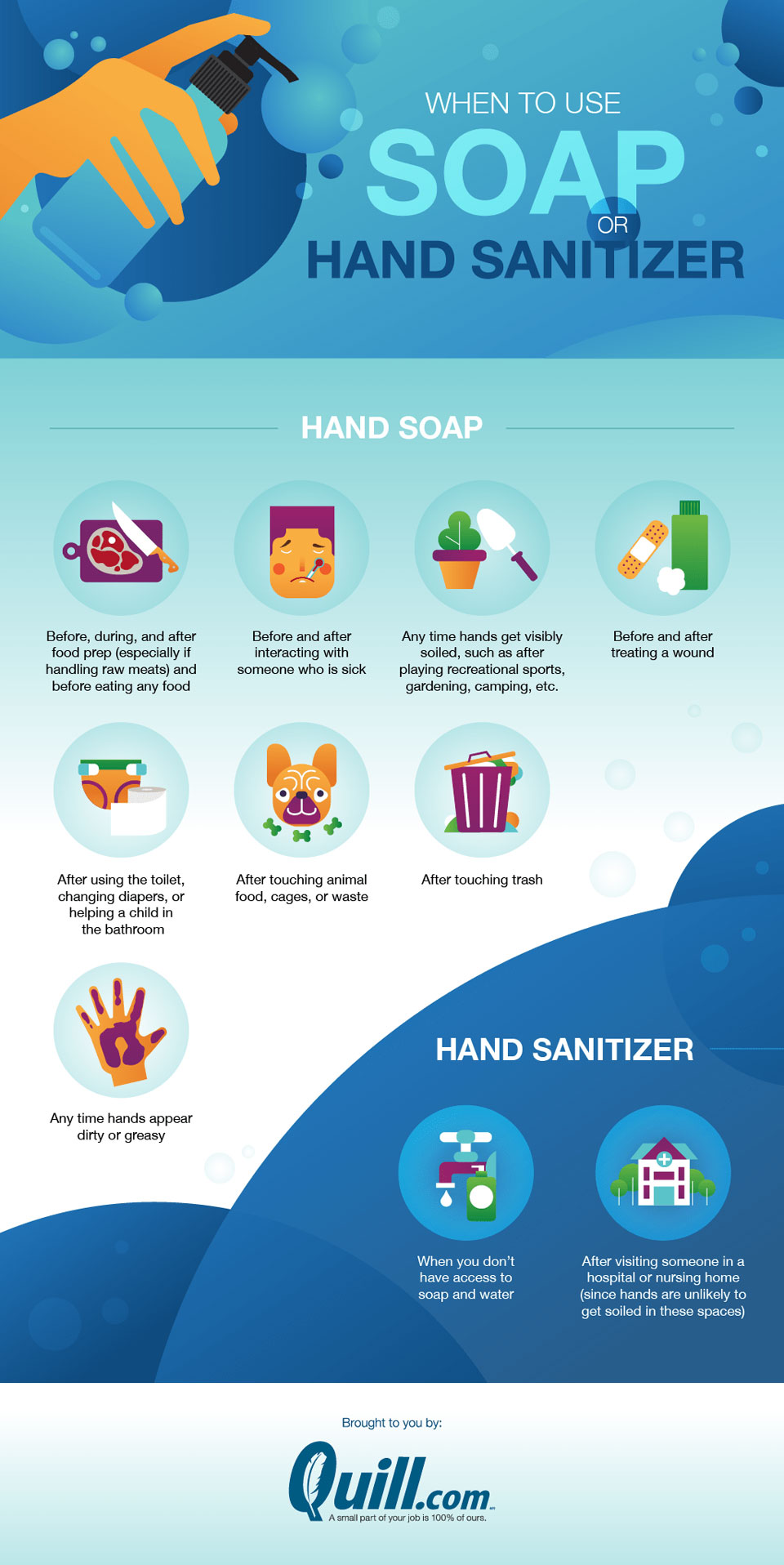 Get code to share this infographic on your site
When to Use Soap and Water
According to the CDC, there are a wide variety of situations in which it's ideal to wash hands with soap and water. This includes:
Before, during, and after food prep (especially if handling raw meats) and before eating any food
Before and after interacting with someone who is sick
Any time hands get visibly soiled, such as after playing recreational sports, gardening, camping, etc.
Before and after treating a wound
After using the toilet, changing diapers, or helping a child in the bathroom
After touching animal food, cages, or waste
After touching trash
Any time hands appear dirty or greasy
While soap and water is ideal for most hygiene-related situations, this hand cleaning method does have some drawbacks. For example, soap and water aren't always available, which can inhibit a person's ability to keep their hands clean. Additionally, technique is very important. If you don't scrub your hands properly (e.g. by scrubbing thoroughly for at least 20 seconds), then hand washing won't remove germs and impurities as effectively.
One other note on hand washing: It's a good idea not to use antibacterial soap. That's because it contributes to antibacterial resistance which makes it harder for medical professionals to treat certain diseases. And because antibacterial soap hasn't been shown to be any more effective than regular soap, there's really no reason to invest in the antibacterial stuff.
When to Use Hand Sanitizer
While the CDC strongly advocates for using soap and water to keep hands clean in most situations, there are a few circumstances in which hand sanitizer might be useful.
For example, someone may use hand sanitizer when they don't have access to soap and water, such as after using public transportation or a port-a-potty. It may also be effective to use hand sanitizer after visiting someone in a hospital or nursing home, since hands are unlikely to get soiled in these spaces.
Just as with soap and water, hand sanitizer is not without its drawbacks. For example:
To be most effective, the CDC says a hand sanitizer needs to contain at least 60 percent alcohol. If people don't have access to this type of hand sanitizer, they may not achieve much in terms of germ reduction.
Hand sanitizers may not remove harmful chemicals (such as pesticides or heavy metals).
As noted above, hand sanitizers are not very effective on hands that have been soiled by dirt and grease.
Hand sanitizers do not deactivate all germs, so people may still be at risk for infection even after sanitizing their hands. For example, hand sanitizers do not kill norovirus, Giardia, or Clostridium difficile.
All told, it's helpful to think of hand washing as the primary strategy to minimize exposure to germs, whereas hand sanitizer can be a useful supplement to a regular hand washing routine. By encouraging your team to wash their hands with soap and water whenever possible and to use hand sanitizer in a pinch, the whole office can enjoy better hygiene and more protection from the spread of germs.
Share this infographic on your site
Laura Newcomer
Laura Newcomer is a writer, editor, and educator with multiple years of experience working in the environmental and personal wellness space. Formerly Senior Editor at the health site Greatist, Laura now lives and works in Pennsylvania. Her writing has been published on Washington Post, TIME Healthland, Greatist, DailyBurn, Lifehacker, and Business Insider, among others. She has taught environmental education to students of all ages in both Pennsylvania and Maine, and prioritizes living an environmentally sustainable lifestyle. She's a big proponent of creating self-sustaining communities and accessible healthy food systems that care for both people and the earth. An avid outdoorswoman, she can often be found hiking, kayaking, backpacking, and tending to her garden.