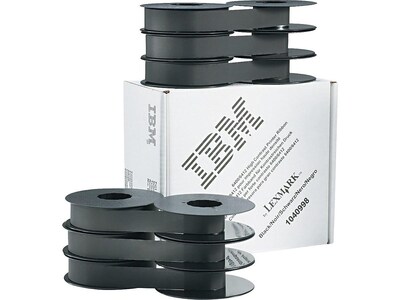 IBM 1040998 High Contrast Ribbon, Black
IBM 1040998 High Contrast Ribbon, Black
Item #: 901-1040998
Model #: 1040998
Brand: Lexmark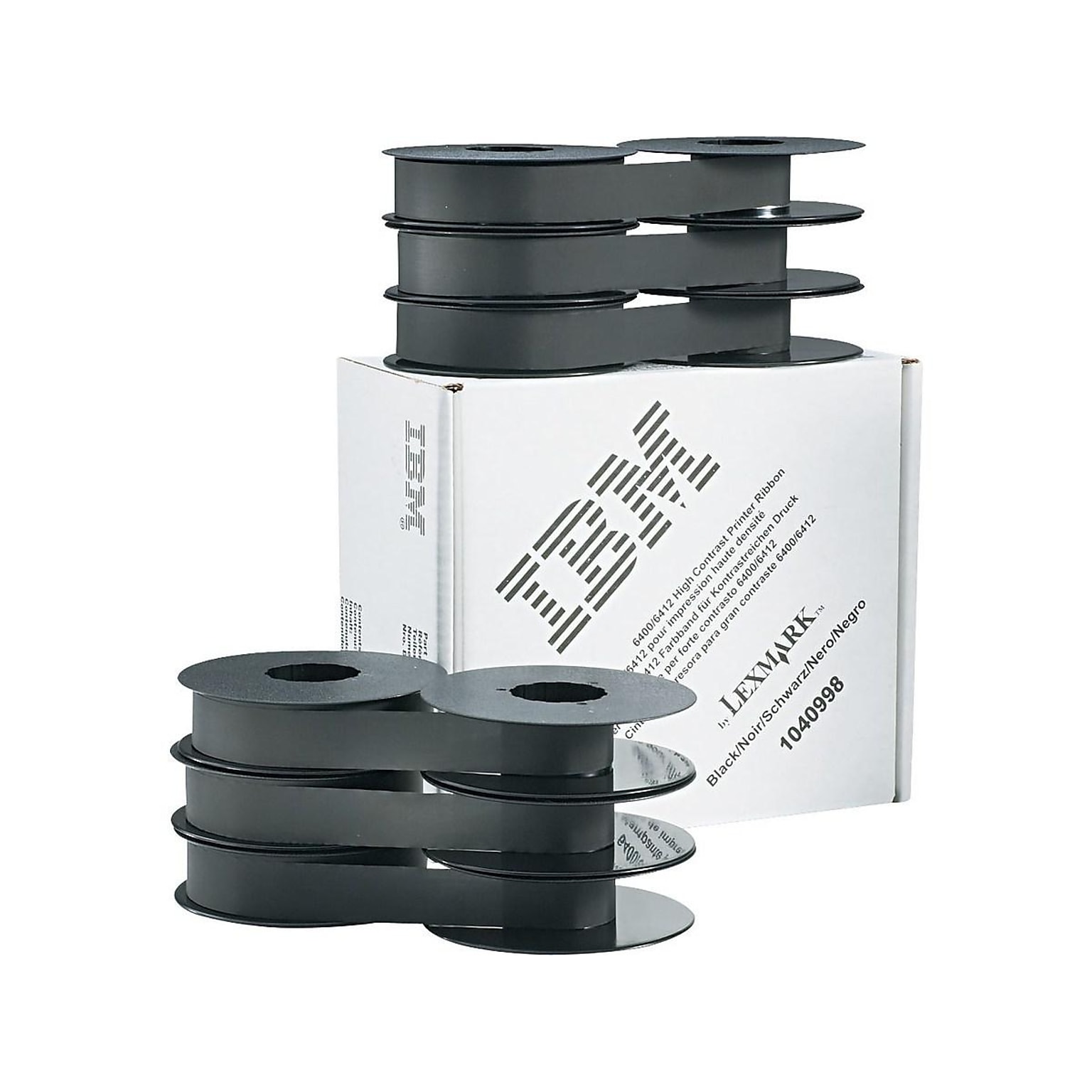 Frequently bought together
---
Limited quantity available:
6 remaining
---
---
---
---
---
Keep your compatible printer ready for use with this 6-pack of Lexmark for IBM high-contrast black high-yield nylon printer ribbons.
Bring bold text to the page with this 6-pack of high-yield printer ribbons. The nylon construction stands up to frequent use, while the black ink delivers striking print quality. A spool design allows for effortless rotation through your machine for consistent results. These Lexmark high-contrast printer ribbons work with select IBM printers for dependable operation and quick, easy installation.
Compatible with IBM 6412 and 6400 Model 004, Model 005, Model 008, Model 009 printers
Black printer ribbon provides crisp, cost-effective printing suitable for a commercial environment
Shipping dimensions: 5"H x 9"W x 8.5"D
Six ribbons per box
Prints up to 30 million characters for fewer ribbon changes
Impact print technology offers high-quality prints


Consistent Print Quality
These printer ribbons provide the crisp and bold black ink needed to give bar codes and optical characters a professional look. The ink adheres to paper consistently without smudging, keeping your codes and characters easily readable and scanable. Additionally, the consistent print quality helps maintain your office's professional image and reliability.

High-yield Capacity and Long Life
The high-yield capacity of these printer ribbons means each spool produces approximately 30 million optical character or bar code outputs, ideal for offices that do large print jobs frequently. Each spool features a long life span, meaning the ribbon does not dry out quickly, so you don't have to throw out the ribbon before the ink runs out.

Saves Money and Time
With bulk packaging of six spools per order, your office saves money in the long run because you don't have to purchase a new ribbon every time the ink runs out. Additionally, you spend less time making purchases, keeping you focused on your important day-to-day business tasks.


Lexmark
6
Printer Accessories & Replacement Part Type
Printer Ribbon
Black
This product is compatible with these printers:
Compaq
LG05 Plus
LG10 Plus
LG15 Plus
LGL5 Plus
Data Printer
DP3100 - Spool
DP3600
Model 3751
3100 - Spool
3101
3121
3150
3151
3300
3301
3600
3601
3751
3901
3903
6814
Decision 1Data
3751-11
6612
6612-AOO
6612-CTA
6800
6807
6811
6814
6610 - New Model
6615 - New Model
6910 Q
Digital Associates
Digital Equipment/DEC
LG 04 Plus
LG 05 Plus
LG 08 Plus
LG 09 Plus
LG 12 Plus
LG 14 Plus
LGL 4 Plus
LGL 5 Plus
LGL 8 Plus
LGL 9 Plus
Entrex
Hetra
HP
LPQ 500
LPQ 1000
LPQ 1200
LPQ 1400
LPQ 1500
Huntress Corp
IBM/InfoPrint
6400 Model 004
6400 Model 005
6400 Model 008
6400 Model 009
6400 Model 010
6400 Model 012
6400 Model 014
6400 Model 015
6400 Model 050
6412 Model A00
6412 Model CT0
Interface Systems
ITT Courier
Memorex
1252
1500 Series by MTX
1505
1508
1512
Prime
Printronix
DP600
DP750
DP1000
DP1200
P5005
P5005A
P5005B
P5008
P5009
P5010
P5205
P5205A
P5205B
P5208
P5209
P5210
P5212
P5214
P5215
P9212-Ipds
Proline Series 5
Tandem
Unisys
LP 800
LP 1200
UMS-475
UMS-475 PED
UMS-500
UMS-1200
UMS-501
UMS-1000
UMS-1400
UMS-1500
Visara
1505
1508
1509
1510
1512
1515