For most of the history of computers, office workers used desktops. These days, the landscape is changing.
As laptop technology has advanced, portable computers have challenged the longstanding reign of desktops. Today, it's not uncommon for entire companies to exclusively use laptops.
This is not to say that desktops should go the way of the dinosaur. Desktop computers bring distinct benefits to the table. This means that weighing the pros and cons of desktop vs. laptop can be complicated.
If you're in the market for a new computer and your company offers a choice between a desktop and a laptop, don't rush out to buy whatever your coworkers use. Instead, review the following factors to determine which style of machine is right for you.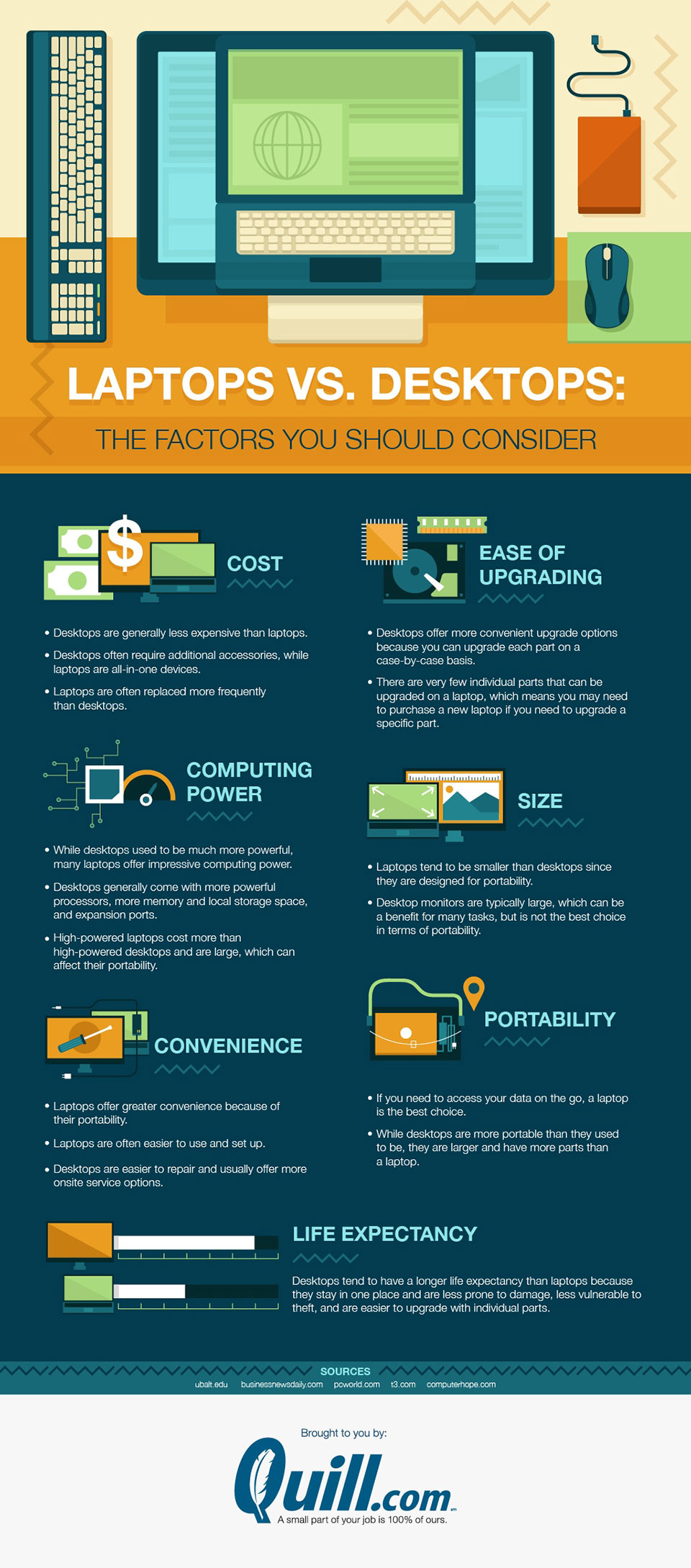 Get code to share this infographic on your site
Cost
Every laptop and desktop comes equipped with different features that influence cost. But as a general rule, desktops are less expensive than laptops with comparable features. (That said, it's important to remember that laptops are all-in-one machines whereas desktops often require additional accessories—such as a keyboard and mouse—in order to be fully functional.) Desktops also tend to be more durable and less vulnerable to damage than laptops, which can mean desktop owners pay for upgrades or replacements less often than laptop owners.
Ease of upgrading
Compared to laptops, desktops offer many more convenient upgrade options. This is largely because desktops afford the option of upgrading each part on a case-by-case basis. Whether you're looking to add RAM, upgrade a SSD or video card, expand the hard drive, or replace a broken part, you can do so fairly easily by investing in the individual parts required.
In contrast, there are very few individual parts that can be upgraded on a laptop. Those that can be upgraded or repaired typically require brand-specific components. Many times, upgrading a laptop means you have to purchase an entirely new machine.
Computing power
For a long time, desktops reigned supreme as the only computing tools powerful enough to handle serious multitasking. These days, laptops are vying for the throne. Thanks to advances in battery life, processors, and visual displays, quality laptops offer impressive computing power.
For the most part, desktops still have the edge when it comes to processors, memory, local storage space, expansion ports, and handling power-hungry projects such as graphics or video editing—especially when you compare a desktop computer and a laptop of the same price. But if you want something that can run several programs simultaneously, both desktops and high-powered laptops should be up to the task.
There are two caveats. First, know that high-powered laptops are more expensive than lesser-powered counterparts, and they're all but guaranteed to cost more than high-powered desktops. Second, high-powered laptops tend to be large, which can decrease portability.
Size
There is no better or worse machine when it comes to size—there's only personal preference.
Since they are designed for portability, laptops tend to be smaller than desktops. Desktop monitors, on the other hand, are typically larger. This can be valuable if you need to work simultaneously in multiple programs or if you work in graphics or video. Whether you select a laptop or desktop, it's easy to enjoy bigger screen size by connecting the machine to a second monitor (provided you don't need the laptop to be portable all the time).
Convenience
Laptops offer greater convenience in the form of physical portability and the peace of mind that you can take your work with you wherever you go. Laptops are also designed to be easy to use. Even the setup for a brand new laptop is hardly more intensive than plugging it in and turning it on.
Desktops, on the other hand, are easier to repair and usually offer more onsite service options than laptops, which typically need to be repaired at offsite, third-party establishments. But desktops' convenience pales in comparison to laptops' when you consider that their assembly is much more time-intensive and moving them can be a pain in the neck.
Portability
There's no question about it: When it comes to portability, laptops take the cake. If you need a computer that enables you to get work done and access your data on the go—whether on an airplane, in a train station, or in a hotel while traveling for business—then a laptop is the clear choice.
Life expectancy
Desktops tend to have a longer life expectancy than laptops for several reasons:
They're designed to stay in one place instead of getting lugged around, which means they're not as prone to damage.
They're less vulnerable to theft because they sit in one secure location instead of being moved about in public spaces.
As noted above, it's easy to replace broken parts or upgrade to higher-performing parts. This ensures the desktop remains functional over the long haul and decreases the need to purchase a new machine every few years. In contrast, when a laptop begins to have performance issues or no longer meets your needs, the only viable option is to buy a new machine.
Bottom line? Desktops tend to reign supreme when it comes to cost, ease of upgrading, power, and life expectancy. On the other hand, laptops take the cake in terms of portability and convenience. In the end, you need to carefully weigh how powerful your machine needs to be to get the job done and whether or not you're willing to shell out the extra cash for the added perk of portability. The key to the desktop vs. laptop conundrum is to take these considerations into account so you can purchase the best machine for you.
Share this infographic on your site
Laura Newcomer
Laura Newcomer is a writer, editor, and educator with multiple years of experience working in the environmental and personal wellness space. Formerly Senior Editor at the health site Greatist, Laura now lives and works in Pennsylvania. Her writing has been published on Washington Post, TIME Healthland, Greatist, DailyBurn, Lifehacker, and Business Insider, among others. She has taught environmental education to students of all ages in both Pennsylvania and Maine, and prioritizes living an environmentally sustainable lifestyle. She's a big proponent of creating self-sustaining communities and accessible healthy food systems that care for both people and the earth. An avid outdoorswoman, she can often be found hiking, kayaking, backpacking, and tending to her garden.