Pentel Hi-Polymer Latex Free Block Eraser, White, 3/Pack (ZEH10BP3)
Pentel Hi-Polymer Latex Free Block Eraser, White, 3/Pack (ZEH10BP3)
Item #: 901-ZEH10BP3
Model #: ZEH10BP3
Brand: Pentel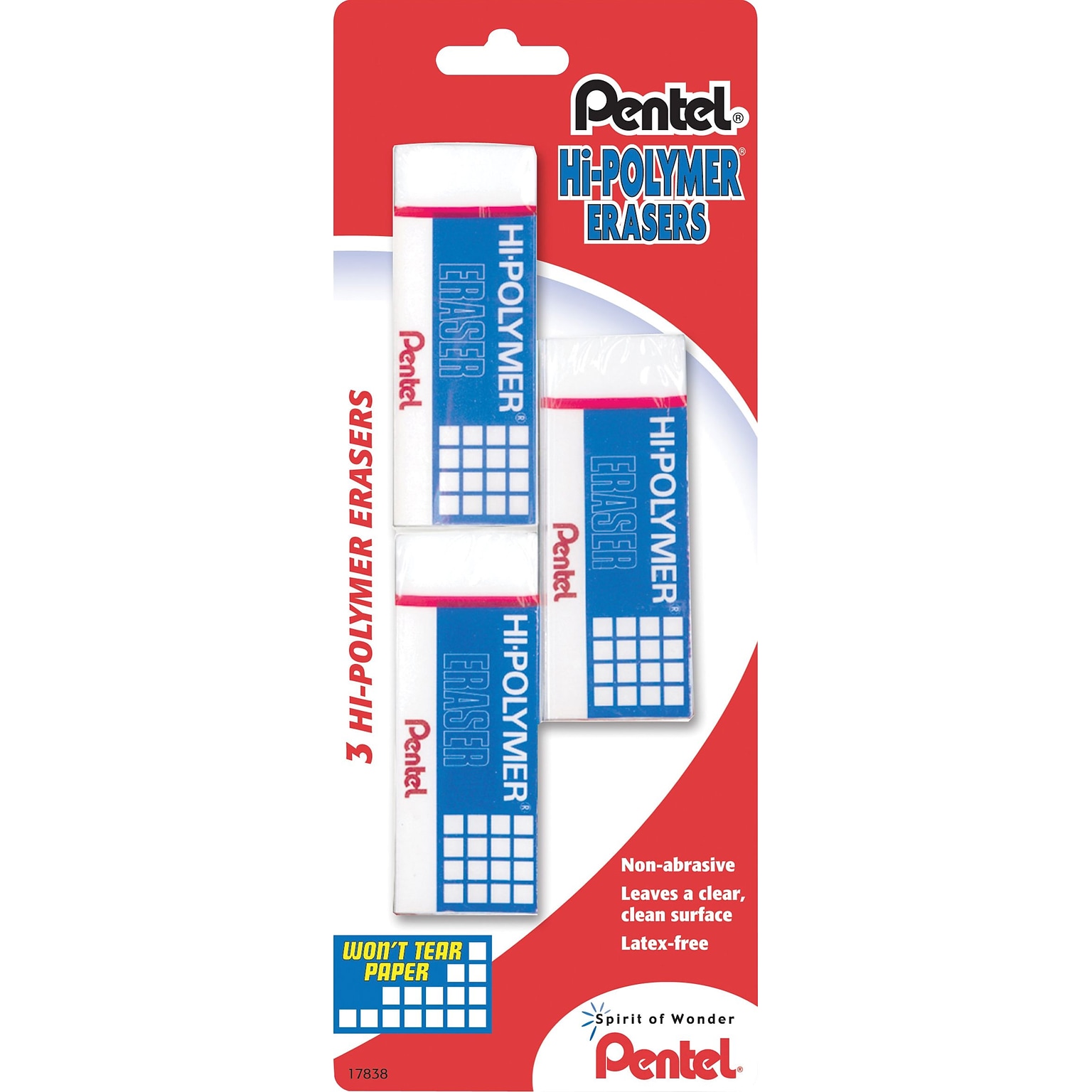 Frequently bought together
Pentel Hi-Polymer latex-free large block erasers remove pencil marks without weakening the paper or smudging.
Pentel Hi-Polymer latex-free large block erasers deliver high-quality, professional results on handwritten notes and pieces of paper where accuracy is a must. These non-abrasive erasers eliminate stray marks while preserving the integrity of paper. Eliminate small marks or entire lines of text, and preserve your hand by using very little pressure as you work with the polymer material. Pentel Hi-Polymer erasers do not crack or harden with age when stored properly, thereby saving you money over the long-term.
White rectangular block erasers optimize your corrections
Use for pencil lead on a wide range of paper
White
Pack of 3 erasers
Made of polyvinyl chloride for quality workmanship
No smudges, smearing or ghosting on the page for a professional look
Erasers always look clean and store in protective sleeve for best results
Block style works well for small errors and entire lines of text for versatility
AP-certified nontoxic for safety
Large, polymer erasers do not crack or harden with age for durability
Quick, Clean Erasing
Use the corners of these erasers for small marks, or work with an entire flat surface on one end to erase an entire line of text effortlessly. No matter how you work with these erasers, the results are clean, crisp and professional pages that leave behind no smudges, ghosting or tears. This comes in handy when making photocopies of originals that may make small errors more noticeable in subsequent copies.

Durable Construction
Soft and pliable polyvinyl chloride does not crack or harden with age, which gives you an opportunity to make an economical purchase that lasts. Make sure to keep these erasers in their protective sleeves for best results whether using them or storing them. Quality construction removes pencil lead easily and quickly without a lot of effort for ease of use.

Three Pack for Economy
A three pack of erasers costs less versus smaller packs or individual erasers. Larger packs allow you to optimize your ordering process once a year to save on labor costs by reducing the time you spend on buying office supplies throughout the year.
Pentel
White
0.65
3/Pack
Block
7.25
7.25
Yes
Pentel
White
0.208
2.8125