Webinar: Bringing Social Media into the Classroom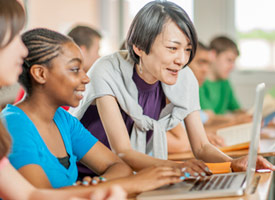 Webinar: Bringing Social Media into the Classroom
Students and parents are on social media all the time. It is time to join them, model for them, and reach them where they are spending their time. This webinar will define social media and explore a variety of tools that will allow you to communicate with others in your learning community and reach out to other learners or experts from around the world. Instructional technology coach Jennifer Smith will share how to choose a tool or two that can meet your needs as a teacher and help you be more relevant to your students. Join us to learn what the power of social media can bring to your classroom or school. Be ready to ask questions during this live, interactive event. This webinar will benefit technology coaches, teachers, librarians and educators at all levels.
Webinar is sponsored by Quill.com
Presenter Bio
Jennifer Smith is an instructional technology coach at South Middle School in Arlington Heights, Illinois. She has taught for more than 15 years in K-8 school districts. Jennifer has worked as a classroom teacher, a world language teacher, and an instructional coach. She is passionate about sharing the good news from inside our classrooms, and raising and educating global citizens. Jennifer believes that teachers, just like other professionals, need to grow, change, and be on the cutting edge of technology to best reach students. She is also interested in redesigning learning spaces and pedagogy to engage and inspire kids in our changing world. Jennifer holds a master's degree in Educational Technology from National Louis University and a bachelor's degree from McGill University. Find her online at her blog and on Twitter @jmaclaurin.
View our full assortment of education products here.