Whether you're looking for the best graphing calculator for high school students or you're in the market for a calculator for professional use, there are plenty of great options.
Some of the best graphing calculators on the market today include:
Casio FX-9750GII
Casio FX-9860GII
Casio PRIZM FX-CG10
HP 50G
HP Prime
Texas Instruments TI-84 Plus
Texas Instruments TI-89 Titanium
Texas Instruments TI-Nspire CX and TI-Nspire CX CAS
Let's take a closer look at these standout graphing calculators.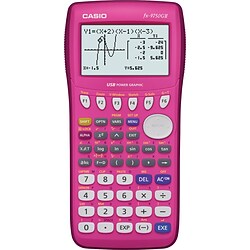 This simple and reliable calculator is both user- and budget-friendly. The interface is straightforward, and the calculator packs several great features into a cost-effective package. Those features include a high-resolution LCD display, USB connectivity, ample storage space, and a full suite of graphing functionalities. Its user friendliness makes this one of the best calculators for high school and even middle school students.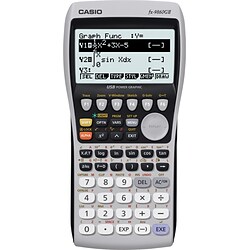 Don't let the price fool you: This budget-friendly graphing calculator is packed with powerful features including a high-resolution LCD display, USB connectivity, a user-friendly interface, fast processing speeds, preloaded apps, and a wide variety of geometric, mathematic, and statistical functions. It's also allowed for use on most major tests—which makes it another great graphing calculator for high schoolers and other students.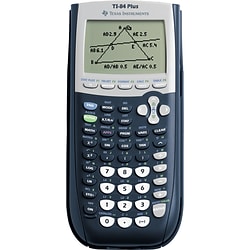 This is easily one of the most popular graphing calculators of all time—and for good reason. The classic tool has a lightweight design, a long-lasting battery, and a large LCD display. It boasts dozens of functions as well as more than a dozen preloaded apps. A USB port makes it easy to transfer work between the calculator and a computer. Newer editions of this classic machine can graph on images and offer color displays.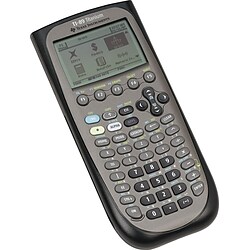 Another classic workhorse of the graphing calculator world, the TI-89 is a CAS graphing calculator that boasts more than a dozen preloaded apps, USB connectivity, and plenty of storage capacity. While it doesn't have the same color display as most of the entries on this list, it makes up for that with split-screen views and hundreds of advanced functions.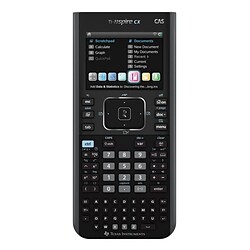 The TI-Nspire earns rave reviews all over the internet. Its sleek, modern design features a highly interactive interface and a backlit, full-color, high-resolution display. Its user friendliness is further enhanced by a full keyboard (a rarity in the world of graphing calculators). Included in its dozens of functionalities are the ability to import digital images, 3D graphing capabilities, several apps that facilitate data collection and analysis, a USB port, and computer software integration.
HP 50G
This CAS graphing calculator provides basic functionalities in a cost-effective package. While it doesn't come with a color display, it does boast a large LCD screen, ample storage space, a powerful processor, a large equation library, and a staggering 2,300 built-in functions.
HP Prime
This device isn't particularly beginner friendly; instead, it's a great option for tech-savvy users who are willing to master the tool's learning curve. Those who put in the time will be rewarded with a touchscreen, full-color display, and a wide variety of powerful features ranging from dynamic geometry to advanced graphing, wireless connectivity, and the import of personal images for real-world data analysis.
Casio PRIZM FX-CG10
Like the other Casio models on this list, the Prizm is both user- and wallet-friendly. It boasts a long list of functions as well as a full-color LCD display, split-screen graph and table displays, and the option to import images. And because it uses a textbook format for math symbols, users won't have to commit a bunch of calculator syntax to memory.

Get code to share this infographic on your site
How to Identify the Best Graphing Calculators
Whether you're searching for a graphing calculator to use in an academic or a professional setting, take the following features into consideration before making a purchase:
CAS versus non-CAS
CAS stands for Computer Algebra Systems and partly refers to the way a calculator displays equations. CAS calculators generally present equations much like you'd see them in a textbook and can evaluate symbolic expressions. Non-CAS calculators, on the other hand, tend to use calculator syntax. Because they offer advanced functionality, CAS calculators are typically more expensive; they're also less likely to be allowed for use on academic exams. (Consult your teacher for tips on choosing the best calculator for academic use.)
Display
The calculator should have a display that is readable and user friendly; this mainly comes down to personal preference. For example, some people prefer touchscreens, while others prefer a full keyboard. Some require full-color screens, while others don't mind a lack of color. And some prefer larger screens, while others like more compact devices.
Features and functionality
The best graphing calculator for you is the one that allows you to do everything you need to in your academic or professional pursuits. Carefully consider the subject you're working with and the kinds of capabilities you need access to, and whether you need to import your own images, download additional apps, connect your calculator to your computer, and so on.
Processing power
A calculator's processing speed, memory, and battery life matter—especially if you're looking to run advanced functions, download apps, and/or save equations. It's a good idea to look for a device that offers ample storage space and a fast processor that can crunch equations quickly. Also be aware of whether the calculator has rechargeable batteries or will require replacements.
Price
Prices for graphing calculators can range from $25 to more than $200. It all comes down to the brand, functions, and features. There's no sense in paying extra for features you'll never use, but don't skimp on essential functions in the pursuit of the lowest price.
Warranty
One-year warranties are pretty standard in the graphing calculator world, but it's still a good idea to read the fine print so you know exactly what you're signing up for.
Finding the best graphing calculator for you requires some research. But once you consider your personal preferences and review the most popular graphing calculators on the market, you'll be well on your way to finding a calculator that suits your needs.
Share this infographic on your site
Laura Newcomer
Laura Newcomer is a writer, editor, and educator with multiple years of experience working in the environmental and personal wellness space. Formerly Senior Editor at the health site Greatist, Laura now lives and works in Pennsylvania. Her writing has been published on Washington Post, TIME Healthland, Greatist, DailyBurn, Lifehacker, and Business Insider, among others. She has taught environmental education to students of all ages in both Pennsylvania and Maine, and prioritizes living an environmentally sustainable lifestyle. She's a big proponent of creating self-sustaining communities and accessible healthy food systems that care for both people and the earth. An avid outdoorswoman, she can often be found hiking, kayaking, backpacking, and tending to her garden.