Big Skinny Nylon Microfiber Compact Sport Bifold in Tuxedo Black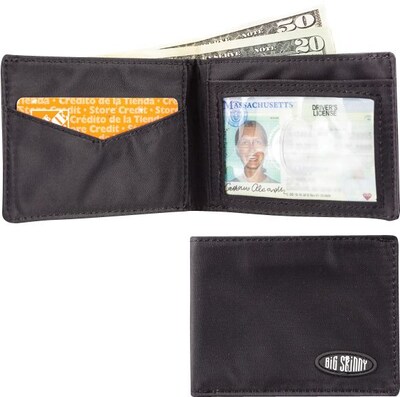 Description
Big Skinny Nylon microfiber bifold in tuxedo black color has 1 extra-wide credit card pocket and 1 extra-wide ID pocket with great compact front-pocket wallet.
This is the latest bi-fold wallet in our series of super thin and light sport wallets featuring four card pockets. Since most people only use 4-6 cards regularly, just use the front two pockets for those cards and stack & store all those other cards in the hidden 2 storage pockets--go minimalist by keeping your material layers to a minimum. The favorite thin wallet used every single day by the Big Skinny founder. Special smooth finish on these thin Big Skinny wallets allows them to look fabulous long after you've accidentally machine washed them. Double-edged perimeter stitching and rounded corners provide extended durability and more comfort. No staggered card pockets either so perfect alignment. Four total extra-wide pockets & billfold area fit 20-25 credit cards plus your hard-earned cash.
Full-size billfold area

1 extra-wide credit card pocket holds 4+ cards; 2 oversized hidden storage pockets hold 4+ cards each

1 extra-wide clear ID/credit card pocket holds 4+ cards

Pockets and billfold are lined with non-slip coating to prevent card and cash slippage

Ultra-thin, water-resistant, machine washable nylon microfiber

4 1/2 wide x 3 1/16 tall (10.7 cm x 7.8 cm)
Big Skinny wallets are the 'World's Thinnest, Lightest Wallets'  which are 50-75% thinner and lighter than traditional wallets, because they use ultra-thin, water-resistant, nylon microfiber.  This, in combination with smart design will provide you with a thinner, lighter, more comfortable wallet to carry, which is built to last.
Specifications
Brand

: Big Skinny

Customizable

: No

Weight

: 0.19 lbs. per Each