Boomer Yoga
Brand:
Assorted Publishers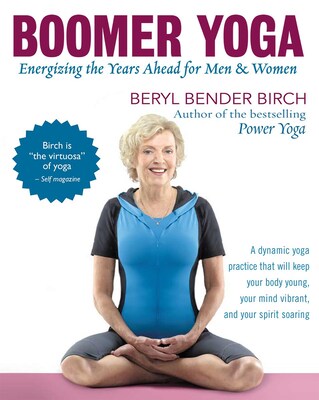 Description
Filled with more than 100 black-and-white instructional photographs, Boomer Yoga presents a yoga routine that will improve health, stability, and balance.
Major medical institutions, such as Beth Israel Medical Center in New York City, have begun to endorse the long term benefits of yoga, and an increasing number of physicians are recommending it as an exercise of choice for many boomers. In Boomer Yoga, yoga pioneer Beryl Bender Birch shows experienced and novice yoga practitioners alike how to adapt yoga principles to enhance their lifestyle, physical health, and well being. Weaving together personal experience, philosophy, and practical techniques, B eryl reveals her comprehensive boomer yoga practice, including a rejuvenating 40 minute workout. Boomer Yoga is the perfect book to provide yoga therapy for mind, body, and spirit to the more than 78 million boomers in the US marketplace.
Author: Beryl Bender Birch

Publisher: Sellers Publishing

Publishing Date: March 27, 2009

Paperback

192 pages

More than 100 black & white instructional photographs

Includes 40 minute workout

Beryl is the author of the bestselling Power Yoga (more than 200,000 copies sold)
Boomer Yoga is an energetic approach to yoga that includes a rejuvenating 40-minute workout and a range of mindfulness techniques for transforming your whole life. Those who are new to yoga as well as lifelong practitioners will find this method a wonderful tool for staying agile, healthy and fit. Weaving together personal experience, philosophy, and practical techniques, Beryl Bender Birch decodes the teachings of yoga and reveals how - through a steady and comfortable practice - to find balance and preserve peace of mind in the midst of world chaos. Beryl's inspirational writing style and energetic instructions are accompanied by more than 100 photos that illustrate a powerful sequence of user-friendly yoga postures and their modifications. Beryl shows how a conscious practice of postures can be used not only for strength and longevity, but to protect and restore the body from many of the common aspects of aging such as back pain, osteoarthritis, menopause, prostate issues, or high blood pressure.
Specifications
Book Format

: Paperback

Brand

: Assorted Publishers

Customizable

: No

Weight

: 1.60 lbs. per Each