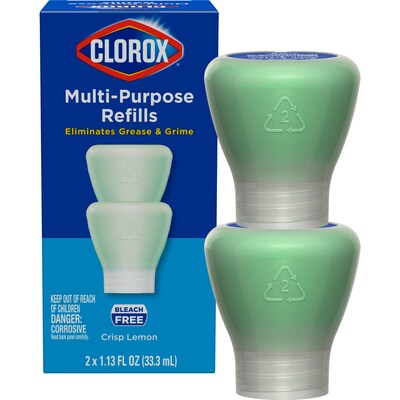 Clorox Multipurpose Cleaner Refill Pods, Crisp Lemon Scent, 2 Pods/Box, 8 Boxes/Carton (60161)
Clorox Multipurpose Cleaner Refill Pods, Crisp Lemon Scent, 2 Pods/Box, 8 Boxes/Carton (60161)
Item #: 901-24527514
Model #: 60161
Brand: Clorox
Refill your Clorox Refillable Cleaner reusable spray bottle with Clorox All-Purpose Cleaner Refill Pods. Clorox All-Purpose Cleaner has the same Clorox cleaning power* to remove the toughest stains around your house, leaving behind a delightful lemon scent to freshen your home. The versatile all-purpose cleaner is bleach-free and specially designed to remove dirt, grease and grime safely from multi-surfaces, such as countertops, appliances, sinks and toilets. These concentrated refill pods are easy to use: just refill your Clorox All-Purpose Refillable Cleaner bottle with tap water and twist on the concentrated refill pod until it clicks. Concentrated pods are easy to store, making it convenient to have more on hand. Plus, leak-free shipping means no messes to worry about. By switching to this refillable cleaning system that uses 80% less plastic**, you can help us save the equivalent of 1 million plastic bottles***. Get a trusted Clorox clean with Clorox All-Purpose Cleaner Refill Pods. *Vs. Clorox All-Purpose Cleaner. **80% less plastic by replacing thirty Clorox 16 fl oz spray cleaners. ***Vs. non-refillable spray cleaners.
CONCENTRATED CLEANER SYSTEM: Clorox Multi-All-Purpose Cleaner Refill Pods are designed for use with a reusable spray bottle (sold separately)
JUST ADD WATER: Refill your all-purpose cleaner spray bottle with tap water, twist a refill pod into the bottle, reattach the spray trigger and you're ready to start cleaning
SAME CLOROX CLEANING POWER*: Use on Stainless steel, glass, appliance exteriors, fiberglass, Formica, sealed granite, glazed porcelain, acrylic, sealed hardwood, laminate floors
REUSABLE CLEANING SYSTEM: Refill your all-purpose cleaner spray bottle up to 30 times using the concentrated refill pods and use 80% less plastic** with a more sustainable packaging alternative
GREAT FOR COMMERCIAL USE: Ideal for use in offices, day care centers, schools, hotels, restaurants and other commercial facilities
Usage Directions: DIRECTIONS FOR USE - TO CLEAN: After activating in Clorox-compatible bottle, spray soiled surface until thoroughly wet, then wipe clean. STORAGE AND DISPOSAL: Store out of reach of children and persons unfamiliar with its use. Pod: Recycle empty refill pods and outer package or discard in trash. Do not discard packaging until all product is used.
Ingredients: CONTAINS: Water, lauramine oxide, ethanolamine, alkyl c12-16 dimethylbenzyl ammonium chloride, myristamine oxide, tetrapotassium EDTA, ethanol and fragrance.

Warnings: DANGER: CORROSIVE. Causes irreversible eye and skin damage. Harmful if swallowed or absorbed through skin. Do not get on eyes or skin. FIRST AID: Eyes: Hold eye open and rinse slowly and gently with water for 15–20 minutes. Remove contact lenses, if present, after the first 5 minutes, then continue rinsing eye. Skin: Take off contaminated clothing. Rinse skin immediately with plenty of water for 15–20 minutes. If swallowed: Call a poison control center or doctor immediately for treatment advice.


Clorox
1.13
Chemical Active Ingredient(s)
Water, lauramine oxide, ethanolamine, alkyl C12-16 dimethylbenzyl ammonium chloride, myrastamine oxide, tetrapotassium edta, ethanol, fragrance
Bleach-Free
Pod or Capsule
All-Purpose Cleaners & Spray
Concentrated or Ready To Use
Concentrated
Cartridge
No
Dispenser Required
Non FDA Compliant
No
16
Primary Active Ingredient
Other
Crisp Lemon
Yes
Yes
Refill Pods
0.27