K-Cups make life easier in a lot of ways. They're fast, convenient, and a surefire way to satisfy a caffeine addiction.
There's just one (big) problem with these little coffee dispensers: K-Cups are a bane for the environment. As of right now, the number of K-Cups deposited in landfills every year could wrap around planet Earth more than 10 times. Once plastic ends up in landfills, it remains there for hundreds, maybe even thousands, of years. These landfills pollute air, land, and water; destroy wildlife habitat; and are major sources of greenhouse gases, which speed up climate change.
Luckily, K-Cups don't have to end up in landfills. There are several ways to reduce K-Cups' environmental impact (outside of not using them in the first place). For starters, there are more and more opportunities to recycle K-Cups around the country. If that's not an option where you live, then don't give up hope: It's also possible to keep K-Cups out of the waste stream by creatively reusing them.
What good is a used K-Cup, you might wonder? Turns out, it can be used in a multitude of ways. Here are just 10 of the many creative ways to reuse K-Cups.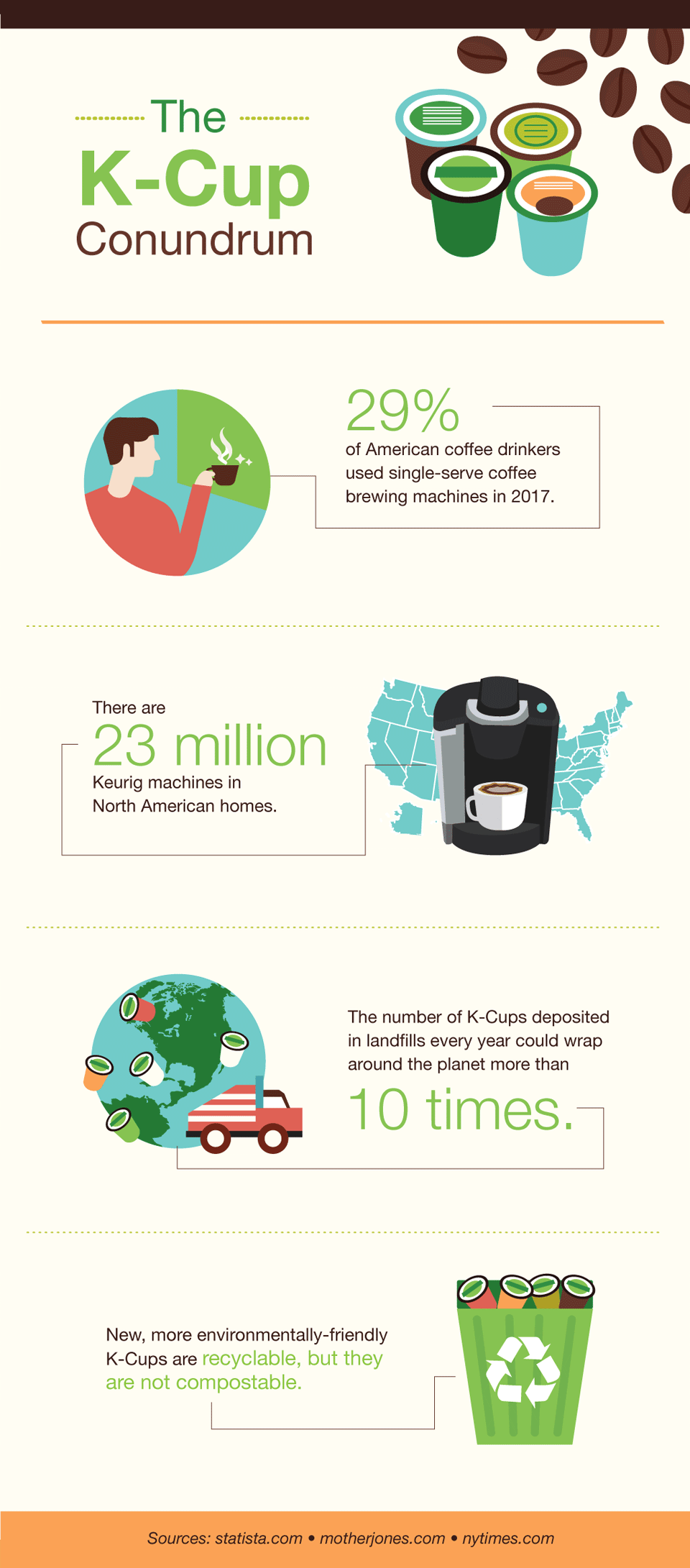 Store fresh herbs
Whether you purchase or grow them yourself, you can store herbs and extend their shelf life with just a few K-Cups. If you have leftover herbs or garlic from a recipe, simply chop them up, load into K-Cups, and stash the K-Cups in the freezer. (If the herbs are chopped very finely, cover the hole in the bottom with some foil or plastic wrap beforehand.) The herbs should keep until you're ready to remove them from the freezer and add them to your next culinary project.
Organize small craft, office, and other supplies
It's a classic conundrum: How do you ensure tiny supplies such as thumbtacks, bobby pins, staples, buttons, and so on don't wander off? The solution is simple: Corral them in K-Cups for better organization and accessibility. (Stash the K-Cups on a cooking tray to prevent spillage.)
Bonus tip: If you're looking to store sewing needles, consider turning a K-Cup into a pincushion by filling it with cotton and securing fabric over the top.
Create themed decorative lights
Tucking a K-Cup around each light on a stretch of string lights is an easy way to add a warm glow to a room or outdoor space. Up the ante by decorating the K-Cups before attaching them to the lights.
To get started, check out these Halloween-themed string lights, or create a pretty garland for outdoor summer gatherings. (Just replace the Dixie cups in these instructions with K-Cups.) Or ditch the string lights and use K-Cups to freshen up a pendant light or put together some funky marquee lights.
Start seeds for your garden
Planting a garden? Consider starting seeds in used, clean K-Cups. If you want to get extra crafty, hang these miniature planters in a window to show off your growing starts.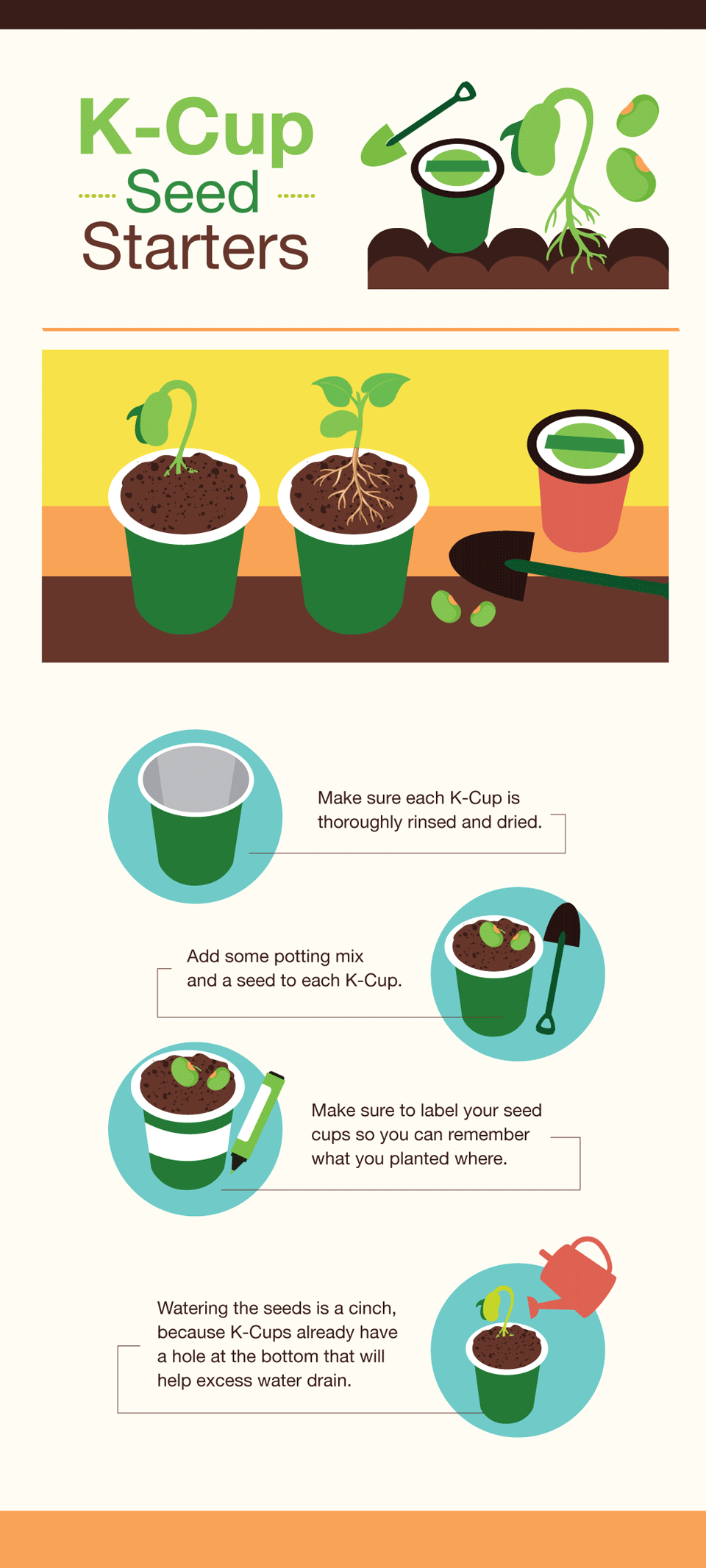 Display cards and photos
Don't have room for any more picture frames on your shelves? You can show off cards and photos (while taking up much less space) by using K-Cups as card holders. Carefully cut a slit across the bottom of a K-Cup and slide in cards or photos for a lightweight display that takes up less real estate than frames.
Take the smell out of your fridge
Most of us are aware that baking soda can help deodorize the fridge, but fewer people realize coffee can have the same effect. That's why K-Cups serve as the perfect fridge deodorizer. Here's how to put them to good use:
Remove the foil from a used K-Cup. (Keep the used coffee grounds in the cup.)
Add approximately ½ teaspoon of vanilla extract to the coffee grounds in each K-Cup.
Place the K-Cups in the fridge.
Change out K-Cups on a regular basis to maintain the deodorizing effect.
Freeze some popsicles
Who doesn't like a cool popsicle on a hot summer day? Keep popsicles handy by using K-Cups as popsicle molds.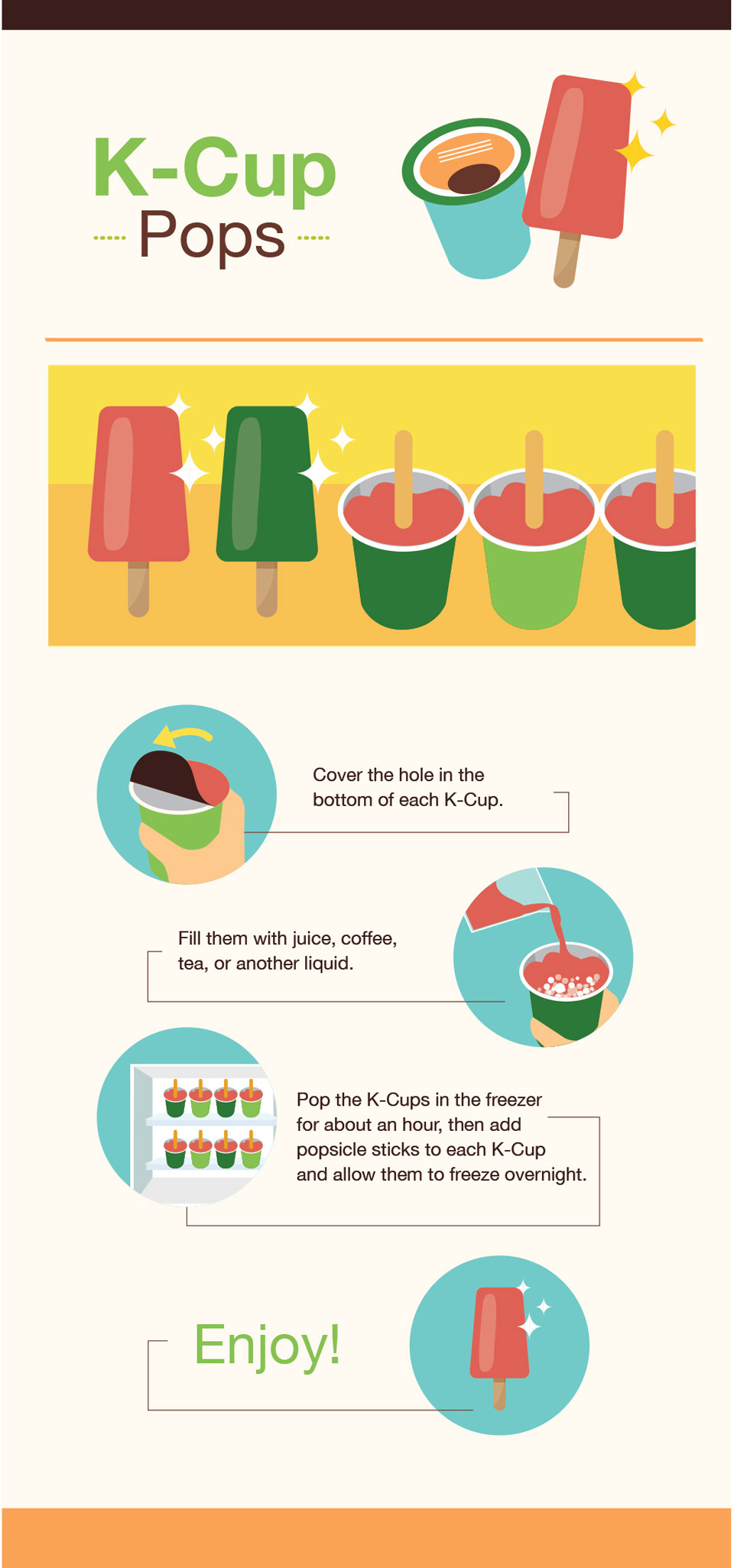 Create cheery wall art
This fun project will cheer up any room, thanks to the bright yellow daffodil "flowers." While K-Cups may not sound like a high-art medium, the end result is surprisingly pretty and professional.
Make learning fun (and keep kids entertained)
If you're a parent, teacher, or caretaker of young kids, then K-Cups can make for an ideal learning accessory. Here are just some of the many ways you can use K-Cups to make learning fun:
Use the K-Cups to hold small items during sorting games—for example, organizing different types of change or sorting like-colored buttons. You could also paint the insides of the K-Cups different colors and ask children to practice grouping similarly colored items into corresponding K-Cups.
Store a basket of K-Cups in the toy room or classroom and encourage kids to use them as stacking blocks. They'll learn about physics in the process.
Practice fine motor skills by using the K-Cups as catchers for a classic game of penny toss.
Supply kids with K-Cups and a pipe cleaner and encourage them to practice threading the pipe cleaner through the K-Cups. This is a great strategy for practicing fine motor coordination.
Turn the K-Cups into a mini bowling alley by organizing them like pins and encouraging kids to take aim with a bouncy ball.
Work together with children to create a DIY wind meter, then use it as an opportunity to learn about weather and physics. Get the full instructions here.
Make homemade maracas by filling K-Cups with dried beans or rice and then taping a second K-Cup over the top. (Just make sure to cover the holes in the bottom of each K-Cup so rice doesn't fly everywhere!)
Dip the bottom of a K-Cup into paint to create a circular stamp. Kids can use the stamp in art to practice making circles.
Create concrete candle holders using these instructions. Kids will enjoy getting crafty and will be proud to show off these candle holders to friends or parents.
Work with kids to create a ball and cup toy that will help improve physical coordination and keep children entertained.
During painting projects, use K-Cups to hold different colors of paint. This helps ensure paint colors don't blend together into a brown mess.
Use K-Cups as fake flowers for craft projects. Kids can decorate the K-Cups and use pipe cleaners for the stems. Before kids start decorating, make six slits in each K-Cup to distinguish the petals.
Get crafty for the holidays
The holidays are the perfect time to get crafty, and K-Cups provide a great foundation for all kinds of fun holiday crafts. Here are some ideas to get you started.
Make a gigantic "snow" person using K-Cups and a stapler. Set your snowperson outside to greet holiday visitors. The great thing about this craft is that it will never melt (even if you live in Florida).
Create a simple and unique holiday wreath. Keep the K-Cups white for a modern feel, or decorate them any way you like before forming them into the wreath.
Create a cute little snowperson or snowflake ornament to hang in a window or on a Christmas tree.
Make a DIY advent calendar that's as fun to open as it is to make.
Whip up some K-Cup turkeys to decorate the Thanksgiving table.
Create Easter-themed placeholders that will delight your guests and double as party favors.
Use K-Cups to display painted eggs in a grassy "nest" with the help of these instructions.
Hang strings of decorated K-Cups to make festive, holiday-themed garlands.
From helping your garden grow to organizing supplies, freshening up your fridge, supporting childhood learning, adding a whimsical touch to indoor and outdoor lighting, and facilitating all sorts of holiday crafts, K-Cups can be reused in tons of ways. So instead of sending used K-Cups to the landfill, put them to (re)use instead. When K-Cups are finally on their last legs, make every effort to recycle them so they stay out of the waste stream for as long as possible.
Share this infographic on your site
Laura Newcomer
Laura Newcomer is a writer, editor, and educator with multiple years of experience working in the environmental and personal wellness space. Formerly Senior Editor at the health site Greatist, Laura now lives and works in Pennsylvania. Her writing has been published on Washington Post, TIME Healthland, Greatist, DailyBurn, Lifehacker, and Business Insider, among others. She has taught environmental education to students of all ages in both Pennsylvania and Maine, and prioritizes living an environmentally sustainable lifestyle. She's a big proponent of creating self-sustaining communities and accessible healthy food systems that care for both people and the earth. An avid outdoorswoman, she can often be found hiking, kayaking, backpacking, and tending to her garden.