Ink & Toner Recycling
Earth Day, Every Day: Quill customers have now recycled 13 million cartridges!
Earth Day, Every Day: Quill customers have now recycled 13 million cartridges!
1. Buy at Quill

Every ink and toner cartridge you buy at Quill can be returned for QuillCASH™. You have 6 months from the time of purchase to return and earn.

2. Return

Recycling your cartridges at Quill.com is completely free. Download a pre-paid shipping label here to return your cartridges free of charge.

3. Recycle

Cartridges are either reused as remanufactured cartridges or their parts are broken down and used in the production of other office products.

4. Redeem

Within 2 weeks of Quill.com receiving your shipment, you'll get an email with the amount of QuillCASH™ earned. Redeem at checkout for any order of at least $100.
FREE pre-paid shipping label
Account Status
More than 13,000,000 cartridges recycled.
Questions & Answers
What types of cartridges can I send in?

Any Inkjet cartridge and Laser Toner cartridge that is sold by Quill and is undamaged will qualify for QuillCASH™.

How should I pack my cartridges?

Carefully place the Laser Toner or Inkjet cartridges into a box using bubble wrap or newspaper to separate them or you can place the cartridges into their original boxes then pack those into the shipping box. You may also place Laser Toner cartridges into their original boxes, tape two to three of these boxes together and ship them using the free, pre-paid mailing label available for download on the Quill.com site.

Do I need separate boxes to return Laser Toner cartridges & Inkjet cartridges?

No, Laser Toner cartridges & Inkjet cartridges can be packaged and sent together in the same box.

How do I mail the box?

You do not need to call UPS directly for pickup; the sealed box can simply be given to a UPS driver when he/she arrives to make a delivery/pickup or the package can be taken to a UPS drop-off facility.

Will freight apply to my boxes?

No. All recycled cartridge boxes have FREE shipping! Create and download the free, pre-paid mailing label on a desktop computer.

Is there any exclusion to QuillCASH™?

QuillCASH™ is non-transferable and valid only for the person whose name is on the form or carton label of the recycled cartridges. Quill.com may refuse to redeem any QuillCASH™ which it believes in good faith to be fraudulently or improperly obtained. Not valid on prior purchases, taxes or freight charges.

How do I calculate the 6 month time period?

6 months is a rolling period based on the date that your last Inkjet or Laser Toner order was released. Because it's rolling, it will always reflect 6 months prior to the current date.

How do I earn QuillCASH™?

You earn QuillCASH™ when you return cartridges you buy at Quill within 6 months of purchase. You will earn $1 in QuillCASH™ for each inkjet cartridge returned and $2 in QuillCASH™ for each laser toner cartridge returned.

How do I redeem my QuillCASH™?

QuillCASH™ will be added to your Quill.com account after we receive and process your returned cartridges. You will receive an e-mail notification when QuillCASH™ has been added. Redeem QuillCASH™ at checkout right below the coupon entry boxes. General, QuillPreferred and Education customers can use QuillCASH™ on every product Quill.com sells when your merchandise total is $100 or more after discounts are applied. QuillCASH™ must be used within 90 days unless otherwise noted.

How do I track the time since I purchased a cartridge?

Visit your My Account page to view your Order History, which contains the date of purchase for each cartridge you
buy from us.

How many cartridges can I recycle?

You can recycle as many cartridges as you choose. You will earn $2 in QuillCASH™ for every Laser Toner cartridge or $1 in QuillCASH™ for every Inkjet cartridge up to the number of cartridges that you have purchased from Quill.com in the last 6 months.

How are multipacks counted?

You receive QuillCASH™ for returning each cartridge you receive in a multipack. Example: 3-pack of toner = 3 cartridges purchased = $6 in QuillCASH™ when returned.

What is the benefit to recycling with Quill.com?

Don't throw out your used ink and toner cartridges! Recycle them with Quill.com to reduce the number of cartridges in landfills AND earn QuillCASH™ in the process.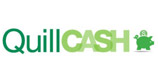 About QuillCASH™
QuillCASH™ is an exclusive benefit available to Quill.com customers and can be used on future qualifying orders as a form of payment at checkout.
Learn more