Limited Time - 66% off membership plus 500 Bonus QPoints
Join Now
Mops Buckets
(457 items found)
Sort By:
Best Match

Best Match

Price:High-Low

Price:Low-High

Sale

New

Rating:High-Low

Rating:Low-High
Quick Ship

1-2 Business Day Delivery
Category

Mop Buckets & Wringers

(20)

Craft Kits & Accessories

(16)

Trash Cans & Waste Receptacles

(10)

Blocks & Manipulatives

(8)

Learning Games & Puzzles

(8)

Air Fresheners & Odor Control

(6)

Floor Cleaners, Maintainers & Restorers

(5)

All-Purpose Cleaners & Degreasers

(4)

Dolls & Stuffed Animals

(4)

Lunch Totes & Water Bottles

(4)

Microfiber Cloths, Wipers and Rags

(4)

Spill Containment & Sorbents

(4)

Oils, Creams, Lotions

(3)

Rehabilitation & Therapeutic Equipment

(3)

Tool Bags, Belts & Pouches

(3)

Commercial Kitchen Tools

(2)

Floor Finishes, Seals & Applicators

(2)

Hooks & Hanging Strips

(2)

Interactive Creative Play

(2)

Laundry Detergent & Fabric Care

(2)

Letters, Numbers & Cut Outs

(2)

Anchors: Screw & Wedge

(1)

Classroom Clips, Hooks & Magnets

(1)

Dilution Control Chemicals

(1)

Dilution Control System Accessories

(1)

Drinkware & Glassware

(1)

HON® 34000 Series Metal Desks

(1)

HON® Metro Classic Series Metal Office Suites

(1)

Laundry Room Essentials

(1)

Learning & Exploration

(1)

Pressure Washers & Accessories

(1)

Recycling Systems & Containers

(1)

Traffic Signs & Cones

(1)

Wheelchair Seat & Back Cushions

(1)
Brand

Brighton Professional

(6)

Coastwide Professional

(2)

Sustainable Earth by Staples

(5)

Rubbermaid Commercial

(2)

PeoplesPaperPickerPin

(1)

Princeton Art & Brush

(1)

Rubbermaid Commercial HYGEN

(1)

Teacher Created Resources

(1)
More Ways to Save

Quill Family of Brands

(8)

Free Gift and Value Bundles

(1)
Mop Bucket & Wringer Type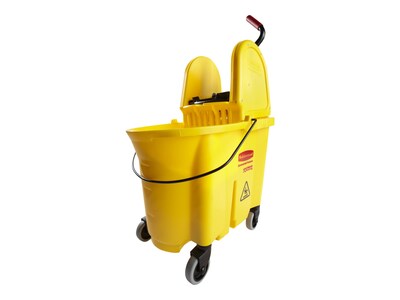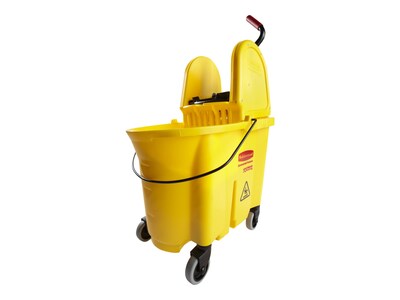 One-piece combo includes mop bucket and integrated mop wringer
Made of yellow plastic with built-in black handle
Dimensions: 32.25"H x 13.25"W x 22.6"D; bucket capacity: 31 qt.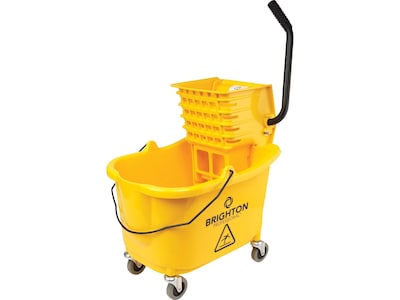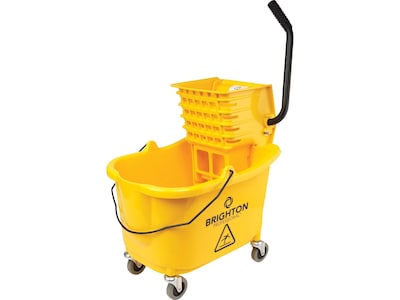 Mop bucket with side-press wringer
Yellow bucket made from shatter-resistant polypropylene with black handle
Dimensions: 34.7"H x 16.9"W x 24.4"D, bucket capacity is 35 qt.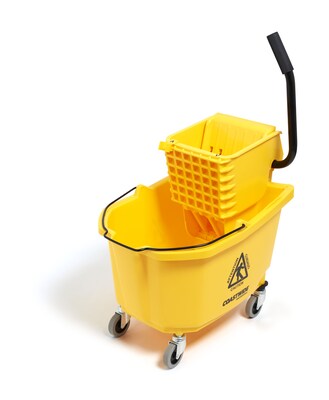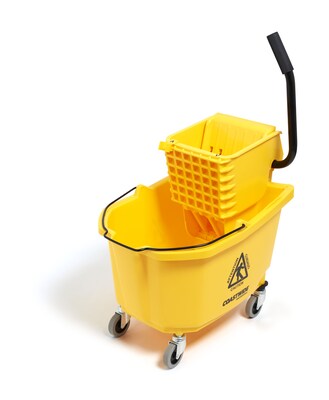 35 qt. heavy-duty mop bucket and side press wringer can also connect to the Coastwide Professional™ Click-Connect Janitorial Cart or the Coastwide Professional™ Click-Connect Trash Can Docking Dolly for versatile cleaning options
Dimensions: 23.1"H x 35.3"W x 17"D
Commercial grade industrial plastic construction and bucket features reinforced double wall rim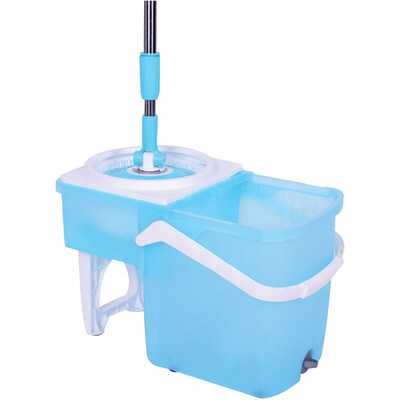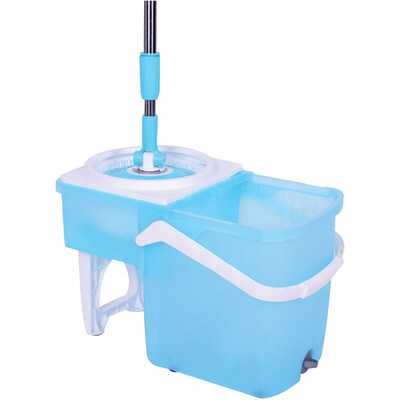 Pumping Handle Activates Spin Action
Bucket Collapses To Maximize Storage Space
Spins The Mop Dry At Over 300 Rotations Per Minute
Cotton Wet Mop with handle is ideal for any clean up job
Durable handle won't rust or support bacteria growth
Includes 24 oz. absorbent, 4-ply, cotton mop head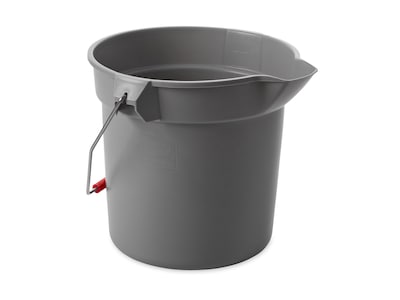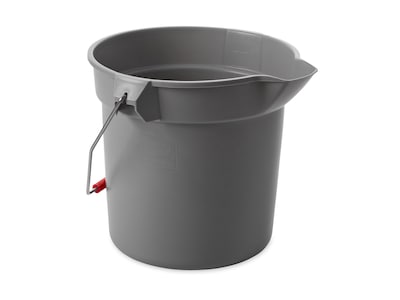 Keep your floors spotless and maintain a healthy environment with standard mops
Plastic bucket in gray color with heavy-duty thick wall construction
Capacity: 10 qt.
Quick Ship: 1-2 business day delivery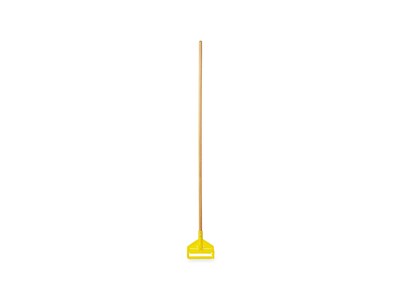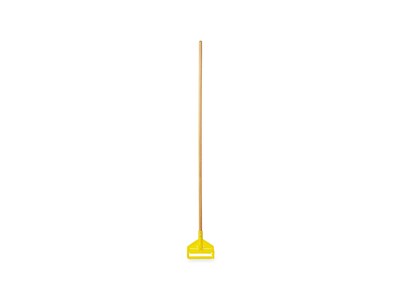 Handle's thumbwheel clamps the mop firmly in place
60" wood handle in natural color
Large yellow mop head made of plastic
Quick Ship: 1-2 business day delivery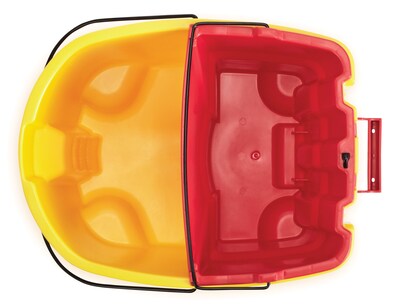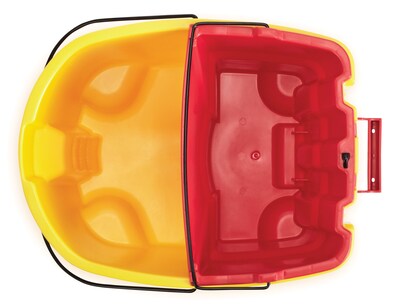 Improve safety and productivity, patented WaveBrake baffles result in Less splashing while mopping and maneuvering, helping to create a safer environment for patrons and staff. Additionally, water stays in the bucket, eliminating unnecessary trips to
the storage closet to fill up the bucket, enhancing productivity ...
Dirty water bucket, keeping the dirty water separate from clean water, the dirty water bucket helps to reduce the potential for cross-contamination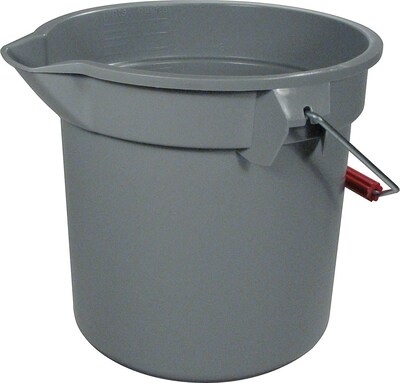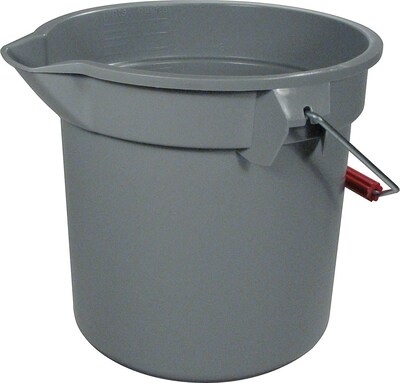 Wide pour spout
Heavy-duty thick wall construction
Height: 11 1/4 in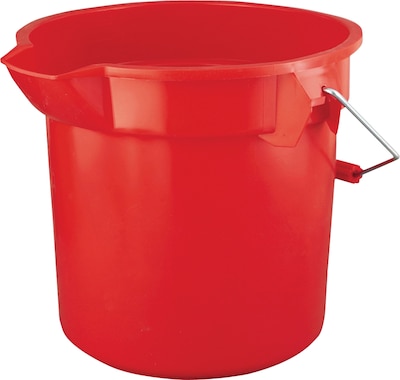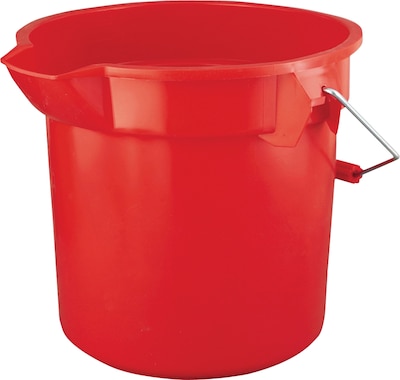 Heavy-duty, thick-walled molded plastic
Red
Shape: Round