Is your computer running a little more slowly than it used to? Do you have documents, pictures, or other sizeable files saved that you'd be devastated to lose? Are you running out of space but not ready to upgrade to a whole new computer just yet? Would you like to be able to access large data files from multiple computers without relying on an internet connection?
If you answered in the affirmative to any of the above, you're in luck, because we're here to talk about a simple solution: external hard drives. With an external hard drive, you can host a large amount of data without taking up space on your computer's internal hard drive—and you can still access it in a snap. Unlike relying on an internet-based storage solution, an external hard drive doesn't require you to be online and there's no monthly storage fee. You simply pay for the device, connect it to your computer, and you're good to go.
However, while the decision to invest in an external hard drive might be a no brainer, choosing which one you want can be a little more involved. Here are a few factors to consider during your search.
Should You Buy a Hard Disk Drive (HDD) or Solid State Drive (SSD)?
First you need to decide between a hard disk drive (HDD) or solid state drive (SSD), and that choice depends on what's most important to you.
An HDD, which is larger than an SSD and made of magnetic tape and mechanical parts, offers more storage for your money. If you need a lot of gigabytes (GB) but don't have a lot of cash, your decision might be simple.
An SSD is quieter and faster than an HDD. And because it has no moving parts, it's likely to have a longer lifespan than an HDD (there's simply less that can wear down). And, if you're using your external hard drive on a laptop, an SSD will be less of a drain on your battery than an HHD.
If you'll be accessing what's on your hard drive frequently and can afford an SSD that provides the size you need, that's probably the right choice—especially if you plan to host demanding software or do any photo or video editing on it. If you're looking for something to hold a huge number of files that you don't often need to get to or if cost is the main concern, check out HDDs.
What Size Should You Buy?
To determine what size external hard drive to buy, start by thinking about how you plan to use the drive. External hard drives offer GBs in the hundreds—you can even get multiple terabytes (TB)—so keep that in mind as you think through what you want to store.
Let's take a look at how much space some typical files require so you can better determine how much room you need.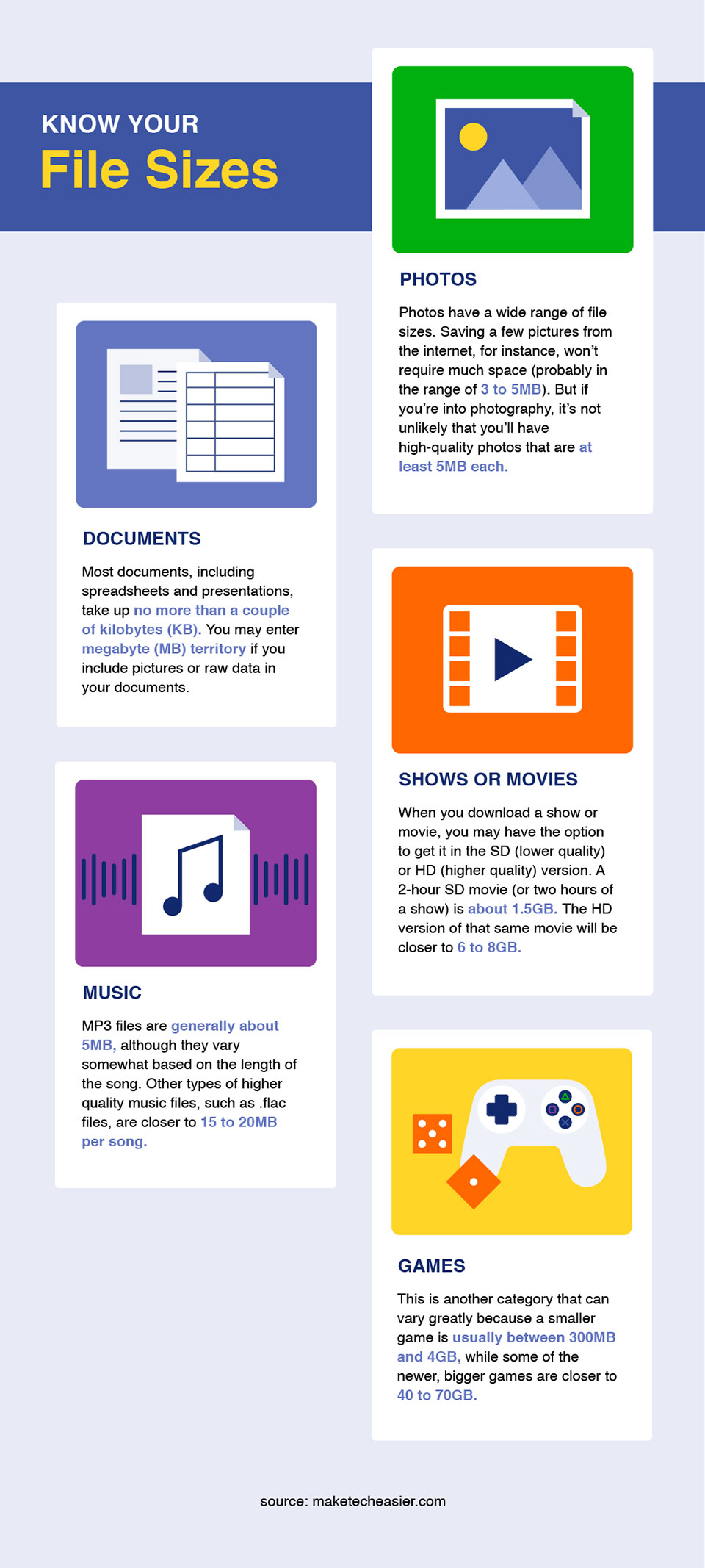 Get code to share this infographic on your site
It's generally a good idea to look for an external hard drive that gives you room to grow. Budget aside, there's really no problem with going big, especially with an SSD, since they are less likely to break down than an HDD.
Do You Have a Need for Speed?
Transfer speed is just as important as size if you plan to regularly transfer files back and forth. That speed is based on two things: the storage technology and the connector. As mentioned above, SSDs process data faster than HDDs. But regardless of which type of drive you have, consider your connector.
A USB connection is most common but not all USB cables are the same. USB 2.0 is older and not ideal for speedy transfers; USB 3.0 has more pins than the 2.0, leading to a faster transfer speed (up to 5 GB per second), and USB 3.1 is twice as fast. Your speediest option of all is the Thunderbolt 3, which can transfer data at up to 40 GB per second.
Does it Need to Be Portable and Durable?
Do you envision carting your external hard drive around with you? Or will it live in a safe space on your desk for all of time? If you'll just be backing up your computer with it and don't need to transport it from one place to another, it won't matter very much whether it's easy to carry or tough enough to take a tumble.
However, if portability and durability are important to you, make sure to narrow your search to external hard drives that are on the smaller, lightweight side. Options that don't require an external power cord are even more portable. And when it comes to durability, you may want to look for hard drives with protective casings.
In terms of both portability and durability, SSDs are probably your best bet. They're smaller, lighter, and less breakable by nature (because they have no moving parts).
What Kind of Security Do You Want?
The great thing about external hard drives is that, even if they're on the larger end, they're easy to move. But that can also make them a security risk if you plan to store any sensitive information. Sure, you can keep your hard drive safe from hackers by disconnecting it from your computer when you're online, but that doesn't mean someone won't swipe it or you won't lose it.
Some external hard drives come with security measures such as encryption, but that's not a given. However, even if the drive of your dreams has no security at all, you'll likely find that it's compatible with encryption software you can use to encrypt your drive so nobody can access your files but you.
Conclusion
While there are several factors that may influence your external hard drive choice, remember, there's no rule saying you can only have one. That's part of the appeal—you can get what you need (and what you can afford) today, knowing that you can always pick up an additional drive in the future if you need it.
Share this infographic on your site
Kristen Seymour
Kristen Seymour brought her passion for both pets and writing to the online space nearly a decade ago, working as an editor at AOL's Paw Nation and then Vetstreet.com. She's also a regular contributor to HealthyPet Magazine. Additionally, Seymour covers fitness, food and healthy (and yes, sometimes pets!) on her Fit Bottomed Girls website and podcast. Based in sunny Sarasota, Florida, Seymour shares her office with her husband and a small menagerie of rescue pets: a snuggly senior Lab mix, a mouthy hound mix and a cat who loves to be petted exactly seven times—but never eight.