XV Height-Adjustable Easel
XV Height-Adjustable Easel
Item #: 901-258357
Model #: B795AC-WW
Brand: Best-Rite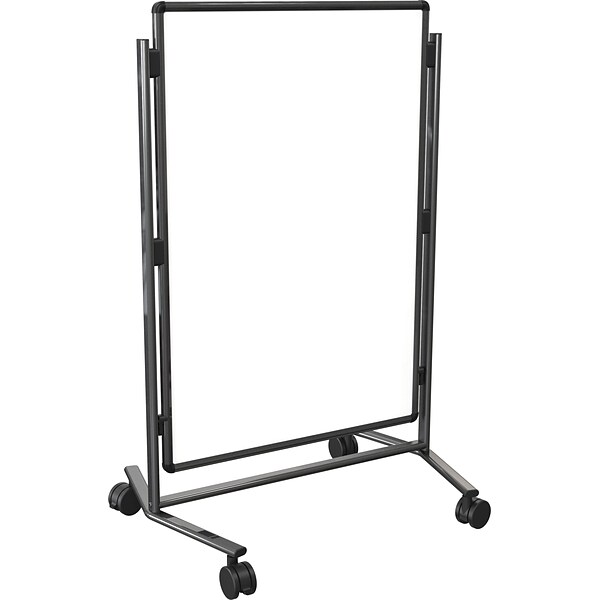 Best-Rite® Modifier height adjustable easel has double sided panel that lifts out easily and can be positioned at two predefined heights.
Best-Rite® Modifier height adjustable easel with 40" x 30" writing surface features handy marker cup and 2" lockable casters. Modifier is ideal for home/office and fits in any environment or situation.
This easel adjusts quickly allowing it to be used by children or adults
Set on rollers, the easel is able to be moved without a hassle
The double-sided panel lifts out and can be set to 50-inch or 67-inch heights
The unframed melamine whiteboard surface is simple to wipe clean for clear writing and reading
A black frame makes this whiteboard stand out from others while providing support
40" x 30" writing surface
Black Frame
Versatility The versatile Modifier XV height-adjustable easel is adjustable to different heights, so whether you're lowering the easel to work with children or need to make the easel taller for a board meeting, you have the option to do so. It can be raised to 67 inches or dropped to 50 inches depending on your needs, and everyone can see what you're writing. Casters for MobilityInstead of keeping your easel in one place, you can move it easily with the addition of the helpful caster wheels. There are four wheels set in the base of the frame, so the easel can be used to quickly add privacy to an area or in a separate room altogether. Double-Sided OptionThis Modifier XV height-adjustable easel is double sided, so you can write on one side and then spin it around for additional notes on the back. The board is framed in aluminum trim in black or silver, so you can pick one that suits your office space.
Adjustable Height Min to Max Inches
51 - 67
Best-Rite
24
Display
Fixed
67
With Casters
Aluminum
2
Modifier XV
Does not include storage shelf/tray
Melamine
Silver
34