Zebra Technologies® LD-R2BF5W PolyPro 4D Thermal Label; 1.25"(L) x 2"(W)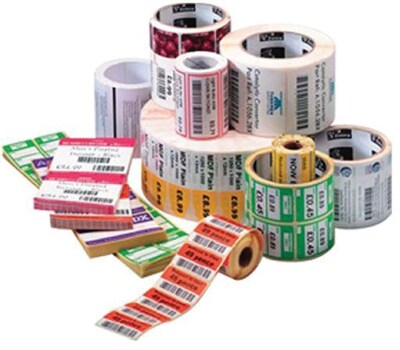 Description
Zebra Technologies PolyPro Thermal Label - Legible Printing
Print all your labels clearly and legibly on Zebra Technologies PolyPro thermal labels. These labels come in large rolls of 280, with the rolls packed together in cases of 36, so you'll have more than enough for label making, shipping applications, and general inventory tracking. They're made of durable polypropylene to resist tearing, and they're backed with semipermanent adhesive which keeps them in place.
Dimensions: 1.25"(L) x 2"(W), inner diameter: 0.75", outer diameter: 2"

White

Compatibility: Zebra printer: QL220, QL220plus, QL320, QL320plus, QL420, QL420plus, RW220, RW420, RW420 print station, P4T

Material: Polypropylene

Number of labels per roll: 280

Shape: Rectangle

Print technology: Direct thermal

Adhesive type: Semi-permanent

Finish: Matte

Features: Black sensing mark, scratch-resistant, smear-resistance

Produces high-quality black bar codes and human readable fonts with Zebra printers

Features a high-performance acrylic adhesive

Paper offers an inexpensive way to print in a variety of general-purpose applications, while synthetic offers more durable, long-lasting results with resistance to abrasion, moisture, and chemicals

Direct thermal technology does not require a ribbon, instead, a chemically coated heat-sensitive material produces images as heat is applied to the surface

Ideal for applications that require a durable moisture resistant label stock
Large Supply
You can use Zebra Technologies PolyPro thermal labels for just about any business application. They're compatible with thermal transfer printers, so you can use them for printing shipping labels, UPC bar codes, or human-legible text. With 280 labels to a roll, and 36 rolls to a pack, you'll have all the labels you need for multiple applications.
Polypropylene Construction
Zebra Technologies PolyPro thermal labels are made with durable polypropylene. This prevents the labels from expanding during the thermal transfer, resulting in less distorted text, and it makes them strong enough to remain intact during shipping or long terms in a warehouse.
Strong Adhesive Backing
These labels adhere to their places with a strong semipermanent adhesive backing. They'll remain in place without shifting or peeling during storage or the shipping process.
Specifications
Brand

: Zebra

Weight

: 1.00 lbs. per Pack