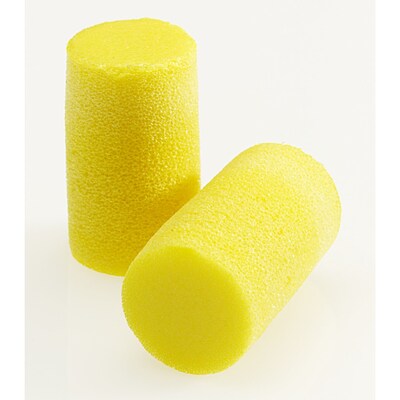 3M E-A-R Classic Plus Earplugs, Uncorded, Pillow Pack, 200 Pairs/Case (310-1101)
3M E-A-R Classic Plus Earplugs, Uncorded, Pillow Pack, 200 Pairs/Case (310-1101)
Item #: 901-3101101Q
Model #: 310-1101
Brand: 3M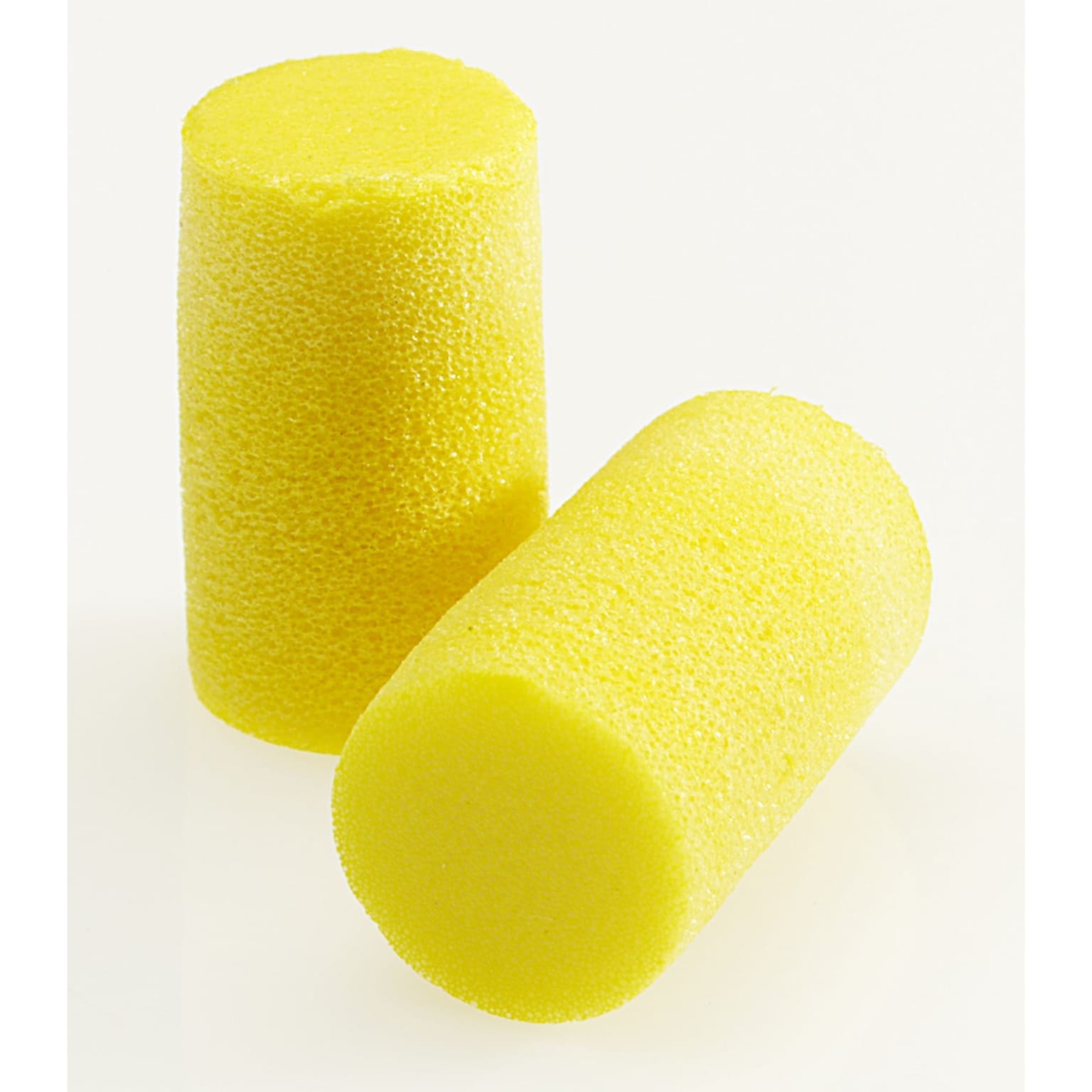 Frequently bought together
---
---
Limited quantity available:
15 remaining
---
More than 40 years ago this simple hearing protector, the world's first foam ear plug, revolutionized hearing protection in the workplace and has remained to this day one of the most widely used earplugs in the world. The 3M E-A-R Classic Ear Plugs are constructed from slow-recovery, low-pressure foam. They fit snugly to create a noise barrier that helps protect hearing from loud sounds. These ear plugs are stiff enough when compressed to make fitting easy, yet soft enough to be comfortable in the ear for extended wear. Bright yellow color allows supervisors to conduct quick visual hearing protection compliance checks. Recommended applications include chipping, chiseling, drilling, furnace operations, grinding, heavy equipment operations, machining, pouring/casting, power fastening, riveting, sanding, sawing and welding. These earplugs are commonly used in the following industries: agriculture, automotive, chemicals, construction, general manufacturing, healthcare, oil and gas, and pharmaceuticals. These ear plugs have a Noise Reduction Rating (NRR) of 33 dB, CSA Class AL.* Can be fit tested with the 3M E-A-Rfit Validation System. Moisture resistance helps maintain a consistent fit, even when humidity is present. Not only is noise present in our daily routines, but millions of Americans work in hazardous noise on a daily basis. Estimates from the National Institutes of Health suggest that approximately 15 percent of Americans (26 million people) between the ages of 20 and 69 have high frequency hearing loss due to exposure to noise at work or during leisure activities. Hearing loss due to noise is almost entirely preventable by consistent use of hearing protection.
SECURE: Exposed cell surface texture resists movement and helps maintain an effective seal creating a comfortable, snug noise barrier. Noise Reduction Rating (NRR) 33 dB. CSA Class AL.*
OUTSTANDING COMFORT: This unique slow-recovery, low-pressure foam and special cylindrical shape help enhance comfort throughout the day by creating lower pressure in the ear canal.
LONGER SIZE: Classic Plus ear plugs are 20% longer than the regular E-A-R Classic ear plug (and the same diameter) to fit deeper into the ear canal and help provide higher noise reduction.
SOFT SOUND-ABSORBING FOAM: Proprietary foam is initially firm to make fitting the ear plug easier, then softens once it's in the ear to comfortably conform to the unique shape of each ear canal.
SWEAT AND HUMIDITY RESISTANT: Classic ear plugs are resistant to moisture absorption for consistent fitting even in humid environments.
VERSATILE: Use while chipping, chiseling, drilling, furnace operations, grinding, heavy equipment operations, machining, pouring/casting, power fastening, riveting, sanding, sawing and welding.
CLEAN STORAGE: Reusable pillow pack helps keep earplugs clean when they are not being worn.
For industrial/occupational use only. Not for consumer sale or use.
*Note: 3M strongly recommends fit testing of hearing protectors. Research suggests that many users will receive less noise reduction than indicated by the NRR due to variation in hearing protector fit, fitting skill, and motivation of the user. If the NRR is used, 3M recommends that it be reduced by 50% or in accordance with applicable regulations. Disclaimer: 3M industrial and occupational products are intended, labeled, and packaged for sale to trained industrial and occupational customers for workplace use. Unless specifically stated otherwise on the applicable product packaging or literature, these products are not intended, labeled, or packaged for sale to or use by consumers (e.g., for home, personal, primary or secondary school, recreational/sporting, or other uses not described in the applicable product packaging or literature), and must be selected and used in compliance with applicable health and safety regulations and standards (e.g., U.S. OSHA, ANSI), as well as all product literature, user instructions, warnings, and limitations. Misuse of 3M industrial and occupational products may result in injury, sickness, or death. For help with product selection and use, consult your on-site safety professional, industrial hygienist, or other subject matter expert. For additional product information, visit www.3M.com/PPE.

3M
Yellow
Cordless
Earplugs
Foam
Yellow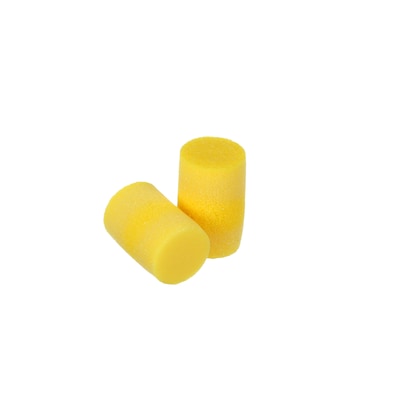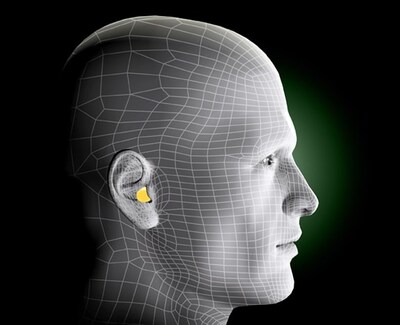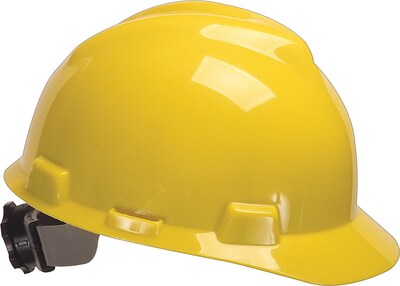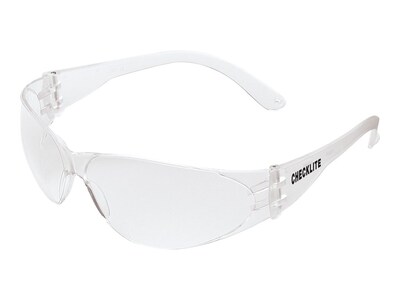 Quill help center
Call us 1-800-982-3400
New to Quill? Would you like to learn more about how we can help your business?
Subtotal: ( items
/ rewards
):
Member benefits
Free shipping-no minimum
As a member, you never have to worry about hitting an order minimum
View policy
---
5% off everyday low prices
Sales not included
---
Plus, save an additional 5% off our best 10-ream paper price
---
Earn 10% more points for every $1 spent
---
Exclusive Rewards+ offers
---
---
Receive 30 extra days to use your points
---
Disclaimer
Offers and discounts exclude HP,Samsung and Epson. We offer a worry-free enrollment guarantee - if you are not satisfied with your Rewards+ membership, you can cancel at any time for a prorated refund. By enrolling into the Reward+ program, you are agreeing to the
Terms and Conditions.
---
See full membership details