Whether you're creating an office filing system or trying to get organized around the home, a label maker is an essential part of your arsenal. That's because label makers allow you to categorize all kinds of items and clearly establish where they should go. This helps eliminate confusion and maintain order, which saves you time and energy on a daily basis.
So if a high-quality label maker is important, what's the best label maker on the market today? The truth is, we couldn't pick just one. Instead, we've narrowed the list down to five:
Dymo Rhino Industrial 4200
Epson LW-300
Brother P-Touch PT-D210
Brother PT-D400AD
Brother P-Touch PT-P700
Let's take a closer look at these great options.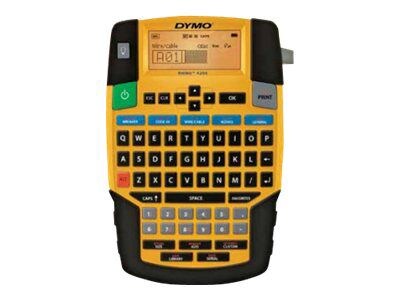 Dymo Rhino Industrial 4200
As the name implies, this device means business. This heavy-duty label maker prints industrial-strength labels in a variety of materials, colors, and widths. The computer-style keyboard makes it easy to whip up barcodes, wire and cable wraps, and other labels designed to stand the test of time. The "Favorites" key enhances efficiency with quick access to frequently used labels, symbols, and terms, while the "Custom" key saves the settings for customized label formats.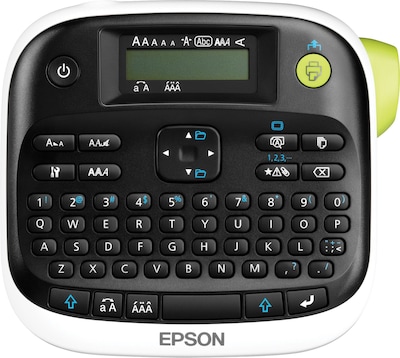 Epson LW-300
Reviews consistently rank this as one of the best label makers for home use—especially for anyone into crafting. The LW-300 makes it easy to create customized labels for scrapbooking, sewing projects, gift tags, household storage, and so on. Users can get creative with these labels, thanks to a large repository of fonts, symbols, borders, colors, and languages as well as specialty labels including iron-on, glow-in-the-dark, metallic, and decorative tapes.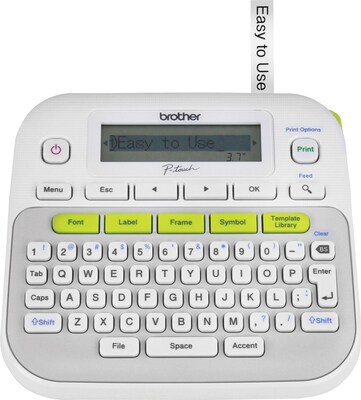 Brother P-Touch PT-D210
The PT-D210 earns rave reviews as one of the best label makers. Its intuitive interface and pre-designed label templates make it easy to get organized, whether you create gift tags, label file folders, or categorize cables and wires. And with many fonts, styles, frames, and symbols to choose from, you can personalize those labels, too. The label maker also boasts storage capacity for up to 30 labels (which makes reprinting very efficient), one-touch keys for fast formatting, and high-quality labels.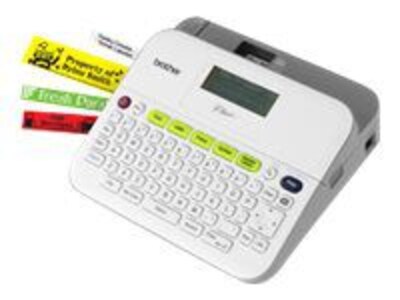 Brother PT-D400AD
Just like the Brother PT-D210, the PT-D400AD is consistently ranked as one of the best label makers. While the PT-D210 is ideal for home and light office use, the PT-D400AD is best suited for businesses that require heavier label maker use. Among other features, it offers a user-friendly interface, a familiar keyboard layout, an AC adapter, fast printing speeds, large memory capacity for storing custom labels, tons of personalization options, high-resolution labels, and the ability to print barcodes, different tape widths, and up to seven lines of text per label.
Brother P-Touch PT-P700
This highly regarded label maker possesses several standout features, but its biggest selling point is that it easily connects to a computer. This makes it possible to whip up multi-line labels with your computer keyboard, customize labels using fonts and graphics from your PC or Mac, and download templates from the cloud. The PT-P700 also provides exceptionally fast printing, auto cutting, advanced label design software, and durable labels.

Get code to share this infographic on your site
What to Look for in a Label Maker
With so many high-quality devices to choose from, it can be challenging to zero in on the best label maker for you. To help narrow your search, take the following considerations into account.
Cost
It's essential to look at the price tag before investing in a label maker, and it's equally important to consider the maintenance costs you'll incur once you own one. For instance, you'll need to purchase label tape when you run out, while battery-powered label makers require new batteries throughout their lifespan.
Portability
While there are many handheld label makers on the market, don't assume every label maker is portable. Some label makers are heavier than others, while some may function best when connected to a computer. If portability is important, research a label maker's weight and connectivity options before purchasing.
Type of use
If you're just looking to label some files at home, your needs differ from someone that needs to manage inventory via hundreds of bar codes. While industrial- and business-oriented label makers tend to cost more than label makers designed for home use, it's important to invest in the functions and durability you need. On the other hand, there's no sense in purchasing an industrial label maker if you just need to organize some craft projects. Bottom line? Consider your needs before you buy.
Customization options
Some label makers produce one line of text in a limited range of fonts, while others offer a wide range of font styles, colors, text limits, decorative elements, and more. If customization is important to you, make sure to note those options when researching different label makers.
Printing mechanism
Today's label makers may be equipped with a variety of printing mechanisms ranging from thermal transfer to direct thermal, laser, and inkjet laser printers. Most sources agree that thermal printing is preferable because it doesn't require ink or toner, which saves money and reduces the risk of messiness.
Memory
A label maker's memory capacity determines its ability to store frequently used and customized labels. If you anticipate using the label maker on a regular basis and/or creating lots of personalized labels, it's a good idea to invest in a machine with plenty of memory storage.
No matter whether you're running an office or a household, staying organized is one of the biggest administrative challenges you'll face. Investing in a label maker that suits your needs is one of the easiest ways to improve your organization—and your peace of mind.
Share this infographic on your site
Laura Newcomer
Laura Newcomer is a writer, editor, and educator with multiple years of experience working in the environmental and personal wellness space. Formerly Senior Editor at the health site Greatist, Laura now lives and works in Pennsylvania. Her writing has been published on Washington Post, TIME Healthland, Greatist, DailyBurn, Lifehacker, and Business Insider, among others. She has taught environmental education to students of all ages in both Pennsylvania and Maine, and prioritizes living an environmentally sustainable lifestyle. She's a big proponent of creating self-sustaining communities and accessible healthy food systems that care for both people and the earth. An avid outdoorswoman, she can often be found hiking, kayaking, backpacking, and tending to her garden.