EVGA® GeForce® 512-P3-1301-KR Video Card; 512 MB DDR3, 4.8 GBPS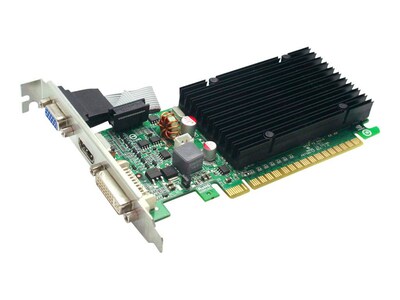 Description
EVGA® GeForce® Video Card is essential for watching HD DVD and Blu-ray movies on a PC, accelerating the Microsoft Windows Vista/7 experience, and powering Microsoft DirectX 9 and DirectX 10 games.
EVGA® GeForce® 4.8 GBPS Video card helps to expand, accelerate and dominate your multimedia experience. Card measuring 2.713" x 6.225" has a memory capacity of 512MB for efficient storage of data/information.
Memory: 512 MB

Graphics engine: e-GeForce 8400 GS PCIE GS

API: DirectX 10.0, OpenGL 3.1

Dimensions: 2.713"(H) x 6.225"(L)

NVIDIA SLI ready: Industry leading NVIDIA SLI technology offers amazing performance scaling by implementing AFR (alternate-frame-rendering) for the world's premier gaming solution under windows 7 with solid, state-of-the-art-drivers

NVIDIA® GigaThread™ technology: GigaThread™ is a new technology that enables thousands of independent threads to execute in parallel inside of the graphics core, this delivers extreme processing efficiency in advanced, next-generation shader programs

Full Microsoft® DirectX® 10 shader model 4.0 support: Also known as the unified shader model, the Vertex shaders, geometry shaders, and pixel shaders are combined in to one unified shader. Also backwards compatible with DirectX® 9

True 128-Bit floating point high dynamic-range (HDR) allows you to experience cinematic, life like environments, for an amazing graphics experience

PCI express® 2.0 / 1.1 support: Allows 500MB a lane or up to 8 GB/s at 16x speeds - allows for full support for new PCI-E 2.0 graphics cards

NVIDIA CUDA technology: CUDA technology unlocks the power of the GPU's processor cores to accelerate the most demanding tasks such as video transcoding, with CUDA™ C/C++, directcompute 5.0

NVIDIA PhysX technology: Full support for NVIDIA PhysX technology, enabling a totally new class of physical gaming interaction for a more dynamic and realistic experience with GeForce

NVIDIA pure video HD technology: The combination of high-definition video decode acceleration and post-processing that delivers unprecedented picture clarity, smooth video, accurate color, and precise image scaling for movies and video

OpenGL® 3.1 support: Supports the latest version of OpenGL

Unified shader architecture provides an efficient single platform consisting of vertex shaders, geometry shaders, and the pixel shaders

NVIDIA® Lumenex™ engine: A portion of the GPU is dedicated to delivering 16x full-screen antialiasing, 128-Bit floating point HDR, and support for 2560 x 1600 resolutions all at incredible image quality and performance

Includes: EVGA Driver/Software

3 years limited mfr. warranty
Fast Processing and Transfer
The EVGA GeForce 512-P3-1301-KR video card features GigaThread technology that allows the card's core processor to quickly process incoming and outgoing information. The card uses a PCI Express 2.0 port for fast lossless transfer to the system, allowing it to make the most of available computer processor and software resources as well as its on-board components.
DirectX and PhysX Integration
The video card comes with integrated DirectX 10.1 and PhysX support. These two technologies are used by a wide variety of design, manufacture, and gaming applications to create realistic three-dimensional shapes and shadows, allowing you to draft new models or render graphics quickly using standards compatible with most modern PCs.
SLI Ready
Each EVGA GeForce 512-P3-1301-KR video card possesses all the drivers and hardware necessary to make the most of modern SLI technology. Video cards using SLI can combine the power of two connected cards to create an even more powerful experience.
Specifications
Brand

: EVGA

Weight

: 0.75 lbs. per Each