Pyleaudio® PD-ICS8 Full Range Two-Way Ceiling Speaker System; White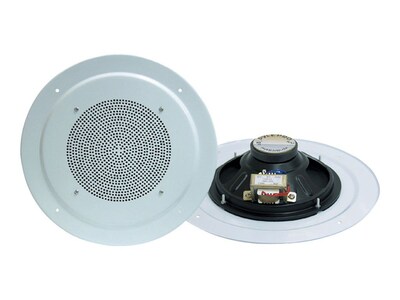 Description
Pyleaudio PD IC S8 Full Range 2-Way Ceiling Speaker System - Discreet Audio
The Pyleaudio PD IC S8 ceiling speaker system takes advantage of a discreet profile to save you space without sacrificing quality output. While most speakers take up significant space in your home, office, or store, consider the possibilities of freeing up that space with speakers integrated into your ceiling. Boasting an impressive 89 decibels of speaker sensitivity, these speakers afford you the maximum benefit of an output to space ratio.
White

Output power: 200 W

Frequency: 60 Hz - 16 kHz

Number of speakers: 2

Dimensions: 12.8inch(Dia.) x 3.15inch(D), cut-out dimensions: 8inch(Dia.) x 3.15inch(D)

Impedance: 8 Ohm

Speaker design: Round

Crossover type: 2-way, speaker type: passive

Recommended placing: In-ceiling mounted

Sensitivity: 89 dB

Delivers stereo sound to any room in your home or office without cluttering floor space

1 1/2inch tweeter cup

8inch speaker

1inch high temperature voice coil

100V transformer tapping at 10W

Warranty: 1 year limited
Low-profile Space Saving
Easy installation into your ceiling provides a seamless and concealed speaker system that creates ambiance for those in the room rather than distracting them. With ceiling-integrated speakers, there's less room for potential damage from spills and accidents, which makes the Pyleaudio PD IC S8 system a wise investment. The space you save from vertical placement of your speakers allows you to free up clutter to create a more inviting atmosphere.
High Output
With a maximum output of 200 watts, the Pyleaudio PD IC S8 adds strong, crisp audio to your space. This translates to the speakers being at home in any environment, even noisy offices or bars. An output of 200 watts enables your audio to not get drowned out while affording you the option to keep the audio subtle.
Outstanding Speaker Sensitivity
Take advantage of the Pyleaudio PD IC S8's 89-decibel speaker sensitivity to minimize amplifier wattage, and save money on power costs associated with your speakers. Lower amplifier requirements also offer you the benefit of a greater range of volume with your speakers.
Specifications
Brand

: Pyle

Weight

: 1.00 lbs. per Pack