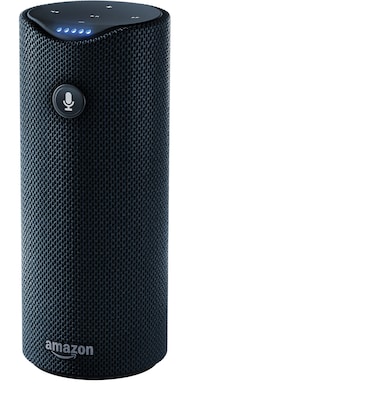 Description
Just tap and ask for music from Prime Music, Spotify, Pandora, iHeartRadio, and TuneIn
Amazon Tap is a portable Bluetooth and Wi-Fi enabled speaker that gives you rich, full-range sound. When connected to Wi-Fi, just tap the microphone button and ask for music, hear news, search for information, order a pizza, and more with the Alexa Voice Service.
Uses the Alexa Voice Service when connected to Wi-Fi or a mobile hotspot to play music, read the news, provide weather reports, and even order a pizza

Streams all your music via Bluetooth from your phone or tablet

Delivers crisp sound powered by Dolby, with dual stereo speakers that provide 360 degree omni directional audio

Provides up to 9 hours of playback

Always getting smarter and adding new features and skills

Includes Charging Cradle
AMAZON TAP

Portable version of the Amazon Echo. Take it with you wirelessly and tap the microphone button to wake Alexa. Includes a cradle for charging.

AMAZON ECHO DOT

Miniature version of the Amazon Echo in black, without the full-size speaker. Use the bluetooth or 3.5mm output to connect the Echo Dot to your existing speaker setup.

AMAZON ECHO

The classic Amazon Echo in black. Always on voice connectivity. Comes with a full size speaker built-in to provide premium room-filling audio.