Bai Brasilia Blueberry, Antioxidant Infused Beverage, 18 Fl. Oz. Bottles, 12/Pack
Bai Brasilia Blueberry, Antioxidant Infused Beverage, 18 Fl. Oz. Bottles, 12/Pack
Item #: 901-2712518
Model #: 20008245
Brand: Bai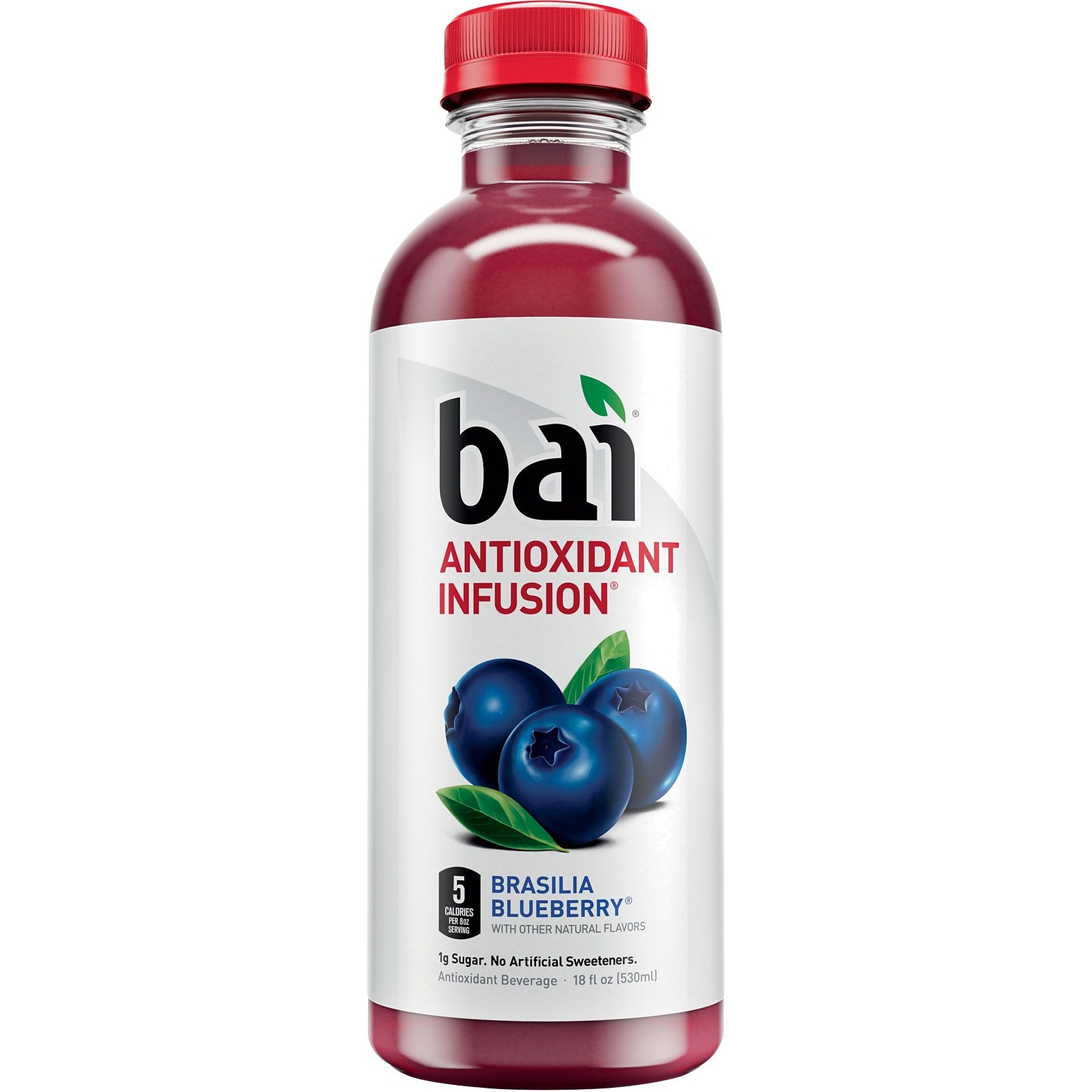 Frequently bought together
The 5-Calorie Way to Bring Bold Flavor into Your Life
When you think of Brazil, what comes to mind? Sunshine? Adventure? People in teeny bathing suits on a gorgeous beach? Now imagine that exotic locale as a flavor dancing on your taste buds like a samba at the Copacabana. Bai Brasilia Blueberry combines this unbelievable taste with antioxidants and only 5 calories and 1 gram of sugar per serving. Can you imagine all that? Unlike all those people in bathing suits you just imagined, Bai Brasilia Blueberry is real.
Fruit-infused beverage with a vibrant blueberry kick
18oz bottles
12 pack
Delicious blueberry-flavored beverage
Filtered water, Bai® Proprietary Sweetener Blend™ (erythritol, stevia extract), lemon juice concentrate, natural flavors, strawberry juice concentrate, citric acid, coffeefruit extract, white tea extract, vegetable juice (for color), malic acid, ascorbic acid, sodium citrate
Free of artificial sweeteners
Infused with antioxidants
Only 5 calories and 1 gram of sugar per serving
Bai makes delectable drinks infused with exotic fruit flavors, and only 5 calories and 1 gram of sugar per serving. Using a powerhouse superfruit--the coffeefruit--each drink is infused with antioxidants. But most importantly, the drinks taste great without any artificial flavors or sweeteners. They're pretty much a party in your mouth. The secret to a drink that tastes so sweet but has only 5 calories per can lies in Bai's Proprietary Sweetener Blend of erythritol and stevia leaf extract. Stevia leaf extract is more than 200 times sweeter than sugar, so only a small amount is needed in the mix. Erythritol, which is found in fruits like pears and melons, is used to evenly disperse the intense sweetness of stevia leaf extract throughout the drink. The erythritol Bai uses is a sugar alcohol made from simple sugars. This unique blend of sweeteners helps gives Bai its delicious flavor without unwanted calories. Bai works every day to make a world where doing what's right doesn't mean sacrificing enjoyment, where flavor and good feelings go hand in hand with no limits on taste, geography, or imagination. Bai sees beverages as an agent of change toward that world, and they started a 'bevolution' to inspire people to rethink what they drink. It's a journey, and by challenging convention and the status quo, they're drawing their own map to get there. But everyone is invited to come along, because Bai knows this is a world in which we all want to live.
11-20
Bai
18
12
Brasilia Blueberry
Flavored
Yes
No
1
Carton
Still
Flavored
Bottle