BenQ® MW855UST DLP 3D Projector 3500L WXGA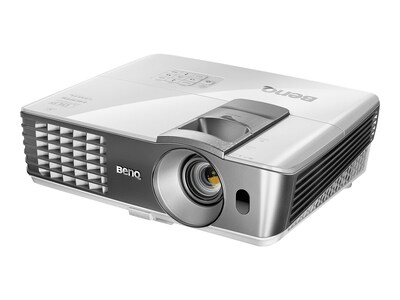 Description
The BenQ MW855UST is the ideal classroom interactive projector solution. Delivers 3500 lumens bright image with large, easy to read text and graphics with crisp shadow details and rich, accurate color
More effective teachers, more engaged students - Ultra short-throw projectors enable teachers to be more effective by delivering large, bright, engaging images, free from harsh projection light in the eyes and distracting shadows

Foster Active Learning Through PointWrite Interactivity and Classroom Collaboration - Keeping students involved and engaged is a central tenant of the BenQ Smart Classroom philosophy – Outfitting the MW855UST with latest PointWrite pen interactive technol

SmartEco Lamp Saving Technology - Incorporating BenQ's renowned SmartEco lamp saving Technology, the MW855UST not only offers greater energy savings, but continues to deliver amazing picture quality through this innovative technology

Projector Management through LAN Control - LAN Control is designed to help IT managers perform day-to-day projector maintenance and repair tasks efficiently and effectively – offering them full access and control over every projector

Dual Screen with Multiple Touch Capabilities - BenQ Dual Screen feature allows teachers to create an immersive learning experience by joining two PointWrite interactive projectors to generate an ultra-wide interactive image

Zero Space Constraints - You don't need a big room or a lot of free ceiling space to create a big picture when you've got an ultra short-throw projector! Teachers can turn every corner into the perfect place for educational use

Zero Shadow Disruptions - An ultra short-throw projector can be placed close to the screen in front of the class and well out of students' way, greatly decreasing the occurrences of shadow disruptions

Zero Eye-Blinding Lights - An ultra short-throw projector keeps the projector light from shining directly into everyone's eyes. The intensity of the projector beam may be potentially harmful. So it's for the best to keep it out of the way

Blu-ray Full HD 3D Supported - BenQ MW855UST is built with latest DLP® technology to support 3D functionlity, allowing schools to bring an immersive learning experience to their students with a simple preparation of 3D glasses and 3D content

Razor-Sharp Clarity with Ultra-Readability - Enabling a 96% fill factor, DLP Technology supplies pixel circuitry behind the pixel, thereby eliminating the thick dark bezels around individual pixels, which diminishes color and detail.