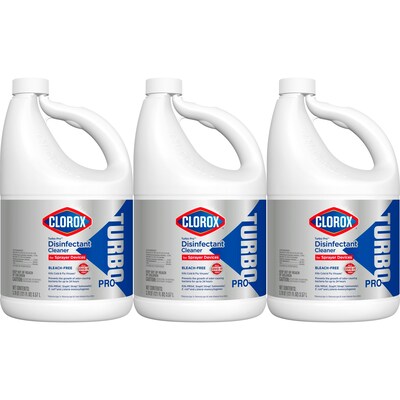 Clorox Turbo Pro™ Disinfectant Cleaner for Sprayer Devices, Bleach-Free, 121 Fluid Ounces, 3/Pack (60091CT)
Clorox Turbo Pro™ Disinfectant Cleaner for Sprayer Devices, Bleach-Free, 121 Fluid Ounces, 3/Pack (60091CT)
Item #: 901-24488097
Model #: 60091CT
Brand: Clorox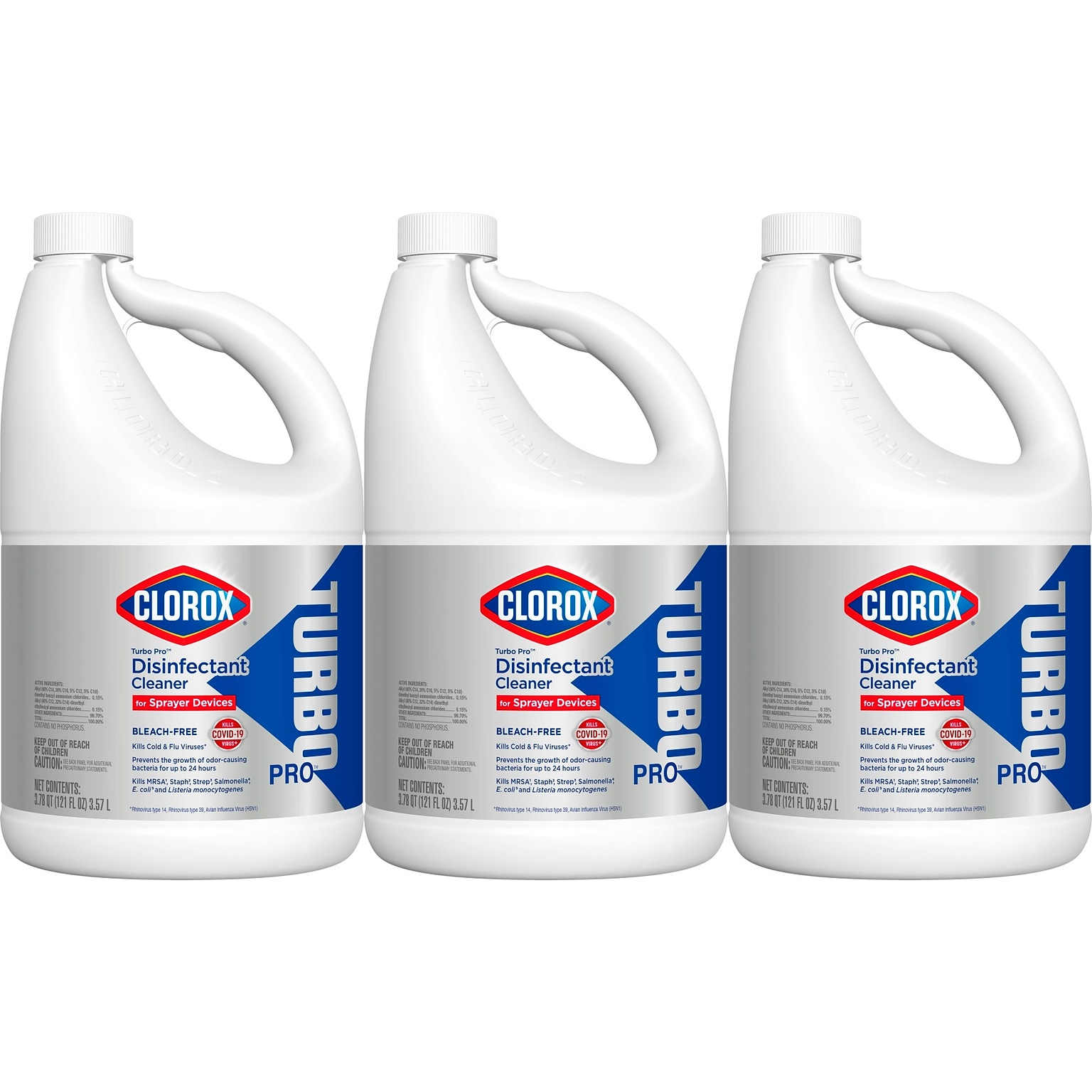 Frequently bought together
The Clorox® Turbo Pro™ Disinfectant Cleaner is specially formulated for use with a variety of sprayer devices. This bleach-free formula disinfects high-touch surfaces quickly and easily. Ideal for a wide array of facilities such as kitchens, gyms, restrooms, salons, clinics, schools, and offices. When used with a sprayer device, all you have to do is spray, there's no wiping required. A versatile disinfectant that kills 99.9% of germs†, including COVID-19*. The antibacterial formula also kills 99.9% of bacteria in 5 seconds** and prevents the growth of odor-causing bacteria for up to 24 hours. The Clorox® Turbo Pro™ Disinfectant Cleaner is safe for daily use on high-touch surfaces in your facility. Use on hard, non-porous surfaces like acrylic, chrome, glass, laminate, plastic, stainless steel, vinyl, and soft surfaces such linens, upholstery and mats. The formula leaves a clean, fresh scent. For food-contact surfaces, a water rinse is required. Refer to use and safety instructions on the Clorox® Turbo Pro™ Disinfectant Cleaner before using this product. Also refer to the sprayer device manual for compatibility and other instructions for use. †Pseudomonas aeruginosa (Pseudomonas), Salmonella enterica (Salmonella), Staphylococcus aureus (Staph) ‡ Rhinovirus Type 14, Rhinovirus Type 39, Avian Influenza Virus (H5N1) *SARS-CoV-2 on hard, non-porous surfaces ** Staphylococcus aureus (Staph), Klebsiella pneumonia (Kleb)
DISINFECTANT CLEANER: Kills 99.9% of germs†, viruses‡ and bacteria, including COVID-19*, and prevents the growth of odor-causing bacteria for up to 24 hours
DESIGNED FOR SPRAYER DEVICES: Use this formula to disinfect quickly and easily. When used with a sprayer device, all you have to do is spray, there's no wiping required
MULTI-SURFACE USE: Safe and effective for daily use on hard, non-porous surfaces like acrylic, chrome, glass, laminate, plastic, stainless steel, vinyl, and soft surfaces such as linens, upholstery, and mats
BLEACH FREE: This Clorox disinfectant is formulated without bleach and leaves a clean, fresh scent, making it safe to use on colored soft surfaces
WHERE TO USE: This Clorox Turbo Pro™ disinfectant cleaner is intended for use in kitchens, gyms, beauty salons, bathrooms restrooms, clinics, reception areas, schools, offices and locker rooms
Certification & standards: EPA
Usage Directions:DIRECTIONS FOR USE: It is a violation of Federal law to use this product in a manner inconsistent with its labeling. GENERAL CLEANING: Spray soiled area, then wipe with a dry paper towel or lint-free cloth. To Disinfect and Deodorize Hard, Nonporous Surfaces: Spray surface until thoroughly wet. Allow treated surface to remain wet for contact time listed. Let air dry. For visibly soiled areas, pre-cleaning is required.

Ingredients:Active ingredients: Alkyl (60% C14, 30% C16, 5% C12, 5% C18) dimethyl benzyl ammonium chlorides, 0.15%. Alkyl (68% C12, 32% C14) dimethyl ethylbenzyl ammonium chlorides, 0.15%. Other ingredients: 99.70%. Total: 100.00%. CONTAINS NO PHOSPHORUS.

Warnings:KEEP OUT OF REACH OF CHILDREN. Causes moderate eye irritation. Avoid contact with eyes, skin or clothing. Wash thoroughly with soap and water after handling and before eating, drinking, chewing gum, using tobacco or using the toilet. ENVIRONMENTAL HAZARDS: DO NOT allow product or rinse water to enter storm drains, lakes, streams, or other bodies of water.

Clorox
Yes
121
0.95
Certification & Standards
EPA Reg. No. 67619-38; EPA List N
Chemical Active Ingredient(s)
Alkyl (60% C14, 30% C16, 5% C12, 5% C18) Dimethyl Benzyl Ammonium Chlorides, 0.15%; Alkyl (68% C12, 32% C14) Dimethyl Ethylbenzyl Ammonium Chlorides, 0.15%
Disinfecting
Liquid
All-Purpose Cleaners & Spray
Concentrated or Ready To Use
Ready to Use
Bottle
Non-Degreasing
Yes
Dispenser Required
Non FDA Compliant
99.9
Kill List of Bacteria, Viruses
Pseudomonas, Salmonella, Staph, Rhinovirus Type 14, Rhinovirus Type 39, Avian Influenza Virus H5N1, SARS-CoV-2, Staph, and Kleb
5
Medium
No
3
Primary Active Ingredient
Other
Unscented
No
Non-Sanitizing
Turbo Pro
Glass & Surface Cleaner
Clear
25.85