>

>

>

>

ComplyRight™ Federal Labor Law Poster
ComplyRight™ Federal Labor Law Poster
(2 Products)
Sort By:
Best Match

Best Match

Price:High-Low

Price:Low-High

Rating:High-Low

Rating:Low-High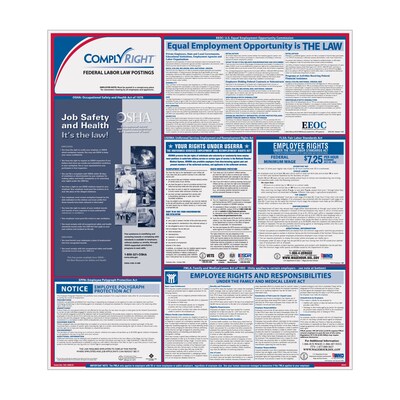 Convenient, all-in-one solution for meeting required federal labor law posting
Required for all employers who have at least one paid employee
Federal poster must be displayed in a conspicuous location
Federal poster contains these mandatory postings: Minimum Wage/Fair Labor Standards Act (FLSA), Occupational Safety and Health Act (OSHA), Family and Medical Leave Act (FMLA)
Also includes: Employee Polygraph Protection Act (EPPA), Equal Employment Opportunity (EEO) laws, Uniformed Services Employment and Reemployment Rights Act (USERRA)
Lamination keeps posters clean and resistant to damage
A new mandatory federal posting from the NLRB (National Labor Relations Act) is now required for nearly all U.S. Businesses. Covered employers must display the new posting by April 30, 2012.
Order your new federal poster today!
SS,53423