AddOn - Memory Upgrades AM1333D3DRLPR/8G DDR3 (240-Pin DIMM) Memory Module; 8GB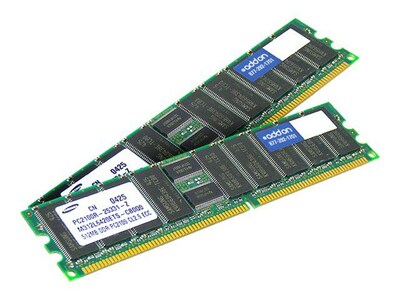 Description
AddOn Memory upgrades DDR3 (240-Pin DIMM) Memory module has a capacity of 8GB designed to increase your computer's RAM that enables multiple applications to run at once simultaneously.
AddOn Memory upgrades DIMM Memory module features a DDR3 SDRAM memory technology to increase the performance of your PC with a high-speed of 1333 MHz. Memory module is universally compatible with any 240-Pin cards slot for fast accuracy.
8GB (1 x 8GB) / DDR3 1333 (PC3 10600)

Server Memory / DDR3 (240-Pin DIMM)

Universally Compatible
Compatibility
Instead of digging for brand names, item numbers, and looking for a store that stocks the exact item you're looking for, try this AddOn memory module. The module is universally compatible, so it doesn't matter what type of system you're using.
Plenty of Memory for an Upgrade
The AddOn memory module adds 8 GB of memory to your computer, so you can do more without crashing the system. Memory allows you to watch movies, enjoy MP3s, open programs, and work on files while keeping your system moving without glitches or slow response times.
Simple Installation
When you're ready to upgrade your computer's memory, this memory card is the perfect fit. It simply fits into the current memory card's spot or in an add-on position, so all you have to do is screw it into place and turn your computer back on to boost your system's performance.
Specifications
Memory Capacity

: 8GB

Memory Technology

: DDR3

Brand

: AddOn

Weight

: 1.00 lbs. per Each