Printer paper is a clutch player in any office environment. The type of printer you use determines just what type of printer paper you'll use in your office equipment. Learn more facts about printer paper.
What is Printer Paper?
As its name indicates, printer paper is any type of paper that is used in printers. There are various printer paper types ranging from laser printer paper to inkjet printer paper. Depending on the type of printer you use, you'll want to choose a quality paper that is clearly marked for use in that type of machine.

Friendly Printer Paper Tip:
What is printer paper made of?
Printer paper is made of scraps of wood (including sawdust), water, and sometimes chemicals. To make printer paper, wood chips are wetted down with water and heated to separate them into long and short fibers. These fibers are then combined with water to make a paste-like mixture. This mixture is then spread onto a large wire screen and processed through a paper-making machine. This machine drains the water out and helps the fibers to stick together to form paper. This paper is then pressed to extract any excess water and smooth it out. Once the paper has been heated and dried, it's cut into sheets.
Depending upon the printer paper's brightness and weight, the process may differ slightly to ensure uniformity of the final product.
What are printer paper sizes and dimensions?
When people ask for "regular printer size paper," they're almost always talking about 8.5" x 11" (also known as letter size) paper. Many of the documents, letters, presentations, and faxes you print and send are printed on this size of paper. However, printer paper comes in a variety of sizes.
Quick Quill Tip for graphic designers: A standard 8.5" x 11" sheet of paper's measurements in pixels measures exactly 2,550 x 3,300 pixels!
Some other common printer paper sizes adhere to the following dimensions in inches:
8.5" x 11"
8.5" x 14"
11" x 17"
13" x 19"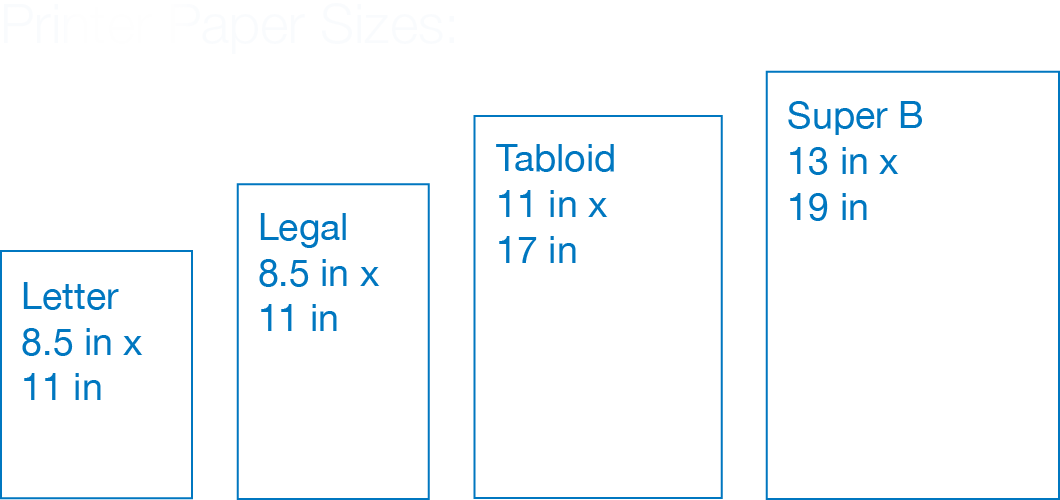 Printer Paper Sizes:
What is the typical printer paper weight or thickness?
Printer paper weight is labeled on each package of printer paper. This lets you know how thick your paper is. Depending on what you plan to print on your paper, it's important to consider paper weight.
Quick Quill Tip: Printer paper weight is measured by an industry standard known as GSM - grams per square meter. (Learn more about GSM and paper weight here.)
Printer paper weights range from a weight of 20 lb paper (74 GSM) to 70 lb paper (104 GSM). On the lower end of the spectrum, 20 lb paper can be used to print everyday documents. On the higher end, the thicker 70 lb paper is considered to be very light cardstock and can be used to print tickets, postcards, and even covers for catalogs and paperback books.

Printer Paper Weight