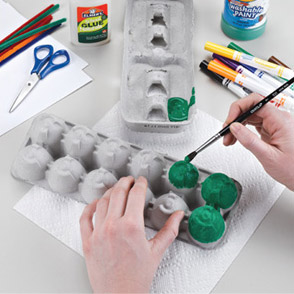 Step 2
Place paper towel on table to help protect it from paint spills. Open up the egg carton and cut off the lid. Choose a color (or colors) to paint your centipede. Turn the bottom of the carton upside down and paint the outside of all the egg cups. Once finished, set them aside to dry.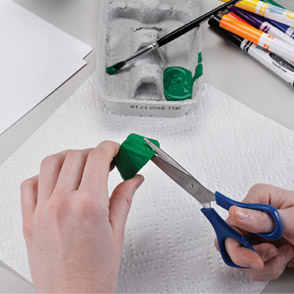 Step 3
Once paint is dry, cut out each cup evenly. Choose one cup to be the head of your centipede and cut a single slit ¼" up from the bottom.
Set that cup aside. Next, on each remaining cup, cut four slits ¼" up from the bottom. This is where your centipede legs go.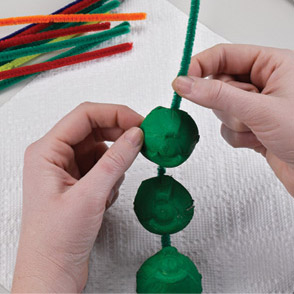 Step 4
Now it's time to build your centipede! Put your cups in order on the table. Starting with the head cup, pinch a pipe cleaner in the sit on the back of the head cup.
Continue with the rest of the cups only placing the pipe deaner in the front and back slits. Bend the pipe cleaners as you choose to shape your centipede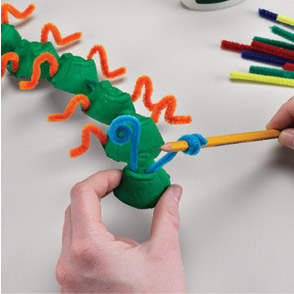 Step 5
Cut pipe cleaners all in half. To make the legs, pinch a pipe cleaner in the side slits of each cup so each leg length is even. Bend each pipe cleaner to make a knee and a foot on each leg.
To make the antenna, use your scissors to poke two holes on the top of the head (teacher assistance may be needed)
Wrap the pipe deaner one time around a #2 pencil to curl the antenna. Next, place the straight end of the antenna into the hole on top of your centipede head.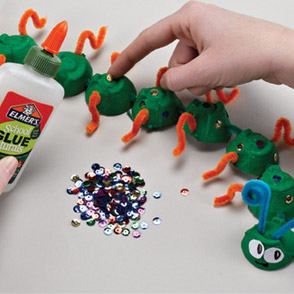 Step 6
Draw your centipede eyes, cut them out and glue them onto your centipede head. With a marker, draw on a mouth. Decorate and you're done!
Hints & Tips
Use the egg crate top as a paint cup.
Use a dab of glue to help keep any loose pieces in place.
Be creative with decorating! Try using glitter glue, pom poms, confetti or spangles or acrylic gemstones.
Glue on wiggle eyes instead of drawing eyes.
In order to tell which centipede belongs to which student, write their names on the inside of the cups prior to painting.
Another option is to write their names on a piece of masking tape and wrap it around one of the centipede legs.
Share your spring fever!
Be sure to post your art creations on our Facebook page.