In offices across the country, coffee is the glue that holds team members together. Nearly two-thirds of American adults consume the caffeinated beverage every day, and one-quarter openly acknowledge they're addicted to it. Coffee fuels meetings, presentations, and the daily grind.
What does this mean for American businesses? For starters, any company that wants to sustain team productivity should invest in the best coffee maker for your office breakroom.
It's important to consider several factors when selecting a coffee machine for the office. These include ease of use, coffee quality, environmental impact, cleaning and maintenance requirements, cost, the coffee maker's longevity, where the coffee maker will be located, your team's coffee drinking habits and preferences, and—perhaps most importantly—company size.
So how do you select the best coffee machine for your needs? First, filter by your company's size and choose from our list of the greatest coffee makers for small, medium, and enterprise companies.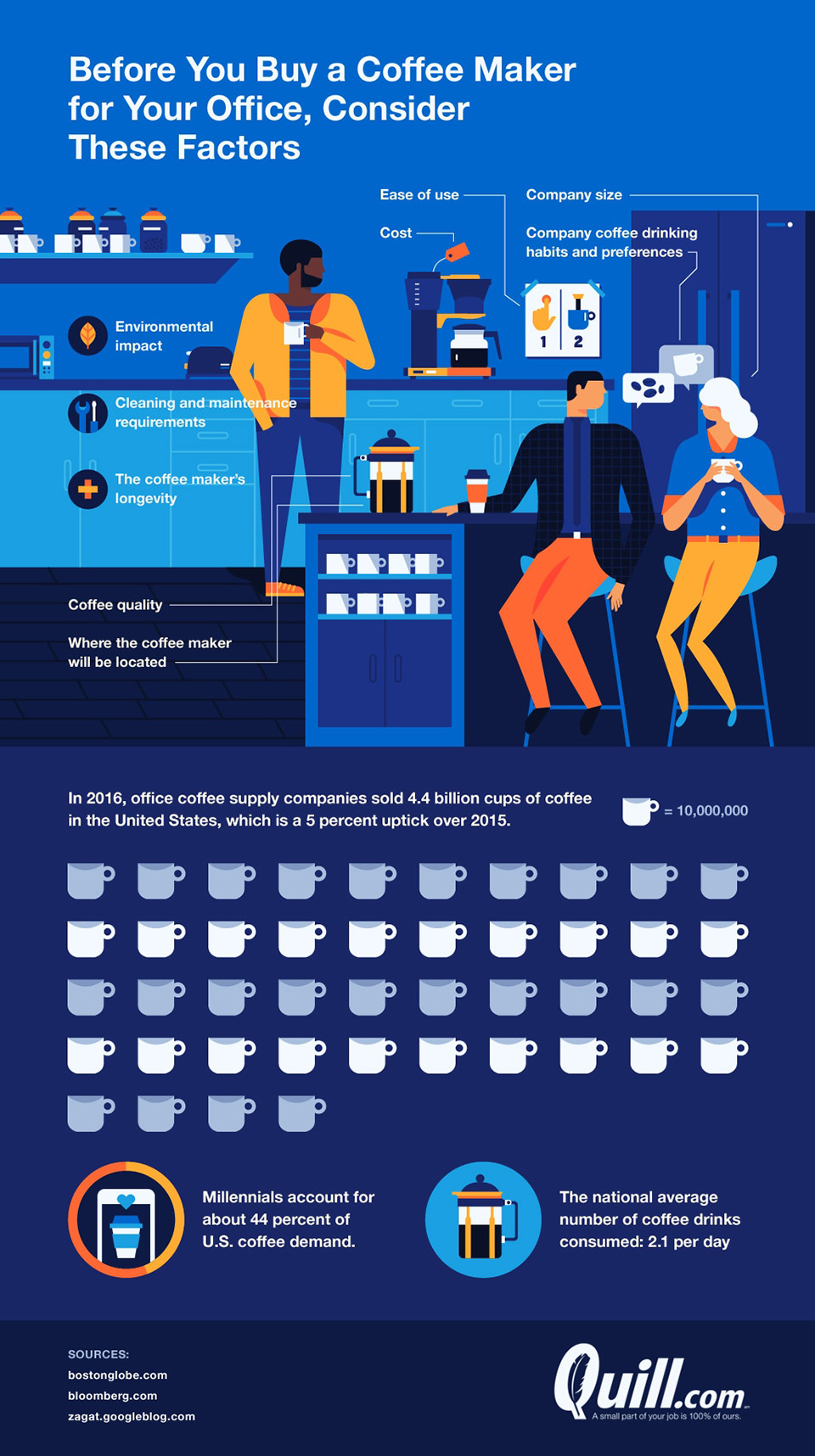 Get code to share this infographic on your site
The Best Coffee Makers for Small Businesses
Small companies with fewer than 20 employees have the biggest range of choices thanks to their low-volume demand. Here are a few great options to get you started:
The Best Coffee Makers for Medium-Sized Businesses
Companies with more than 20 and fewer than 100 team members often have the most difficulty identifying the best office coffee maker because they may need to accommodate small or large servings of coffee on any given day. The solution? A coffee maker that works quickly and can keep coffee warm for considerable periods of time. Here are a few great options:
The Best Coffee Makers for Enterprise Companies
Large companies with more than 100 team members will need to invest in a large-capacity coffee maker (or risk insurrection from employees suffering through caffeine withdrawal). Here are three stellar options:
Better Chef® 10- to 50- Cup Coffee Maker
This large-scale coffee maker brews up to 50 cups of coffee, tea, cocoa, or hot water at a time, which makes it ideal for large offices. It features stainless steel construction to keep coffee fresher for longer, a non-drip spigot and secure-lock cover to help prevent drips and spills, and easy cleanup.
Hamilton Beach® 42-Cup Coffee Urn
It takes a mere 60 seconds for this giant machine to brew a cup of Joe, and you won't have to guess when it's ready thanks to a ready-to-serve indicator light. But perhaps the most compelling feature is its 42-cup brewing capacity, which makes it easy to serve a large team. Water level marks make the coffee maker easy to fill, while the two-way dispenser allows for both single cup and continuous filling.
Newco® ACE-LP Low Profile 3-Station Brewer
If your office includes lovers of decaf or non-coffee beverages such as tea or hot cocoa, this coffee maker allows you to keep everyone satisfied thanks to three separate stations, which can brew multiple beverages at once. The unit also comes with a variety of helpful features such as a water-level detection system, an adjustable brew safety light, durable stainless steel construction, a pulse brewing option, and accurate flow control.
Conclusion
Taking the time to select the best coffee maker for your office isn't just good for your caffeine-addicted team members. It's also good for business. Ensuring a steady supply of coffee in the office keeps productivity soaring and spirits high.
Share this infographic on your site
Laura Newcomer
Laura Newcomer is a writer, editor, and educator with multiple years of experience working in the environmental and personal wellness space. Formerly Senior Editor at the health site Greatist, Laura now lives and works in Pennsylvania. Her writing has been published on Washington Post, TIME Healthland, Greatist, DailyBurn, Lifehacker, and Business Insider, among others. She has taught environmental education to students of all ages in both Pennsylvania and Maine, and prioritizes living an environmentally sustainable lifestyle. She's a big proponent of creating self-sustaining communities and accessible healthy food systems that care for both people and the earth. An avid outdoorswoman, she can often be found hiking, kayaking, backpacking, and tending to her garden.