When your clients or patients come to visit your office, their first impression of who you are as a company will come from your reception area—and, of course, your receptionist. As the first point of contact, it's important to make sure your receptionist is happy and comfortable so he or she can focus on the task at hand.
The reception area might be more of a common space, but you want it to be an area that your receptionist takes pride in as well. Here are a few things that will make sure your receptionist is as comfortable—and productive—as possible.
A comfortable and functional desk
From your receptionist's perspective, the most important feature of a reception area is the desk. He or she will be spending eight hours a day behind it answering phones, sending emails, confirming appointments, buying-guides/planning events, and generally keeping the office running smoothly.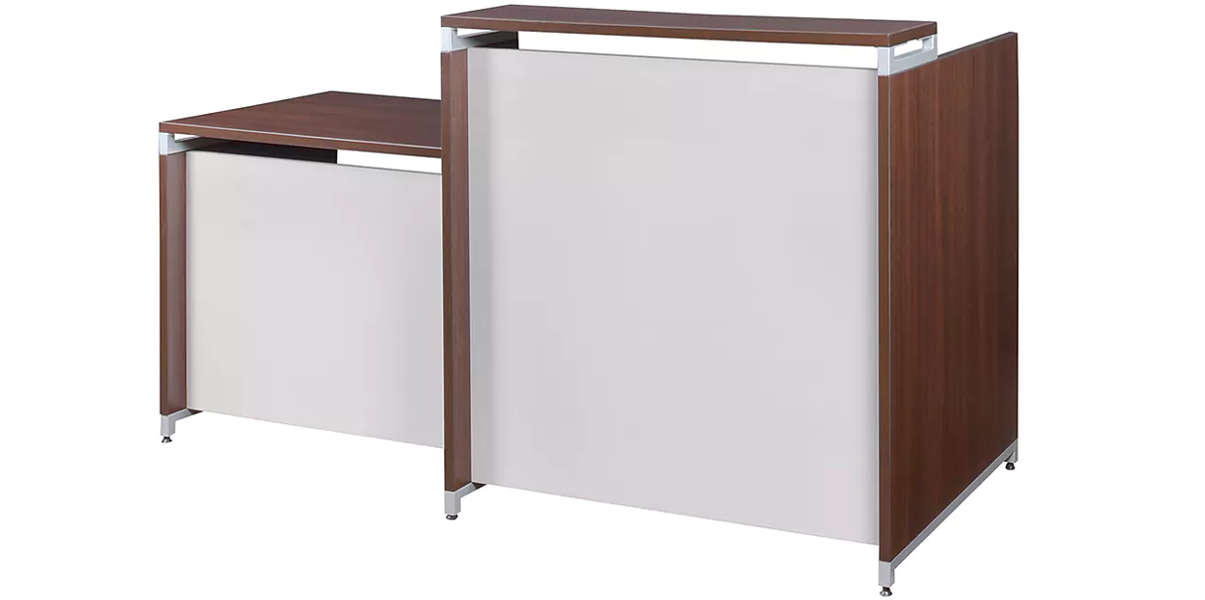 The best desk will vary depending on the size and layout of your reception area, but you can rarely go wrong with simple designs like this stylish Regency OneDesk Reception Desk Shell. Versatility was clearly part of Regency's design brief. It has two different heights for sitting and standing, reversible configuration, and ADA-compliant toespace for wheelchair users. Of course, it also hides the cords and clutter you don't want your clients to see when they first arrive.
For a more informal reception area, a simple computer desk is an option. Your receptionist will have the freedom to organize it how he or she sees fit—as long as it fits the vibe of the office.
The best seating for everyone
Just like the rest of your employees, your receptionist deserves a comfortable, ergonomically friendly chair that he or she can sit in for long periods of time. Receptionists often spend a lot of time on their computer, so a high-quality mesh office chair is the best option to make sure they're comfortable through every season. Add a chair mat to protect the floor from wear and tear and help your receptionist roll around more easily.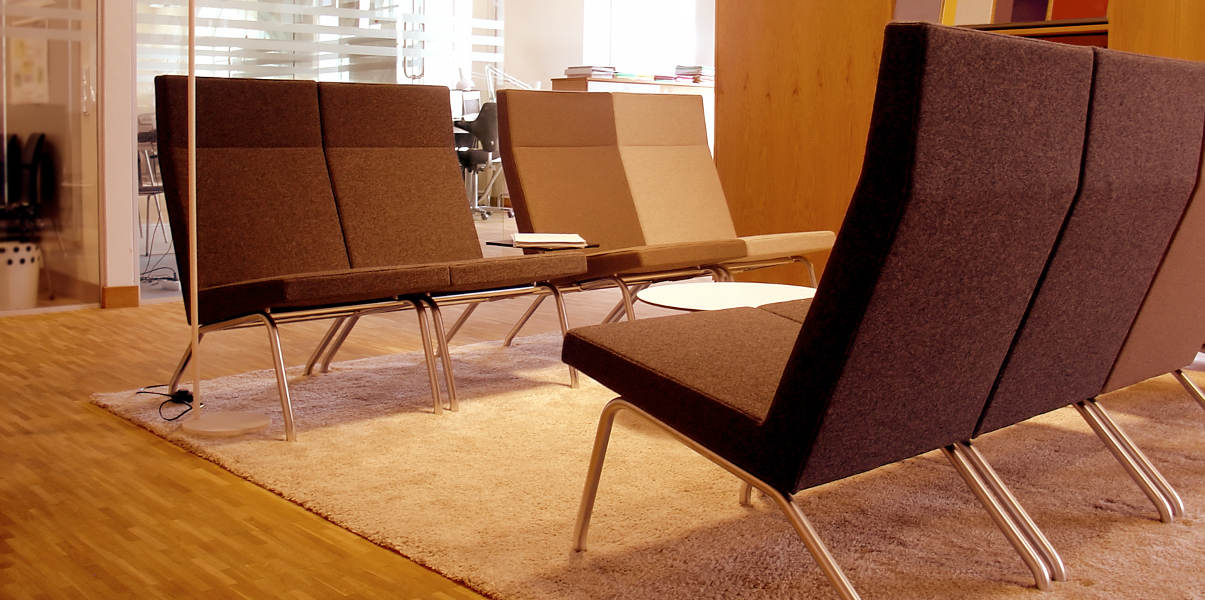 Since one of your receptionist's main jobs is to make sure waiting clients are comfortable and taken care of, having quality guest chairs is just as important. Reception sets should be durable, comfortable and versatile like the Flash Furniture HERCULES Definity LeatherSoft Reception Set.
Help keep things tidy
Reception areas are for waiting. But people aren't the best at having nothing to do—whether it's reading, watching TV or listening to music—for too long. It may be safe to assume that most people have a smartphone or tablet to keep them busy while they wait for an appointment, but providing magazines—especially ones related to your industry—is still a good idea.
Make your receptionist's job a little easier by picking up a side table with a built-in magazine rack, like this one from Buddy Products®. That way, organizing reading material at the end of the day is quick and efficient.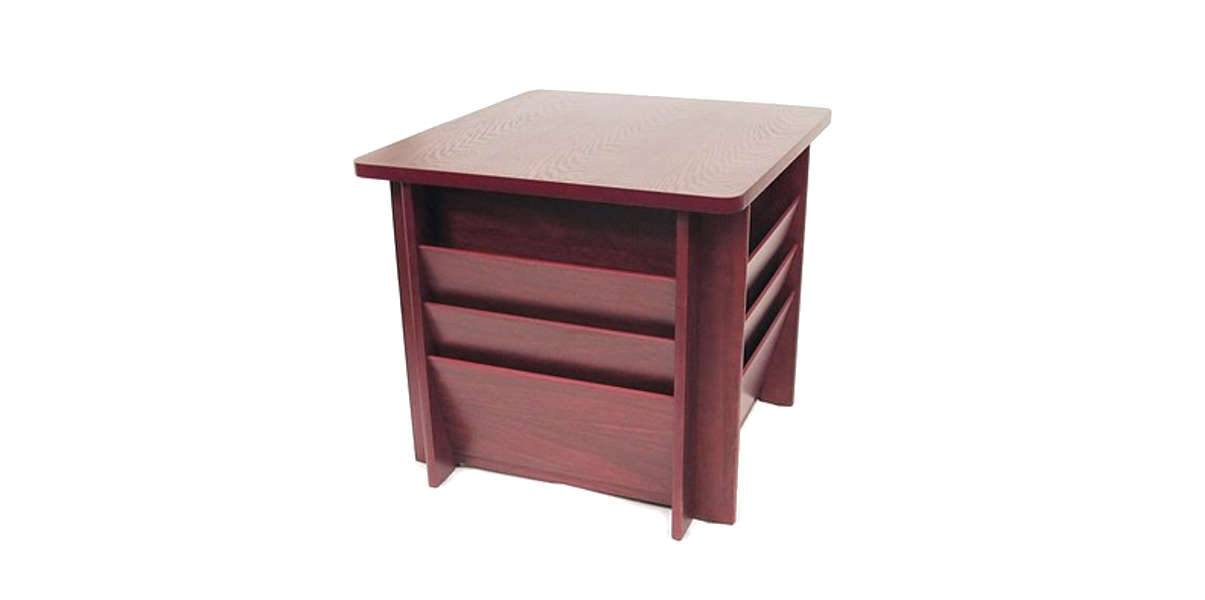 Another piece of furniture that will help your receptionist out is a sturdy coat rack for guests to hang their jackets on in the winter. Your receptionist can check guests in while they hang up their coats instead of having to take extra time to do both.
When it comes to your receptionist's desk, he or she might want to personalize the space a little bit with keepsakes or photos from home. A small cork bulletin board could fit in behind the desk, or you could ask your receptionist to spruce the area up with art or plants. Decor can even serve as a conversation starter and make your receptionist feel more at home in the space.
Plenty of smart storage
Your receptionist is responsible for administrative tasks like filing invoices, keeping records of client contact information, and scheduling meetings and travel. That means he or she will need access to a good filing cabinet like the Quill 4-Drawer Letter Size Vertical File Cabinet. Being able to keep files and charts close by will make it easier for your receptionist to work efficiently.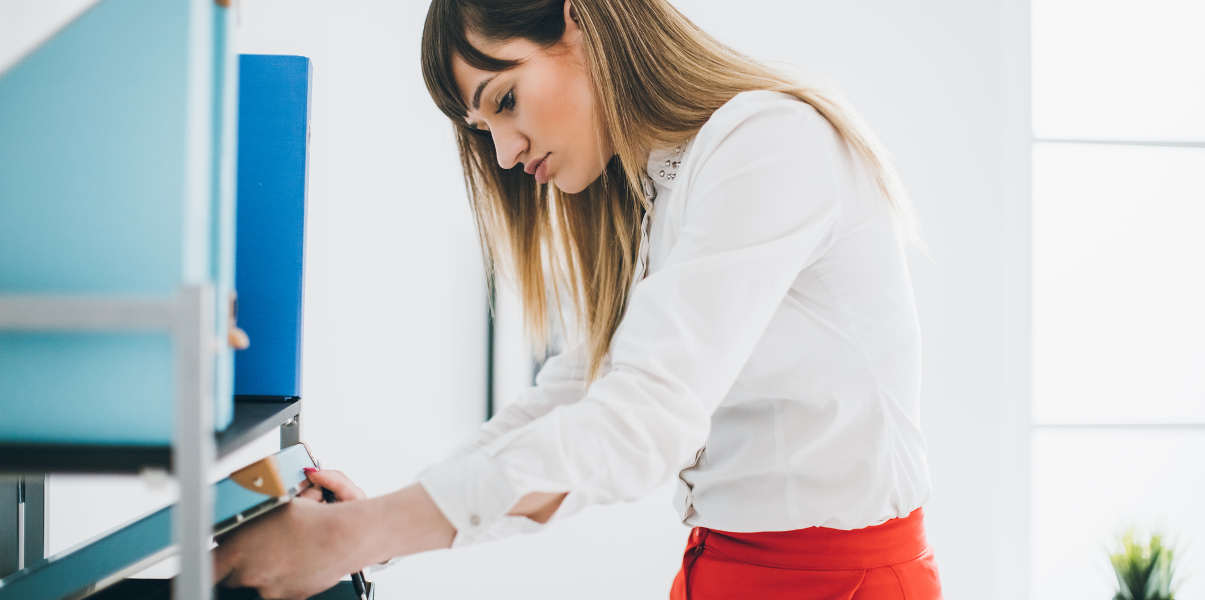 Of course, a lot of paperwork is digital nowadays, but having hard copies of certain documents will always be necessary—which means a place to store them will be too. A large bookshelf behind the receptionist desk can serve as a place to put important reference materials and pops of personality like plants and art. Decorative boxes can be used to keep everything neat, tidy, and on-brand.
In addition to everyday documents, there might be a few valuable files and maybe even cash or checks that come across your receptionist's desk. Provide a secure safe to keep the most important things safe from fire, flood, and theft. Your receptionist will feel a lot more comfortable knowing there's somewhere to put valuable items when he or she leaves for the day.
Your reception area is essential to the overall atmosphere of your office—and having a happy, friendly receptionist can do wonders too. Ensure that you listen to your receptionist's needs. Make his or her comfort a priority and they will do the same for your clients.