Creative Office Furniture Solutions & Inspiration
Read more +
Color is a perfect way to incorporate current trends into your office and give your workspace a whole new feel. Want to add trend colors, but not sure how? Try adding a new piece of furniture or painting an accent wall in a color you've been seeing a lot of lately. Accent pieces and décor. are also a great way to incorporate hot new colors – you can mix big and little pieces that can be easily changed out the next time color trends change.
2017 Pantone Color of the Year: Greenery
Refresh and rejuvenate your office with Greenery, the 2017 Pantone Color of the Year. This calming yet invigorating shade represents nature's new life after awakening from a long winter slumber. You can easily bring the feel of the great outdoors inside your office by incorporating furniture pieces and décor in Greenery. After all, we could all benefit from a more relaxing feel in our workspace.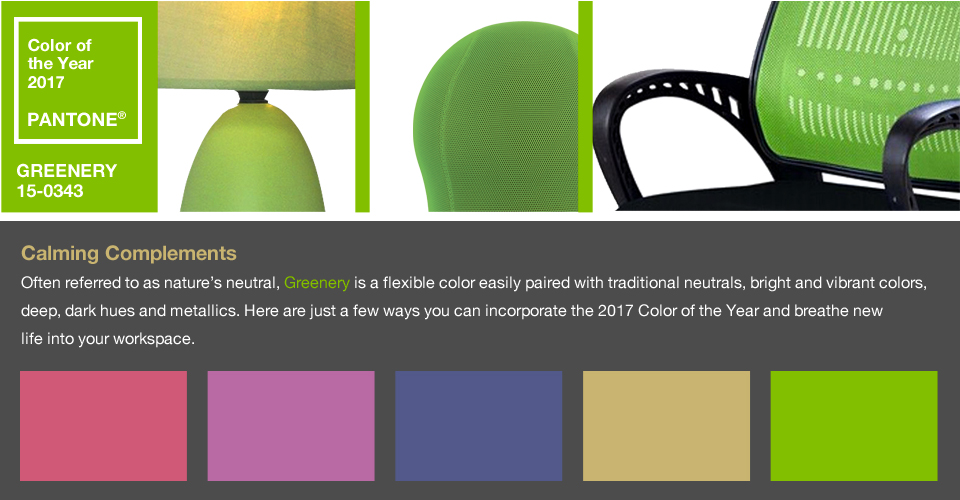 Check out furniture and décor that feature and complement Greenery:
---
---
Office Furniture Trends
Sit-Stand workstations are one of the latest ways to help improve employee health. They adapt to employees' needs and may help build better posture, reduce back pain and may even help burn calories. It's an easy solution to a healthier, happier work environment.
---
Modern Office Furniture Designs
Right now in the office furniture world, less is more. Clean lines and simplistic looks make your workspace easy on the eyes and offer you a place to sit down, focus on your tasks and get your work done.