Duracell® MN908 Alkaline 6V Lantern Battery, 1-Each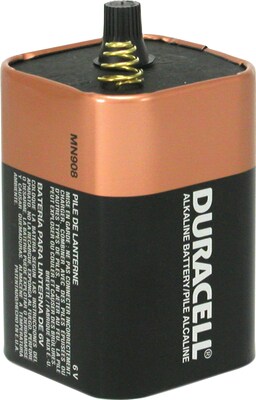 Description
These Duracell MN908 6-volt alkaline batteries are perfect for flashlights.
Duracell 6 V Alkaline battery provides reliable, long-lasting power for your electronic devices and has a shelf life of 7 yrs. Battery is ideal to use in lanterns and lights for optimum as well as efficient performance.
Primary Usage: Flashlights

Reliable, long lasting, portable power

Alkaline technology

Secure seal

Battery size: 6V

1 battery

Alkaline batteries are high-quality for lanterns

7-year manufacturer's guaranteed freshness dating

Is this the right battery for you?

The world around you will suddenly become a little brighter when you use Duracell MN908 6-Volt alkaline batteries in your lanterns and lights. Whether you keep an emergency survival kit in your home or you enjoy hiking and camping in the great outdoors, Duracell batteries will provide the power that you need. These batteries have a storage and shelf life of up to seven years.

Lasting Shelf Life
There is nothing worse than reaching for a lantern or flashlight during a storm to discover the light has dead batteries inside. The Duracell 6-volt battery has a longer shelf life that can last for up to seven years when not in use.

Cover Yourself During an Emergency
The next time you find yourself in an emergency, you will want this Duracell battery by your side. Its strong power will provide you with hours of light, keeping you and your family safe until the emergency passes.

Perfect Size for Lanterns
Keep lanterns around your home in case of power failures and other problems. The larger size is the perfect choice for larger and smaller lanterns that you store with your storm or emergency supplies.

See Clearly While Traveling
If you use lanterns when camping or traveling, you need the strength and power found in Duracell batteries. The larger size fits inside most outdoor lanterns and camping lights, letting you navigate your way through different situations and circumstances. You can even store extra batteries with your camping gear or in a closet in your RV to make sure that you always have a light ready when you need it.


Specifications
Battery Size

: 6V

Battery Pack Size

: Each

Battery Type

: Alkaline

Household Battery & Charger Type

: Battery

Rechargeable

: Not Rechargeable

True Color

: Silver

Brand

: Duracell

Weight

: 47.00 lbs. per Each